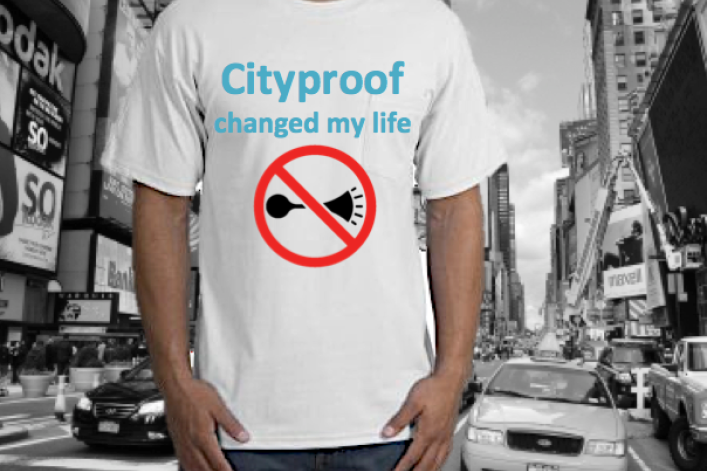 Cityproof, the city's premiere window soundproofing company, has been bringing peace to Gotham one soundproof window at a time for more than 50 years.
The customer testimonials below are less than a decibel of the feedback these guys get from blissed-out clients.
Sound good? To solve your noise problem, visit www.cityproof.com or call 718-786-1600.
G. Bock, Midtown:
"The outside noise in my apartment was unbearable to the point where I entertained moving. Instead I decided to take a chance with Cityproof windows for a third of the price it would cost to move in this city, and more than likely to an apartment that I would have no guarantee would be any quieter than where I currently live. Cityproof windows are that guarantee.
I'd been wanting to install the windows for years and, knowing what I know now, I wish I had done it when I first thought of it. 
Basically I have a new apartment. I honestly can't believe how quiet my apartment is now. It's truly life changing and I can't thank the whole Cityproof company enough for such a superb and simple-to-install product. Kudos. I couldn't recommend their windows more.
If you are dealing with noise, YOU DON'T HAVE TO. Amazing.
I cannot thank you enough for your windows.  Not only was your service impeccable from my initial dealings with Chris and all the way through to the installation and interaction with your team, but my windows were delivered ahead of schedule, too. Amazing."
Don S., Upper West Side:
 "We purchased an apartment last spring that is on the 2nd floor facing Amsterdam Ave....We knew that noise was going to be a problem but were told by a friend that Cityproof windows worked very well. 
We installed 6 Cityproof windows using several different configurations, due to window sizes and air conditioning units, in August of 2011.   I can't give you the exact percentage of noise that was reduced but I feel comfortable that we achieved 85%. 
What I can tell you is that the difference in the apartment is night and day.  We will still hear an ambulance or fire siren go by, but only faintly.  We can sit in the apartment and have a quiet discussion without having to use the TV or music to muffle the street noise.  It is more peaceful. 
The best for us is sleeping.  Our primary residence is in the country on 4+ acres.  Prior to Cityproof we could not sleep due to the traffic noise.  Since Cityproof we are able to sleep only periodically experience a siren or some unusual sound that could awake us." 
R. Scobie, Upper East Side on Second Avenue subway construction:
"The window is AMAZING, I can't believe we waited so long to put it in. It's almost eerie how quiet it has made the baby's room, just feet above Second Avenue. A brand new world of serenity."
---
Cityproof  is New York City's premiere window soundproofer.   To solve your noise problem, visit www.cityproof.com or call 718-786-1600.
Related posts:
Second Avenue subway pain, as measured in soundproofed windows
Ask an Expert: The lowdown on soundproof windows
Secrets of a NYC window soundproofer: New York's noisiest neighborhoods and what can be done about them (sponsored)
Read this before you buy, rent or sell a noisy apartment
Top 10 reasons to soundproof  your windows, besides the obvious (sponsored)
Brick Underground articles occasionally include the expertise of, or information about, advertising partners when relevant to the story. We will never promote an advertiser's product without making the relationship clear to our readers.