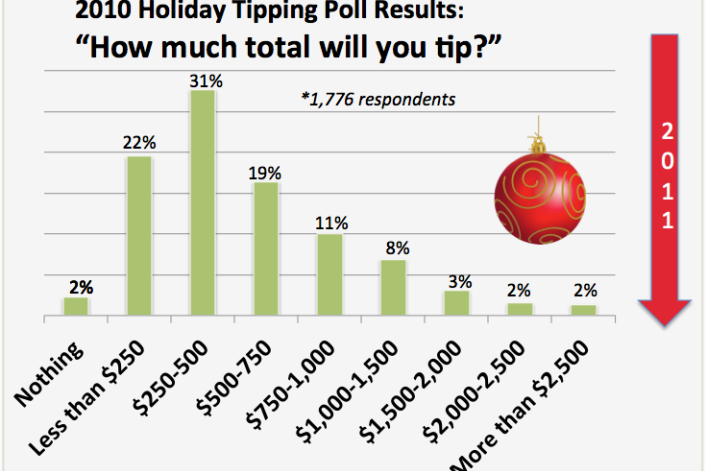 Here at BrickUnderground, Thanksgiving Weekend marks the start of holiday tipping panic, er, season among NYC apartment dwellers.
If you too are wondering how much to earmark for the Big Give (or the Big Take, depending on your view on these matters), you may be relieved to know that three quarters of the 20 Manhattan doormen we polled recently expect tips to be flat or down this year.
Two of the remaining five said they couldn't predict either way, and the three who expected to earn more attributed it to moving up higher on the totem pole, moving from the night to the day shift, or the fact that in their building, more apartments were occupied this year than last.
A lighter tipping season will no doubt sit well with renters already coping with median rent increases of 5% over last year, not to mention co-op and condo owners, whose apartments are worth the same or slightly less than this time last year, and who are still being battered by property tax increases as well as expensive energy audits and retrofitting projects mandated by the city. 
That's on top of a volatile stock market, stubborn unemployment figures and a predicted slide of nearly a third in the size of Wall Street bonuses.
So how much might tips go down this year?   Taking into account the desire to keep up appearances, we predict no more than 5 or 10 percent down from 2010 levels.
According to our 2010 online poll of around 1,800 apartment dwellers (see chart, top left), 55% gave no more than $500 total, nearly a third earmarked $500-$1,000 for staff gratuities, while just 15% planned to dole out more than $1,000.
(Note, however, that the poll did not distinguish between full-service buildings and elevator/walk-up buildings, or between renters and owners; in this year's two-click poll, we will tease out those differences.)
Check out our 2011 Holiday Tipping Guide for the full scoop on how and how much to tip your doorman, super, mail carrier and beyond. To find out what your neighbors are planning to tip this year, take our two-click 2011 Holiday Tipping Poll.  
2011 Holiday Tipping Coverage:
BrickUnderground's 2011 Holiday Tipping Guide
BrickUnderground's Holiday Tipping Poll
Take BrickUnderground's 2-click Holiday Tipping Poll to find out how much your neighbors are tipping
Do holiday tipping pools work?
See all 2011 Holiday Tipping Posts >>
2010 Holiday Tipping Coverage:
BrickUnderground's 2010 Holiday Tipping Guide
10 Manhattan doormen talk tips
A Doorman Speaks: 7 tipping rules for doormen & residents
Find out how much your neighbors are tipping this year
Payback time: Cashing in on holiday tipping
Top 12 excuses of bad holiday tippers
Brick Underground articles occasionally include the expertise of, or information about, advertising partners when relevant to the story. We will never promote an advertiser's product without making the relationship clear to our readers.