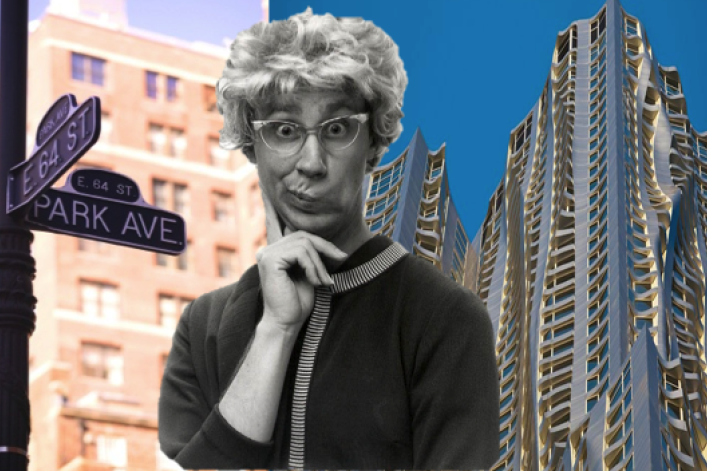 We've kept an interested eye this week on a StreetEasy.com debate pitting prewar buildings against new construction.  The two big takeaways so far are worth repeating:
You get what you pay for in new (post-2000) construction.  A quality job by an experienced builder yields tomb-like quiet, lower energy bills, and finishes that don't fall apart after two years. Plus, you may have perks like in-unit washer dryers, bigger windows, potentially amazing building amenities, modern layouts, etc., that are rare if not impossible to find in prewar counterparts.
Prewar buildings often offer more gracious room size and ceiling heights, but their reputation for quiet is a bit of an overstatement. Tenements (built on a shoestring budget for working-class renters) and brownstones (originally designed for occupancy by a single family rather than being diced up into apartments) tend to be among the least quiet buildings to live in, while older buildings that were specifically constructed as multiple-use buildings for middle- and upper-class residents tend to have excellent soundproofing.
Here are some comments from both sides of the new vs old divide:
New is better because...
Every "old" apartment I've had, I could hear my upstairs neighbors footsteps/dropping things/etc....makes you insane after a while. Of course you can strip entire floor board but most LL's wouldn't bother and DIY = $$$$$.
Energy costs through the roof in "old." Can hear nearby breathing in "old." WD in basement (or across the street) in "old." 
Lower bills, quiet, W/D in-unit, bigger windows = better to me.
My unit is all but soundproof, and built in 2009. My neighbors BLAST hip-hop at Saturn Rocket levels, and once I close my door I don't hear it. I can't hear cars outside through the double paned windows. Maybe not all places, but a LOT quieter than the various pre-war places I have lived.
I can't hear anyone around me at all, nor the traffic. electrical is new, pipes are new, boilers are new maintenance lower. In old, maintenance is much higher - don't believe the monthlies, there are assessments all the time.
if you have the money to not have to buy the bottom of the barrel... you can certainly make a good case for new....I've been in buildings built in the last few years where it is nearly impossible to hear neighbors unless they are specifically banging on your wall. And the newer amenities can be fantastic, and even renovations won't get them in old buildings. The massive walls of windows (and ones that work very well), the layouts suited for modern living, the upgraded appliances that fit right in.
New construction is better over-all. Technology and standards have improved. Those worshiping at the alter of pre-war are focusing on a few select high end well maintained buildings and even those have issues. Remember these buildings are now 70,80 ,90 or 100 years old. You can always point to a bad builder but if you were to provide a quality builder a choice between today's materials vs yesterday's the choice is obvious.
My apartment quality is light years ahead of my old building. Part of that is, I'm in a $$$ new building, and I used to be in a crappy old building. There are versions of good and bad in old and new. Its the folks who try to skimp and buy cheap new apartments and expect them to be just like $$$ good apartments. If you think new apartments are all like that, you've only been in the cheap ones...
Prewar is better because...
I don't like modern, because most of them are just vanilla shoe-boxes that could be in Boise. Pre-War feels more like NY to me.
I am seeing rusted out balconies on places that are less then 10 years old. Then look at stuff from the 60's and it's still there. With the expiration of the tax abatement and the cost of repairs, you'll see what will happen in 5-10 years.All new will be worth much less than old.
Generally speaking, older buildings seem to be better built. As a buyer, I'd rather buy into a building that's stood the test of time than a "new" building that's a big question mark.That's not to say that "old" buildings don't have their share of problems, but it's usually because the building hasn't been well-maintained rather than poor quality construction. 
I never hear my neighbors, and they claim they never hear our kids in our +100-year-old building. I can't even hear the kids if we're in our BR and they're in theirs.
I have worked in many of each. Newer construction pales into comparison to older buildings. I cannot believe have many calls I get from people who purchased a brand new apartment and two years later need a lot of work done. It is a shame. There are some new conversions that are made well but most not so much
Ours is solid masonary 6" walls, ceilings, even interior walls. It's a bitch to hang a picture, but it's completely quiet. We also have double pane windows. Of course there's no central A/C, window units blast away all summer, so it's NOT quiet then. And when the radiator bangs in the winter, it's not quiet then. But it is blessedly warm for free. Life is full of trade-offs.
(StreetEasy.com)
Related posts:
'Splitters' can save you thousands on a new condo
The top 7 construction defects
Ask an Expert: How do I check on a developer's track record?
The real (scary) numbers behind those tax abatements
BrickUnderground's New Construction Survival Kit
Brick Underground articles occasionally include the expertise of, or information about, advertising partners when relevant to the story. We will never promote an advertiser's product without making the relationship clear to our readers.