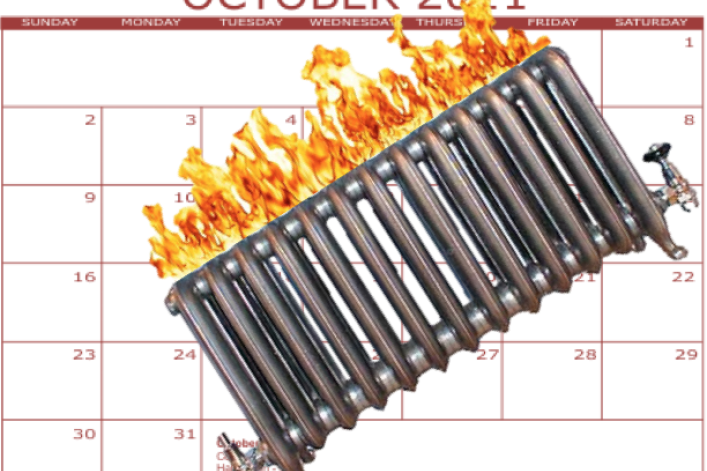 Tomorrow marks the start of 'heat season' in NYC, meaning that if it's cold outside, you have a right to be warm inside.
The very fact-packed press release we received from the NYC Department of Housing Preservation and Development this morning notes that this year, neglectful building owners will find themselves in more hot water than ever due to a law recently passed by City Council:  If the city has to fix a heat problem itself (say, by replacing your boiler), it gets to place a lien against the building, which can then be auctioned off.
Hopefully, the extra muscle will pay off in Brooklyn, which last winter drew the most fire from the heat police. The city filed 1,526 heat cases in Brooklyn courts, more than triple the 437 cases filed in Manhattan and 483 in Queens, and around 50 percent more than the 989 cases in the Bronx.
Need a brush up on your right to heat and hot water? Here you go.  And remember, there can be too much of a good thing when it comes to heat. 
Heat season begins October 1st and runs through May 31st.  Apartments must maintain a temperature of at least 68 degrees Fahrenheit between 6 a.m. and 10 p.m. when the temperature outside is below 55 degrees.  At night, between 10 p.m. and 6 a.m., indoor temperature must be at least 55 degrees when the outside temperature drops below 40 degrees.  Hot water must be maintained at 120 degrees during heat season.
If your heat is lagging, first contact the building owner, manager, or super.  Still cold? Call in complaints to 311. All complaints are investigated. Building owners can be fined up to $500 a day for first violations and up to $1,000 per day for subsequent violations in the same location during the same calendar year.
If building owners fail to restore heat and hot water, the city will hire a private contractor to do it.
For more info, visit www.nyc.gov/hpd.
Related posts:
It's 7 degrees outside. Inside, it's a sweat lodge.
Is forced-air heat a dealbreaker?
Can I get my rent pro-rated because the boiler broke?
Rental Rookie: In which we spend a few days wondering if our radiators are going to explode
Brick Underground articles occasionally include the expertise of, or information about, advertising partners when relevant to the story. We will never promote an advertiser's product without making the relationship clear to our readers.