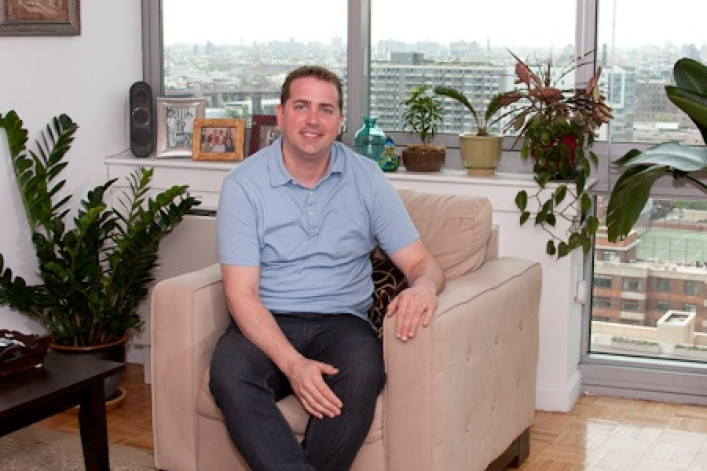 Ed Cotton, a finalist on Bravo's "Top Chef D.C.," is executive chef at Plein Sud, a small restaurant off the lobby of the Smyth Hotel, on Chambers Street and West Broadway, in the heart of Tribeca. Excerpts from his interview with BrickUnderground follow.
How did your New York apartment adventures start?
I went to Vegas to work for Todd English back in 1999. I had been working at his restaurant in Boston, so it was an extremely smooth transition. Then in 2002, I moved to New York City to be with a girlfriend who was going there to continue her education at Columbia University.
I had heard stories about people being scared and having so much trouble moving here. I was lucky finding a job immediately and finding a living space with her in university housing. We lived together in Washington Heights and then got our own non-university apartment on West 111th Street.
When we broke up, I hit Craigslist looking for my own apartment and found one on 97th Street, between Park and Lexington. I moved in with one of the cooks from the place I was working—DB Bistro—to a 2-bedroom for about $1,775 a month. A broker was involved, but there was no fee, and even though the bedrooms were so small I could open my door and literally fall into my bed, I really liked it. It had charm: hardwood floors; high ceilings; exposed brick, and huge windows.
Why did you leave that apartment?
I lived there for about three years, but as my lease that year was coming to a close they began doing construction on the empty, overgrown lot next to my building. I had hoped they were making an outdoor area for the residents of my building, but no such luck. They were constructing another building.
One night my roommate and I were in the living room on our two La-Z-Boy chairs watching boxing when we saw something scamper by. And then another. And another. Mice!
How did you handle that?
We set out glue traps, but they just kept coming. I knew it was time to leave when one morning my roommate left a dead mouse in my bathroom sink with a note written on a paper towel that said, "I caught one!" The only way to handle the situation was to move.
Where did you end up going?
My boss at the time, a chef named Olivier, had approached me after his own apartment in Astoria was broken into and everything he owned was stolen. He knew of my rodent problem and suggested we look together in Manhattan for shares in higher-end buildings with more amenities, a doorman and no rodents.
We found a 2-bedroom in 2006 on 103rd between 1st and 2nd Avenues. It had a view of White Castle and if I opened the window I could smell the burgers. That combined with the interesting characters in the neighborhood made it better than having mice, but still not ideal.
After living there with me for a year, Olivier moved, so I found a roommate on Craigslist. I was worried, but she was a nice woman who was new to the city from Michigan and who was a quiet homebody. I was working at BLT Market while living there and started dating a woman who lived in Astoria. I spent a lot of time there and got familiar with Queens.
My girlfriend and I began talking about living together, so she took me to an area she thought might be ideal for us: Long Island City. My old pastry chef lived there and I knew the building when we stumbled upon it. We talked to a managing agent, who showed us some units. They were so much bigger and cheaper than what I had in the city so we took a 1 bedroom. We have a view of the city and great amenities.
Is it hard to commute to work at Plein Sud in Tribeca?
When the #7 train decides to run—it's a fickle train—it is a quick trip. The fastest I have gotten to work is 22 minutes.
What do you think is more important—size/space or neighborhood?
Neighborhood is key. It is the most important thing to me. I think most people want to live in certain areas because of the vibe and the energy of that area.
What would your dream home look like?
I'd have an apartment in Manhattan with a great view of Central Park on the top floor of a great building. I'd have access to a huge outdoor area where I could entertain. I'd be able to grill outside and see the whole city below me.
What do you think of the city in terms of food?
 Diversity makes New York a melting pot in terms of food. You can go to a certain area and have one type of food that is perfect, and a few blocks away you can experience a different culture's food that is equally as good. There's a global variety. There are extremes here; a BBQ joint will sit next door to a Kosher deli.
Also, I never used to be a big brunch person, but my girlfriend loves brunch. On Sundays we usually go out and find a new brunch spot. We stumbled upon M. Wells when we were exploring our LIC neighborhood. It was an old, abandoned diner taken over by a husband and wife team who worked in Canada. Now they make Quebec-influenced, American-inspired food.
Imagine a 1950s diner transformed into a modern-day restaurant. He uses everything, tail to snout. He's very clever with food combos, technique and style. For brunch I had sausage, egg and cheese sandwich with jalapenos; he makes his own English muffins and sausage patties. This juicy full-of-flavor sandwich is massive and very memorable.
Where do you grocery shop?
I generally don't go food shopping. I'm not in my home to cook. I have salad mix in my fridge that has been in there for a week and it is rotten. I'll go to the farmer's market and buy a peach and eat it. I cook at work so when I'm home I want to relax; I order in or go out to eat. After work I love to go to Casuela in the West 50s. It is a wine-and-cheese-type place with a small menu. They make some of my favorite panini and sandwiches, including one of the best grilled cheese sandwiches in New York City.
What would the perfect New York kitchen look like?
The layout is important, because it has to flow. Oftentimes you walk into a kitchen in New York and it just doesn't make sense. One of my big deal breakers is electric ranges. When I look for an apartment, I immediately look for a gas range. I want to see the fire.
Also, my meat grinder is a magician. You can turn stuff that has been sitting in your fridge or freezer into a sausage, meatloaf or fishcakes. It is transformative; the meat grinder gives you the ability to take something ordinary and make it into something amazing. I could use more storage space. I tend to have a lot of gadgets and hand tools, which are hard to store.
How do you ventilate your home, especially when you cook?
  I open the windows if I cook. One of the biggest pet peeves I have is that in many New York apartments, smoke alarms are so sensitive they go off if I turn on a pan.
If you could change one thing about New York, what would that be?
The panhandling is a bit extreme on the trains. These past two years it is has gotten worse. The economy and unemployment rate probably have to do with it, but I see the same the panhandlers daily and it is out of control.
What would you advise someone moving here?
 I've been lucky with Craigslist so that is a good place to look for apartments or roommates. If you don't have a lot of money, check out one of the boroughs such as Brooklyn or Queens, because they offer more for your money.
Newcomers will be surprised at how easy it is to get around. It still amazes me how easy it is to get a cab. 
Go to your local bodega. Real bodegas are amazing places where you can get anything and everything. Go in for band-aids and leave with an amazing Cuban sandwich. The bodegas in Washington Heights or Spanish Harlem are the best. I used to get the best slow-cooked pork sandwiches with pickles and cheese for under $5 and they were amazing.  
My last piece of advice: If you are waiting for a subway and see the one coming in is packed with people but notice one car is nearly empty, this is not God's way of looking out for you. This is the smelly or unair-conditioned car. Don't enter.
What tips would you give a New Yorker who wants to cook more at home?
I had a mini fridge in one apartment; I know that many city apartments are not ideal for cooking. The best tip I could give someone is to perfect the one-pot meal. Braised chicken in red wine, pearl onions and mushrooms is homey and practical.
Get a crockpot. You can do wonderful things with a crockpot. They remind me of growing up and give a rustic feel to a city environment. Peasant food in the middle of an urban jungle is a great way to entertain in a small space; a good way to bring friends together is to put a big pot in the middle of the table with many spoons and great wine.
What is next for you in terms of New York living?
  I am happy living in LIC, but I dream about opening my own restaurant in the West Village. When I think of New York, I think of the West Village and Bleecker Street. The neighborhood is full of life and character—young professionals, students and established families. All arrows point in that direction for me and in the next two years I will open an Italian-inspired, French-influenced eatery called Alfonsina, which was my grandmother's name.
More Q&A's on BrickUnderground:
Brick Underground articles occasionally include the expertise of, or information about, advertising partners when relevant to the story. We will never promote an advertiser's product without making the relationship clear to our readers.