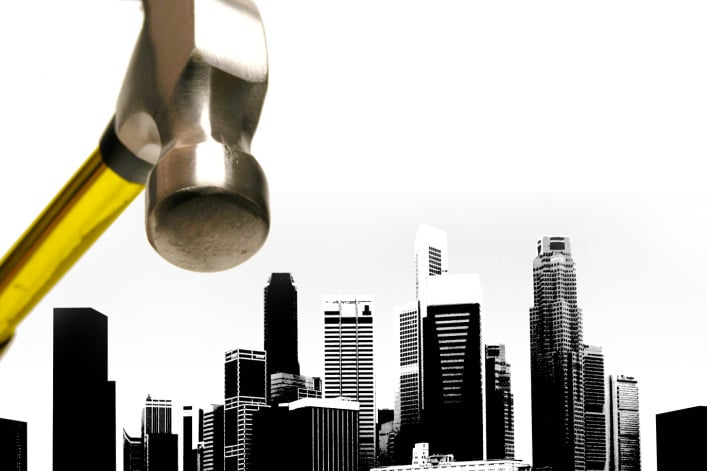 The Situation
You are about to embark on your renovation and have found the perfect contractor. Their references are excellent and the work is top notch. Now that you have found your match, you want to keep these folks happy through the life of your project.
Why, you may ask? A happy general contractor is one who works quickly and is willing to go the extra mile for you. Also, a professional general contractor is in high demand and if you are a customer from hell, they are likely to focus their attention on other clients and neglect your project.
Here are five simple ways to keep your general contractor happy.
The Deal
1. Pay quickly
Paying as soon as you are invoiced has an immediate, positive effect on your relationship. Most clients don't realize that other than at the beginning of your project, when a deposit is received, the necessary labor and materials are financed by the contractor and cash flow becomes very tight. We have a client who pays weekly, and you better believe that I jump whenever he calls.
2. Treat the contractor and their workers with respect
Some clients treat general contractors with disdain, believing that most of us are nefarious individuals who employ shady characters. In reality, the renovation business is a physically demanding one and many of a general contractor's skilled employees are working long hours to support their families.
When a homeowner treats them as if they do not exist, the last thing they want to do is go the extra mile for that client.
Next time you visit the job site, I recommend you buy the workers coffee or cold soda as a sign of your appreciation of their hard work. The pocket change you just spent will reap a much greater return in increased productivity and dedication to your project.
3. Avoid making phone calls at odd hours
Many clients come home from a long day at the office and for some reason think it is perfectly fine to call their contractors at 9 P.M. or first thing on a Sunday morning. Would you want your clients calling you at those hours?
The first thing that comes to a contractor's mind when a client calls them at an unusual hour with questions such as "What paint color should we use in Fifi's room?" is "I need to charge them more for putting up with this!"
4. Understand when change orders are legitimate
Sure, some dishonest contractors try to take advantage when you change your scope of work midstream. But there are unethical people in every industry, not just construction. If your change means that you have increased the amount of work your contractor needs to perform or value of materials, why should you not compensate them for it?
We had a client who wanted to know why we would charge them extra to move a sprinkler just because it was not specified on the architectural drawings when the estimate was prepared. After explaining that we had to pay our plumber his hourly rate for this additional work, they seemed to accept that our request for additional billing was justified.
In these situations, I wonder if these people would checkout at Macy's with three shirts and then tell the cashier they want to add a fourth one without paying? Probably not, so why do some clients expect this from their contractor?
5. If you want the services of an interior designer, hire one
Many people think that an architect or interior decorators are a waste of money, so they expect their contractor to fulfill that role. An experienced contractor can give you tips and tell you of past aesthetic or functional mistakes clients have made. But great contractors are terrific builders and great designers are terrific decorators, and each party has a role to play.
If you can't afford to hire an architect or designer, tell your contractor before hiring them that you expect them to go with you to the tile store or lighting showroom and assist in making materials selections. Time is money and it is not fair to expect that they will provide design consultations, unless it was specified during the estimate process.
Try to be decisive when making aesthetic decisions. If you keep on changing your mind regarding your desired finishes, your contractor will get tired of the back and forth, and of the money they are losing if there workers are idle waiting for you.
Keeping your terrific general contractor happy during the renovation process is an often overlooked component of a successful project. Show understanding, appreciation and respect and your renovation project will end up looking better and be completed faster.
---
Yoel Borgenicht is the president of King Rose Construction, specializing in high-quality commercial and residential renovations in the New York City metro area.  
See all NYC Renovation Chronicles.
Related posts:
NYC Renovation Chronicles: Choosing the perfect contractor
BrickUnderground's Renovation Survival Kit
Expediters: A profession built on a Kafa-esque nightmare
Brick Underground articles occasionally include the expertise of, or information about, advertising partners when relevant to the story. We will never promote an advertiser's product without making the relationship clear to our readers.