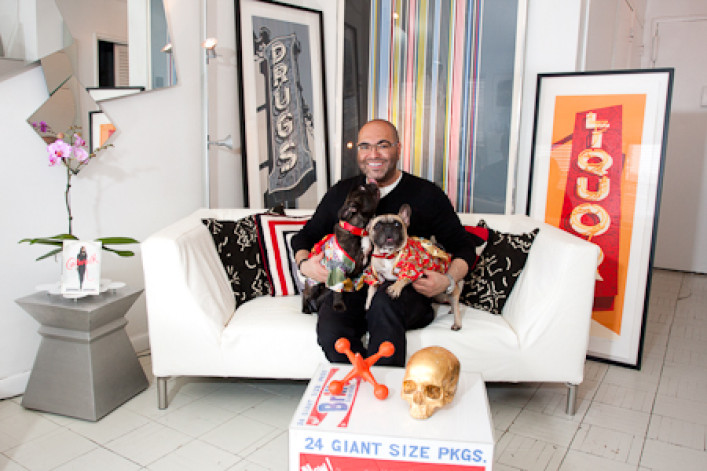 Nolé Marin is the epitome of a style guru: a favorite judge on multiple seasons of "America's Next Top Model," fashion expert on E! Style Network, coach of MTV's hit makeover show, "MADE," and featured on ABC reality series "True Beauty." Marin recently opened his own modeling agency, AIM Model Mgmt, in the Hudson Yards area of New York. Excerpts from his interview with BrickUnderground follow. 
Where did your New York apartment adventures start?
I grew up on the UES in the East 60s. In fact, I currently live in the apartment building in which my parents met. My mom lived on the fifth floor and my dad on the eighth.
When I turned 25 in the 1990s, I got my first apartment on Central Park South in one of Donald Trump's buildings—a customized studio that looked like a show palace. It had all the best appliances and fixtures. Although it was only about 500 square feet, it looked like a suite at a five-star hotel: recessed lighting, built-ins, a waterfall sink, a Jacuzzi and stand-up shower.
Six years later, I wanted more space and moved to the iconic Police Building on Centre St. Calvin Klein, the Bensimons, celebs, famous models—they all lived there in that pristine co-op. I found the duplex one-bedroom loft of about 1,000 square feet from another NY Times real estate listing. It was about $6,000 back in 2000.
A year later, the owner wanted the unit back. So I searched for a new place and saw multiple apartments. Either they were too dark, didn't have a doorman or they'd be perfect but the neighborhood was sketchy. I was changing careers. I had always been a stylist, but was evolving, having just opened my first modeling agency called AIM Model Mgmt. Finally, I realized I already had the perfect jewel box, the apartment we kept in my family for years, which I had been using as an office and pied-a-terre.
It's a fabulous 600 square foot studio with amazing natural light and views of the Chrysler Building and Queensboro Bridge. I have known some of the people in this building for years. It's home. I may renovate it this year, because I love doing so; it would be a fun project.
Have you used a real estate broker?  
In both cases, I worked with a broker, because they had placed a New York Times ad. Brokers are like plastic surgeons: There are tons of them in New York, but only a handful are tops in their field. Most brokers want to show you what they have. A good broker understands the person and shows only things specifically that fit their requests.
You have two French bulldogs. What are some of the constraints of having pets in the city?
Not only do I have two dogs, I also have three cats in my apartment:  a 15-year-old long-haired Persian, Penelope, and two exotic short-haired Persians, Archie and Gracie. People are shocked that you never hear or smell them. One has to be extremely clean when having pets and I went with breeds that are quiet and don't need much grooming. My dogs weigh less than 20 pounds; that also makes it easier to have so many pets in the city. I love Carl Schurz Park in the 80s; there's a great dog run there.
Which is more important to you: size/space or neighborhood?
I'd rather have a small space in a pristine neighborhood than a bigger space in a sketchy one. I have to have a 24-hour doorman building, though. I also need a laundry on each floor of my building or in the apartment. The two most important things for me are light and views, even in a small unit.
What's the funniest or scariest thing that has happened to you here?
In my early teens, in the mid-1980s in Soho, before it was the fabulous Soho it is now, I was with a group of friends and three or four rats ran in front of us. I was petrified and haven't forgotten it. Also, you can't ever forget being in New York on 9/11. I think it was Fashion Week. I ended up coming to the Upper East Side to avoid the chaos.
If you could change one thing about New York, what would that be?
This is the most incredible city in the world. Everything is at your fingertips and we are all truly blessed to be here. But we tend to live in smaller quarters than other areas of this country, so the one thing that would make it absolutely perfect is more space in which to live.  
How do you get around?
I'm a huge walker and people make fun of me for walking from the Upper East Side to Tribeca. I'm a big taxi guy, too. If I have to, I will take a subway, but that is low on the list. I rarely take the bus. I took it last week for the first time in years. It was a very surreal experience for me to be in the bus at 10 p.m. going up Third Avenue.
Talk about New York from a stylist's perspective. What makes it distinctive?
New York is the most unique place in that New Yorkers truly are very individualistic. They do what they want for comfort, style, and they do it for themselves. I can't live without Barneys. I love that you can experience different cultures all in the same city; I could have different types of foods that are all authentic. Same goes for fashion; you can find classic pieces, over-the-top designs and, if one was so inclined, you could even find cowboy garb.
What is your favorite neighborhood and why?
I opened my office on 38th between Eighth and Ninth Avenues at 303 West 38th Street, the area that connects Hell's Kitchen and Upper Chelsea (Hudson Yards).  I always try to be an innovator and looked everywhere for about a month for a good space for my modeling agency. I kept coming back to this neighborhood.  My building is amazing and there are so many interesting artistic people there—tons of trendy designers. There is energy in this up-and-coming area that you just can't find elsewhere in New York. In the next five years, this is going to be booming and I love that I'm one of the first to have my business there.
What tips would you give to someone moving here?
To be a New Yorker, you have to explore the city and find where you feel comfortable. There's a neighborhood for each personality. You need to know what your personality is. Then look at your finances and see what you can afford. 
More Q&A's from BrickUnderground:
Brick Underground articles occasionally include the expertise of, or information about, advertising partners when relevant to the story. We will never promote an advertiser's product without making the relationship clear to our readers.