Improve
Q&A with ballet dancer Irina Dvorovenko: Not a good idea to come to NY without money or friends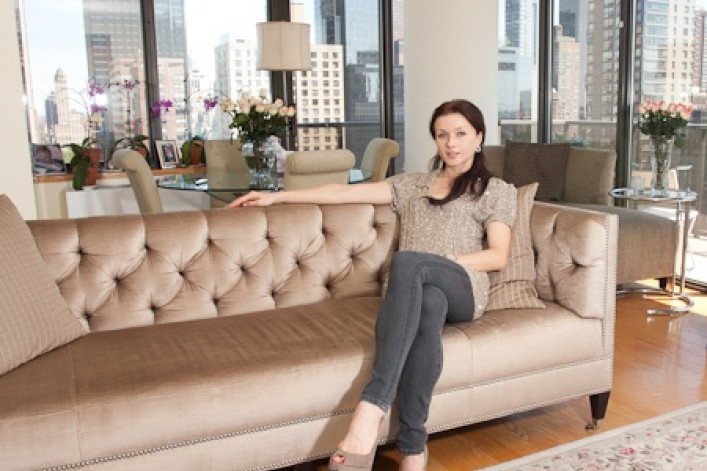 Irina Dvorovenko is a principal dancer with American Ballet Theater and an Upper West Sider in possession of a high-floor balcony with fabulous views.  Featured in Vogue and Allure magazines, she'll be performing at the ABT opening night gala on May 16 and opening the company's production of "Swan Lake" on June 27. Excerpts of her BrickUnderground interview follow.
How does Kiev, where you grew up, differ from here?
It is impossible to compare. The culture, architecture, mentality and lifestyle are totally different. Nothing can compare to the pace of this city's life. When you tour elsewhere, you feel you are on vacation. Being in any other city makes you feel like you are in the countryside.  You can reach and achieve anything in NYC; there is a distinct sense of competition that doesn't allow you to sit and do nothing.
What was the hardest to get used to in NYC?
I came to NYC with my husband, fellow dancer, Maxim Beloserkovsky, in 1994 when I was 21. We married when I was 20 and he was 21 after having been in the same school in Kiev for eight years. The hardest thing was the different language; I spoke only primitive English when I arrived. The pace was daunting as was learning all the many things you must know to live here: how to deal with the pace; how the banking system works; how to find a place to live. I was lucky to have good friends to give us advice. Their number one piece of advice was to purchase instead of rent.
How did you find that first apartment – and the next?  
Our very first apartment was a studio in Sheepshead Bay that our friends found for us; we stayed for a few months. We were on tour with the Bolshoi Theater at the time and quickly moved to Manhattan,  because the travel time was killing us. I saw a New York Times ad for a 1BR rental on 56th and Broadway. Of course, I had no idea about putting down security and paying a broker's fee. We didn't have much money, but we had an extremely nice broker who was sympathetic and allowed us to pay his fee two months after we moved in. We stayed there three years and then we bought our first 1BR in the Lincoln Center area, because it was also convenient to our job. We wanted a safe area near the theater with convenient transportation. 
Maxim had ankle surgery and was bored to death so he began looking at what was out there to buy, visiting open houses when he could. He spotted this very fancy building nearby and we fell in love with the apartment, but thought we couldn't afford it. But we pulled together and got the down payment. It was a 700 square-foot condo unit in a full-service luxury building with a balcony, swimming pool, gym, racquetball court and children's play area. We stayed until I  got pregnant and then rented it out and bought a bigger place on 57th and Eighth Avenue. However, we really wanted to be in our original building so we waited until a two-bedroom unit in that building became available and snatched it. We sold our 57thStreet apartment and made a great profit just days before the market collapsed.
What are some of the best kid-related places?
My daughter Emma is 6 years old now. We work a lot, so we are very grateful for our building, which has indoor and outdoor play areas. Emma also loves nearby Central Park—particularly the zoo. Our friends suggested the Children's Museum on the Upper West Side, so we are eager to go there. Close-by is the American Museum of Natural History, in which she has spent much time.
Emma also takes ballet and tap classes as well as piano classes. The Ballet Academy East on the Upper East Side is where she learns ballet; my mother teaches there. She takes tap at Manhattan Movements Arts Center on 60th and West End Avenue. She has a French tutor, who comes to our home. Most important, she attends Lycee Francais, which very hard to get into but I love the education level there because it is mostly European-style and very strict with discipline.
So my daughter is very busy at 6 years old. She speaks English, Russian and French. She knows simple phrases in Chinese, Japanese, German and Spanish. She has a gift for languages and NYC is a good place for her to be exposed to many of these cultures firsthand.  
What do you think is more important, size/space or neighborhood?
This is hard, but when we were apartment-hunting if it was in a bad neighborhood, we crossed it off our list. We wanted a high floor in a luxury building in a safe and convenient location. We are emotional and artistic and if there is negative energy in an area, I cannot stay there.
What would your dream home look like?
My dream home is exactly what we have: high ceilings, balcony, lots of light, amenities, good staff, walking distance from work and in the center of the Theater District. Although, I'd like an extra room.
What's the funniest or scariest thing to have happened?
This story is both funny and scary at the same time: When we had our 10-year anniversary, my parents and husband got me a tennis bracelet. The first time I wore it there was a horrible snowstorm and I had to take a cab to the East Side for an event. While the taxi was crossing the park I looked at my watch and realized I had lost the bracelet. I felt this was a very bad signal from above. I am usually pretty stoic, but I was crying uncontrollably. We searched everywhere in three feet of snow, but to no avail. The next day we were going with the ABT on tour to dance at the Kennedy Center in DC. We were away two weeks and the day after I returned home, I was walking home from shopping. About 100 yards from my home, I found the 5-carat diamond bracelet on 62nd between Amsterdam and Broadway lying on the ground like a sparkly snake. I took this as a very good sign. It is truly the weirdest and most unbelievable thing that has ever happened to me. The snow melted and there it was!
Any other New York stories?
I was dancing in "Romeo and Juliet" at the Met and the day after a performance I was eating with Maxim in Jean Georges Restaurant. Near us, a man was telling his dining companions about how friends had gotten him tickets to see Romeo and Juliet for his birthday the night before and how it was the best present he had ever gotten. He went on to explain how moved he was by the ballerina and was so passionate about the show, he started to cry at his table. I realized he was talking about my performance, so my husband and I went to his table to wish him a "Happy Birthday." He was floored!
How do you get around town?
We don't have driver's licenses, so we take the subway or taxis.
What are some favorite places to shop for food?
Most of the time I cook. We go out once a week, when we are completely exhausted. We love Time Warner Center's Whole Foods. We do a delivery for a week's worth of groceries. We have a daughter, and my mom visits often, so I like to keep food stocked. I also like Fairway and Zabar's, but they are farther away, so I only go when I'm not busy.
Favorite restaurants? I like Jean Georges, Marea, and Fiorella, which has dedicated a table to us. Each table belongs to cultural figure, such as conductors, opera singers, or dancers.
What tips do you have for someone moving here?
Have a job. Coming here with no money is not a good idea. You will be emotionally devastated and you will be depressed. The pressure of the city is strong. You must know where you are headed. Rely on friends for support and advice. Without our friends who helped us with recommendations and money, we would not be living where we are. Relationships are very important.
What about the city inspires you as a dancer?
On a sunny day, I stand on my balcony and I see the beautiful sky, river, blooming trees and I hear the birds. I realize how much I have: I have a great family; I do what I love to do for a living; and I try to concentrate on the positive because negative things are always there.
What are some of your favorite dance-related places?
When the City Ballet performs, I go. When the Royal Ballet comes, I have to see it. Alvin Alley is beautiful as well. NYC has a lot of offerings in terms of dance. There is always something going on. The worst thing about NYC is you never have enough time to do everything you'd like to.
How does living here affect your job?
People make jokes saying I can exit the Met through the back and be home in seconds. This is my home base. Dancers are like birds; we may fly many places, but we build a nest and always return. New York City is my nest.  
Brick Underground articles occasionally include the expertise of, or information about, advertising partners when relevant to the story. We will never promote an advertiser's product without making the relationship clear to our readers.