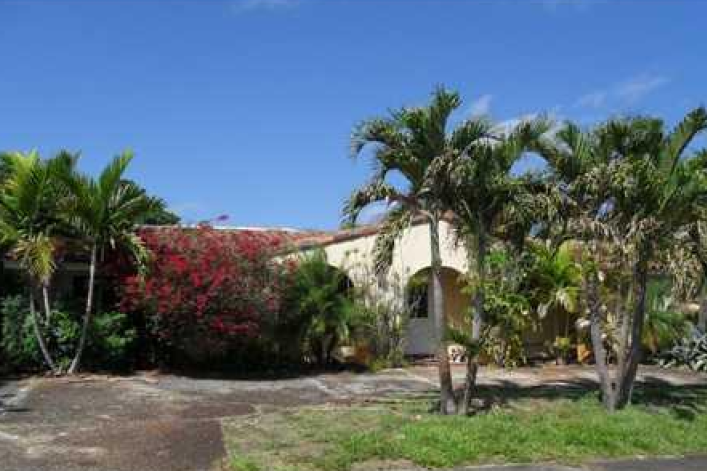 I've been a real estate broker in NYC for the last 20 years, so when my wife and I went down to West Palm Beach, Florida looking for a second home, I thought it was going to be relatively easy. There are plenty of houses on the market including short sales and foreclosures, so I thought we'd have our pick of places.  Easier said than done. 
For our initial search we relied on Zillow and Trulia along with some help from City-Data.com. What we found was helpful at the time but does not replace being there in person and getting a real feel for the different neighborhoods.
I should explain that we don't think of ourselves as too picky. Our wish list includes at least three bedrooms, a lush back yard, a good neighborhood with good schools, priced between $130,000-$200,000 dollars and no more than a few miles to the beach.
A false start 
Our initial focus was on the towns of Wellington and Royal Palm since both have extremely affordable homes and lots of inventory. According to City-Data.com, both neighborhoods are safe and have good schools and local amenities.
However, when we toured the area we realized we were 30 to 45 minutes away from the beach (initially we had thought they were closer). The homes in Wellington and Royal Palm are in very generic gated communities and, more importantly, we just did not connect with the area. In fact, they made us both want to run back to NYC.
Luckily our disappointing experience in the western communities was on our first day of looking, so we tried to stay upbeat and optimistic that we would find a town that would appeal to us.
West Palm Beach & the difference a block can make
Our next focus was exploring the historic neighborhoods of downtown West Palm Beach. These areas would appeal to many New Yorkers; you are close to the bustling downtown of West Palm with its shopping, restaurants and the Kravis Arts Center while also being close to the very fabulous and wealthy Palm Beach. This part of West Palm Beach is also known for its antique shops, many opened by ex-New Yorkers.
The key here (for reasons explained below) is staying East of Dixie Avenue, although if you are just west of it you will save about $75,000-$100,000 dollars on the price of a home. Expect to find charming, historic, wonderful homes built in the 1920's- 30's with lush old gardens, high ceilings, fireplaces and cypress wood work.
This area really appealed to us both and we found a home in the Southend neighborhood that we loved priced at $109,000 dollars (wow!). We loved everything about this home; it had a double lot, 3 bedrooms, lovely gardens, and plenty of character and charm. It even had an external staircase that led up to a "cupola" room that was all windows with beautiful Mexican tiles on the floor.
But my gut told me something was wrong.
Although the two houses next door were nice, the rest of the block was a bit rundown and a few blocks away there were some dicey-looking rentals. The park across the street that looked beautiful during the day also had me wondering what happened there at night.
As we stood at the park entrance, a police car drove up. I waved him over and peppered him with some questions about the neighborhood. He confirmed our fears. Our dream home was on the wrong side of South Dixie Avenue, and therefore on the wrong side of the tracks. The house was just around the corner from two gang-affiliated homes, the park was off limits at night and he would not consider living there himself.
As one dream was crushed, we moved on to searching northern sections of town where the same situation repeated itself again and again. Things can change drastically from one block to the next and usually a major avenue will be the dividing line. If you are house hunting in Florida I would be very conscious of this. Go back and look at your dream home in the morning, afternoon and later at night along with scoping out the immediate area.
Better yet, head to Jupiter
I'm a surfer who also enjoys golf and my wife is a beach person, so we soon headed east and parked ourselves in a nice oceanfront hotel on Singer Island.
Singer Island is north of Downtown West Palm Beach (about 10 miles) over the Blue Heron Bridge. It's a small barrier island with some exclusive homes and large hotels right on the ocean. From this new, eastern location we started searching for homes in the Northern part of Palm Beach County and soon discovered more neighborhoods that turned out to be game-changers for us both.
Sections of Palm Beach Gardens, North Palm Beach, Jupiter and Juno (just north and west of Singer Island) have easy access to beaches, shopping and amenities. Palm Beach Gardens has a very upscale shopping mall and a variety of very good restaurants.
But just like house hunting in Manhattan, or anywhere for that matter, it's all about location. For instance, there's a big difference between First Avenue and 75thstreet and Lexington and 75th Street. We realized we definitely need to be East of Highway 1 or, even better, east of the A1A. This puts us closer to the beach and that "beach town" vibe that we connect with.
In Jupiter and Juno there are also many beach-front condos that I think would appeal to many New Yorkers as they offer an easy, low-maintenance way to be on the water with a nice package of amenities, like a pool, tennis and (in some cases) golf.
Condos can also be rented out during the winter months and provide a nice income stream. You can purchase a waterfront or water view condo at prices starting below $200,000 and prices drop quickly as you move further west. If you're willing to drive 20 minutes to the ocean you can find a glut of condos that can be purchased for $50,000-$75,000 dollars.
We did wind up making an offer on a home we really loved in North Palm Beach (pictured) listed for $163,900 only to learn a few days later there was another offer as well. We presented our best offer ($145,000 on a house that needed $40,000-$50,000 worth of work) and stuck to it--and were outbid.
Why a centralized key system is better than a doorman when it comes to showing houses
The mechanics of looking for a home are more or less the same no matter where you are moving. Log onto to a web portal like Trulia or Realtor.com, pick some homes you want to view and off you go.  
One nice difference is that in Florida you get driven around to all the showings and you always get in. I also noticed that brokers are very courteous to each other. If our broker called to get access (you need verbal permission and the key lock code in some cases) the listing broker either answers his or her phone or calls you right back--versus NYC, where getting into an apartment without a great deal of notice just isn't going to happen.
Florida also has a sort of "central listing center" that has all the information a broker needs to show any property. Brokers call a 1-800 number, give their special broker ID# along with the listing number and receive the key lock combination and any other special instructions you may need to show the property. This eliminates that awkward NYC real estate experience when the doorman tells you that there's no key…and you've taken your lunch break to see the apartment.
Here's another nice thing: Florida of course has an MLS (multiple listing service). The closest thing we have to this in NYC is Streeteasy.com. The MLS gives you very up-to -date information on the status of all the listings. As soon as there is a signed contract, the listing will show up as "pending". Also any relevant updates show up daily, such as price changes or back on market status. Our broker also set up an Auto Search for us and we received relevant listings via email 3-4 times a day.
These listings included all the information we needed, along with a map location that made it easy for us to decide what we wanted to see now that we were familiar with all the neighborhoods. Again, even within the areas we decided we wanted to be, there was the right and wrong side of the tracks, usually with a main avenue being the boundary.
Another big difference is the process for submitting an offer. Here in NYC it's pretty informal and involves an email with a few paragraphs, along with a financial statement and maybe a prequalification letter from a lender.  This process is hampered by the fact that we use attorneys to review the contract and perform due diligence. This can take a week or longer and it leaves the buyer exposed to a possible higher offer being submitted. It can also work against the seller.
In Florida, by contrast, you sign a contract and put money into the escrow account of the broker you are working with. The contract is then faxed over to the listing broker with a copy of your prequalification letter. You can verbally present an offer but it's rare and not really taken seriously. So basically, if the seller accepts the offer and signs it back-you're done. Of course you have contingencies for financing and a home inspection as well as a time frame that the seller has to get back to you. In our case, when we submitted an offer if it was not signed back to us within 48 hours, the contract was voided.
The upside of a sh*tshow 
One of the biggest differences you will see concerns the price destruction that occurred after the credit bubble burst. In Florida it appears that their peak was in 2005. In NYC we peaked a bit later towards the end of 2008, the Lehman collapse being the final nail in the coffin.
If you bought (in Florida) during this time, your home/condo may be down by as much as 75%. Approximately 70% of homeowners are underwater on their mortgages. We did not see anything like this in Manhattan.  So if you always wanted to park a boat out back on your canal, well-located homes can be had starting at about $600,000 dollars.
On another note, just like here in NYC where we seem to have a bit of a micro bull market taking place in a larger secular bear market, Florida has, dare I say, its own bull market of sorts taking place in a particular segment.
Let's be clear: Overall it's a shit storm down there as far as real estate is concerned. But in all the carnage one sweet spot seems to be homes in the $100,000-$175,000 dollar range ($350,000-$450,000 in 2005) in good to very good neighborhoods.
It seems that there are investors (vultures) picking at the scraps, in some cases actually buying wrecks to flip, renovating (God only knows what's under the "renovations") and putting them back on the market. If priced right, they seem to be selling fairly quickly simply because most of the other homes in this price range are, to be frank, shit boxes.
As for the house we bid on and lost, we'll follow up on it, because many of these homes come back on the market due to a bad inspection or financing issues. If it doesn't work out, we will go back in September to continue our search.
---
Keith Burkhardt ([email protected], 917-770-4951) is the founder of The Burkhardt Group, a 4-year-old progressive Manhattan-based real estate brokerage providing consultant-level services with below-market fees and commission rebates.
Brick Underground articles occasionally include the expertise of, or information about, advertising partners when relevant to the story. We will never promote an advertiser's product without making the relationship clear to our readers.