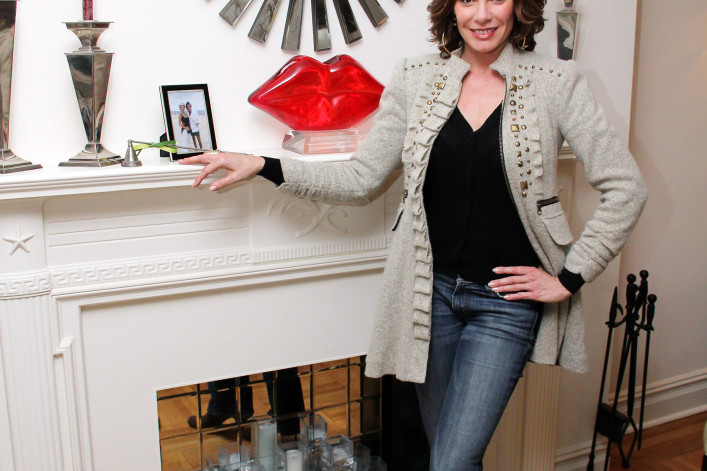 With the new season of Bravo's "Real Housewives of New York" starting in a few weeks  (April 7 at 10 p.m.), BrickUnderground spoke with reality-TV star and author of "Class With the Countess," Countess LuAnn de Lesseps, about the reality of living in our city. Excerpts follow.
How does growing up in Connecticut compare with living here?
I was raised in a small town in Connecticut, which was healthy, fun and very suburban. I didn't move to NYC until I was 23, so when I arrived in Manhattan in 1987 I felt like a bit of a country bumpkin and was, like, "Oh my God, I love this place!"
While I had been a nurse, I was scouted to be a model. I came to New York for a shoot and got involved with girls who were looking for a roommate. They contacted my agency, and I moved in with them on the Upper West Side. In fact, one girl was a broker from Douglas Elliman.
How long did you stay in that apartment?
Until 1990, when I moved to Milan. My share of the rent was $600. It was a three-bedroom apartment and because one girl had a bigger bedroom, she paid more.
How did you end up moving back here? 
I met my husband and eventually moved to Switzerland, where I lived for nine years. In 2002, I returned to New York, but to the Hamptons. I got back to Manhattan in 2007, when I bought a townhouse—a broker, Rise Cale from Prudential Douglas Elliman, assisted me—on the Upper East Side, right before I started with the TV show. 
In 2009 I moved to the Upper West Side and a three-bedroom apartment in an Art Deco, luxury building. It's huge, has a great view of the Hudson, high ceilings and sunken living room. You see, I no longer needed a whole house, because my two children, a son who is 14 and a daughter who is 16, were in school in the Hamptons and I'd be in my house there on the weekends. Also, the TV show's success meant people started recognizing me on the street and in my neighborhood. I realized that I needed a secure doorman building that was more manageable. 
What's the best and worst thing about your current apartment?
The best is the size—2,500 square feet. Also, the view of the Hudson is amazing. The worst: I'd love to have an eat-in kitchen, because everything seems to revolve around the kitchen.
How does living on the West Side compare to the East Side?
The Upper West Side seems more relaxed and I find the spaces bigger. Even the street spaces seem bigger. I love the park on the Hudson. There's great shopping and restaurants. The West side also seems more family-oriented and less commercial. Most of all, my boyfriend, Jacques Azoulay, is on the Upper West Side, so moving there was more convenient. 
What's the scariest thing that has happened to you here?
When I lived in my East Side townhouse, I was awakened at 5 a.m. by the alarm. As I walked down from the second floor to the first, I thought I saw smoke coming up staircase and called the fire department. It was so foggy, I could hardly see, and after greeting the fire fighters in my bathrobe, I found out it was steam from a pipe that burst. They were like, "Is this going to be on TV?" Thankfully, no cameras were around. 
What's your dream home?  
I'd love to fix up Gracie Mansion, give it some fresh paint and decorate. Those views—the gardens, the park.  
What would you change about living in Manhattan?  
The traffic. 
Do you have a car? 
My boyfriend has a Smart car. It's genius! It's amazing to be able to park in front of every restaurant. I definitely get more attention in the Smart car than in any other vehicle. It's a great way to get around NYC. 
What's your favorite neighborhood? 
My new favorite area is the Upper West Side. I especially like to go by the Hudson River and look at the boats. I enjoy the restaurants near the water where you can eat outside. It's a part of the city I never knew.
Do you think space or neighborhood is more important? 
I'd prefer to be in a smaller apartment in a nice location.
What tips would give someone moving to New York? 
Know what time traffic gets bad in certain areas, so you can get around town efficiently. Befriend your doorman. Have good takeout menus.  
Were your two children raised here?  
They were raised overseas and in the Hamptons, but spent two years living in New York. I am happy they did because now, as teenagers, they are familiar with Manhattan. They are comfortable here and know how to navigate the city in a way I didn't when I arrived at 23.   My son skateboards in the parks—both Central Park and Riverside Park. Bryant Park is great for young people; there are free movies in the summer and skating when it gets cold. There's just so much for them to do: Chelsea Piers, Museum of Natural History, the Met, Broadway shows. 
How has New York influenced your writing?  
I wrote a book about manners and etiquette, "Class With the Countess," but it is also autobiographical. It's the story of my life coming from Connecticut to the city and then being married into French aristocracy. New York was my launching pad; without coming here, I would have never ended up overseas. When I met other models, they were all talking about going to Milan and Paris. If I had never moved to New York City, I would not have had the curiosity to explore the world. It's a gift to be able to live here.  
What are your favorite food-related places in New York?  
I cook even though I have a relatively small kitchen. I also eat out and order in. For Jacques' birthday I made Beef Bourguignon inspired by Julia Child's book. I made it at home and can't tell you how great his face looked when he smelled it. The way to a man's heart ...
For another birthday, I bought him a piano as a gift, because I wanted him to play in the apartment. My daughter plays, too. I had planned on also cooking him a big meal, but got so busy getting the piano delivered and set up, I didn't have time. So, I arranged for a bistro table to be set up in the living room and ordered take-out from the Ruth's Chris Steak House on West 51st.
How do you want to be treated when recognized on the street or in your building?  
With respect. One of the basics of class, manners and etiquette is to respect thy neighbor. 
When's the last time you were on a subway?
Coming back from the Bronx Zoo with my two children in 2005.  We took the bus up Madison Avenue, but we missed the bus coming back. So, we decided to take the subway. The kids were a little scared, since there were some pretty shifty characters on that subway. But it was an experience they will never forget.
More Q&A's from BrickUnderground:
Brick Underground articles occasionally include the expertise of, or information about, advertising partners when relevant to the story. We will never promote an advertiser's product without making the relationship clear to our readers.