Improve
10 Minutes with dog walker Tanner McAuley, the guy to call if your dog needs a date to your wedding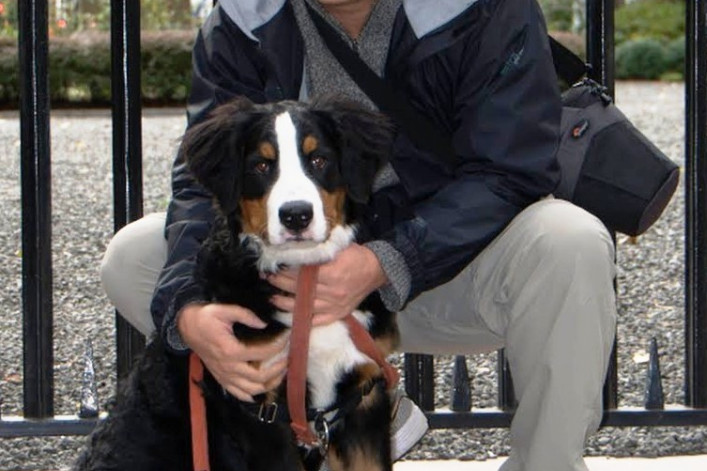 Tanner McAuley runs Puptopia, a NYC dog walking and sitting service.  McAuley, who walks Upper East Side pups, tells BrickUnderground how he was once hired to escort a dog to a wedding (they didn't have to dance together) and the best and worst places to walk dogs in Manhattan. 
How long have you been a dog walker? What is the best and worst thing about the job? What area do you work in?
I grew up in Manhattan on the Upper East side and my family has had dogs—all different breeds throughout the years--since I was a baby. I have been very familiar navigating the streets of NYC with dogs for as long as I can remember. Professionally I have been dog walking for five years. My firm covers all of Manhattan, though I personally walk on the Upper East Side; so many of our requests come from that area.
Have you ever refused to walk a dog & why?
Never. We do a free meet and greet before we take on a client so I can meet the dog and the owners can see if they are comfortable with me or my walkers. If I saw an overly aggressive dog or a physically handicapped one I'd consider refusing but so far, so good.
Who usually causes the worst problem--the dog or owner? 
Definitely the owner. Usually because the owner hasn't raised its puppy properly, especially by not giving it enough attention or affection it can develop poor behavior. Dogs are often a reflection of their owners so a lot of times when I meet a dog with a certain personality trait or neuroses it becomes evident the owner has the same. If you meet an owner that is reclusive and doesn't get out much with the dog, the dog will have aggression problems because it has not been socialized properly. If there is a household filled with hyperactive people the dog can be tense and high-strung.
What's the largest dog you ever walked? What's the smallest?
Largest: Great Dane. Smallest: Chihuahua.
What's your average tip at Christmas?
It's hard to put a number on it because we get gift cards, wine, and a variety of things aside from money. We try to build a real relationship with our clients—most of our clients have us walk their pets five days a week—rather than just offer sporadic walks.
Have you been asked to do a favor outside dog walking? What was the strangest request you've had?
One client asked if we could bring their dog—a Basset hound, beagle mix--to a wedding and be its escort. We did it! It was really interesting. The wedding was in Manhattan; the venue let the dog attend based on special request.
Did you dance with the dog?
No! Just pretty much a paid escort and nor did we have to walk the dog down the aisle. But that type of request shows how much the client trusts us.
How did you become a dog walker?
I have always had a love of animals. Now that I think about it, it was a natural gravitation. My mother grew up on a horse farm so I have always been taught to treat animals with respect. I was working on a project and needed to supplement my income so I became a dog walker for another company and loved it. I analyzed the competition out there and saw a void because no one seemed to be keeping personalized profiles on the dogs so I started Puptopia to address that need.
I was in publishing and TV—always doing artistic things in the arts and film and music. Now not only do I walk dogs but I own a dog walking business so I'm busy managing roughly ten employees and arranging for substitute walkers when they need off or get sick.
Do you own a dog? What type? If not, why not?
I do not have any dogs personally because my apartment is too small. Dogs need space, but my family in NJ has dogs I get to play with. I also feel all my clients' pets are mine because I know them so well.
How do you feel about cats?
I love them too! My family has also had a lot of cats. They are more self-sufficient than dogs but more unpredictable which can be threatening to some, but I find it fascinating. That's why cats have always had a mystical quality in history.
What are some of your favorite or best dog spots in NYC?
Central Park--before 9am and after 9pm dogs can be off-leash--in certain areas. I recommend bringing dogs out of the city whenever possible so dogs can run free and get exposed to nature.
One of Puptopia's cardinal rules is to provide our clients' dogs with as much exposure to nature as possible since we live in a concrete jungle, in a city that moves at a frenetic pace. As they say, sometimes you have to stop and smell the roses and that statement rings particularly true for dogs. New York is a city that makes that difficult because it's so frenzied.  
We all inherently are more interested in smelling nice fragrances. It's more pleasant to sniff flowers and breathe in fresh air than smelling fumes released from buses. Also, dogs are very sensitive to noise. The noise level in a park or by the river is quieter and the sounds are more soothing to both us and dogs.  All of the activity in the city can almost numb a dog's heightened senses, thus the reason it's important to go to parks and take weekend trips to beautiful natural areas so both you and your dog can be balanced.      
I'm not a huge fan of dog runs because of a lot of bacteria that builds up in those small spaces. There aren't many places to socialize dogs, but it just isn't natural to have 20 dogs in an enclosed space like that.
---
"10 Minutes With" is a series of conversations with New Yorkers who aid and abet vertical life in the big city.
Related posts:
10 Minutes with Professional Organizer Jeffrey Calandra: Even the rich need Bed Bath & Beyond
The perfect apartment for your cat
Brick Underground articles occasionally include the expertise of, or information about, advertising partners when relevant to the story. We will never promote an advertiser's product without making the relationship clear to our readers.