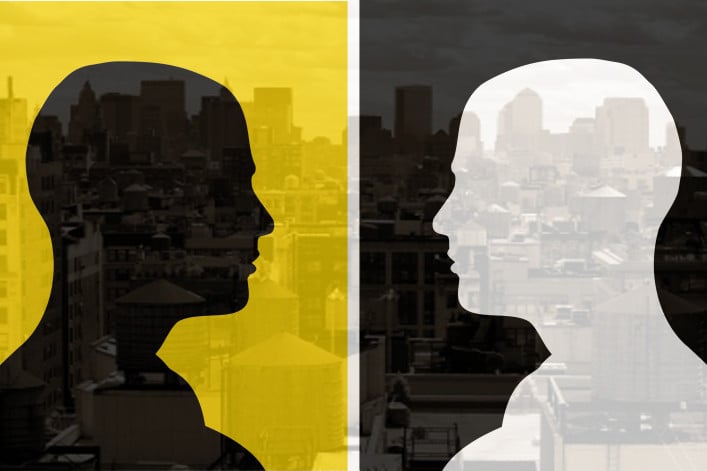 I rented my small one-bedroom on the Upper West Side in 1994, shortly before the weakening of rent regulations. My stabilized rent started out at $1,100 a month.
The former tenant, a physical therapist, was breaking the lease to take a job in the Pacific Northwest. The agent told me the apartment would go to the first person who saw it. I was the lucky one.
Over time, I have come to realize how the agent knew that. There was everything right with the apartment, and no deal breaker, nothing that would be widely objectionable. The apartment was on the third floor of a five-story building, not too high and not too low, in a well-kept walkup with a view of the street. It was originally one large room now divided into two; the layout included two well-situated closets and plenty of wall space, good for fitting lots of furniture. 
The location, in the Upper West Side historic district, was mid-block -- not too close to the busy avenue, not too far from the local subway stop. What's more, the local stop was an express stop, requiring no switching. The corner deli is open all night. 
Later, I learned the term "incurable defects" -- things, like a bad location, that cannot be changed. The apartment had no incurable defects. 
By that time I met that prescient agent, who greeted me on the pretty front stoop, I had checked out about 10 other places, so I didn't hesitate to sign the lease. I had seen one place with a rickety loft bed, one where the windows faced a school, one with a spiral staircase down to a basement bedroom, one with hideously ornate and ugly fixtures, one in an owner-occupied building where I feared constant scrutiny, and another where the entire living-room floor was occupied by a cage holding a rabbit. The bunny didn't come with the apartment, but its presence still weirded me out.
My apartment had few curable defects, either. People have all kinds of things wrong with their homes; I have so few complaints that they are not worth complaining about. Every few years, there's a day or two with no hot water, but we get a warning note ahead of time. One winter, there were a few boiler-repair days with no heat. 
My complaints? Remember the city's toilet rebate program in the mid-1990s, where landlords installed low-flow toilets and shower heads? The new low-flow toilet clogged at the slightest provocation. So I am now equipped with plungers, both rubber and bellows style. Tip: To unclog a toilet, squirt dishwashing liquid into the bowl, wait 10 minutes or so and then plunge. This technique has never failed me.
The showerhead was replaced with a low-flow version, too. The pathetic drizzle meant I spent twice as long in the shower, fruitlessly trying to rinse. So I removed that showerhead shortly after the inspector left, replacing it with the original un-low-flow model.
One thing I have noticed is that something seems odd with the apartment's electricity. Light bulbs burn out at an alarming rate. One bulb lasts maybe four months. I called Con Ed about it. They didn't seem concerned. 
The neighbors are kind and quiet. My downstairs neighbor cat-sits when I am away. (The landlord allows pets, despite the no-pets lease.) The cleaning guy sweeps and mops the hallway every week. He also bundles the recycling and takes the trash to the street. The super likes me and returns my calls immediately. 
Occasionally, my upstairs neighbors throw a loud party. But I know it will end in a few hours. And sometimes -- maybe once every four years -- I find a homeless person asleep at the top of that nice stoop. 
The rent is now up to $1,650. And I got married, so now my husband lives here, too. Sure, we wouldn't mind more space. But, as long as rent regulation lasts, we'll make do with more shelving.
Related posts:
Then & Now: I adapt to my prewar 'charmer'
Then & Now: Goat heads don't ask, don't tell situation
Then & Now: I fell for the view, then shut the curtains
---
Then & Now explores how time illuminates the pros and cons of an apartment--and how what draws people to a place isn't necessarily what keeps them there.
Brick Underground articles occasionally include the expertise of, or information about, advertising partners when relevant to the story. We will never promote an advertiser's product without making the relationship clear to our readers.