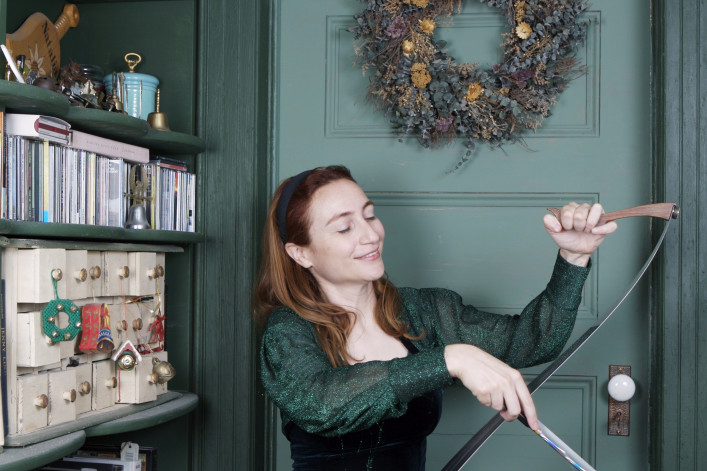 Natalia Paruz is affectionately known as the Saw Lady to subway passengers around the NYC area who have spotted her at the Union Square, Herald Square and 59thStreet & Lexington stations playing showtunes, movie themes, classical music and her own original compositions on a carpenter's saw. Today the Saw Lady tells BrickUnderground about her first apartment in an Upper East Side convent, why Astoria is her favorite neighborhood, and the reason she switched to a toothless saw.
Where did you grow up? When and why did you move to NYC?
I grew up all over Europe because my parents moved around frequently. My father was a research scientist and my mother, a concert pianist, so we lived in Germany, England, Switzerland, France, Spain, and Israel.
I first came to New York City with my parents over 20 years ago because my father was doing research at Columbia University. When my parents left to go back to Europe, I stayed in NYC.
How did you find your first NYC apartment? Can you describe it? How much was the rent?
I was a teenager and a trainee with the Martha Graham dance company, and some of the other attendees recommended I get a room in a convent--St. Mary's Residence on 72ndStreet between 2nd and 3rd Avenues. The first and second floors were the convent but the nuns rented out rooms in eight floors above, creating an all girls dormitory. I lived there for about two years and I don't fully recall but think the price was around $200 a month.
At first it was a bit intimidating, especially since a nun lived in the room directly to the left of mine. But everybody turned out to be very nice. It was fun because there was a camaraderie between the ladies on each floor, where we shared a kitchen, and living-room area where we watched TV. There was a fun sort of "recycling" on my floor: Girls left books and clothing they didn't want any more free for the taking.
Rules were pretty straightforward: Maintain quiet (there was a piano practice room on the roof where singers would sign up for a time slot to practice) and cleanliness. No pets, no personal TVs in the rooms (my friend hid one in her closet) and no male visitors. Phone calls were directed into an intercom system in each room only between 8am and 10pm. One could only receive phone calls but not make them. For making phone calls there was a pay phone on each floor. It's still around: http://www.stmarysresidence.blogspot.com
Where did you move next?
I then moved in with my boyfriend who later became my husband. He had an apartment in Astoria, Queens. He introduced me to that area.
How did you meet him?
I met him at Lincoln Center for Performing Arts. His job was to hand out sheet music at the library and I was a dancer but one day saw a notice for a singing competition. Even though I had no intention of being a singer, I thought the tryouts would be fun. I sang the only song I knew and won! The prize was a one-woman cabaret show. So I started to go to that library to get music to learn songs.
What was his apartment like?
His apartment was terrible. He was originally sharing with a roommate but then I moved in. While it was a nice size—three rooms plus kitchen and bath—it was old and never renovated. There was a leaking ceiling and it was in disrepair. We stayed because it was affordable; each of us paid roughly $300 in 1995.  We stayed there about two years and then moved to a basement apartment on the next block. This was a big improvement even though it was a basement—at least it had no leaky roof and was only a tiny bit more expensive. We only stayed there another two years. When we married we began looking for a place to buy.
How did you conduct your search?
We went to real estate agents around Astoria but were not successful. One apartment was nicely laid out but as soon as I walked in I started coughing; something was very wrong. There were some sort of allergens there.  We decided we liked the area of Astoria west of elevated train line so we narrowed it down and only searched there. My husband was walking around that area and saw a broker's sign on one of the houses and that's how we found our house. We bought the two-family home for $250K.  What's coolest is that it was built in 1905 so it feels very historic. We rent out the upstairs apartment. Our own unit is railroad style.
Any pets?
Five cats! Didn't plan on that but they showed up. Adopted two cats and one had kittens so we kept them.
What's the best and worst thing about your apartment?
Our biggest blessing is a backyard. To have your own outdoor space in New York City makes us both full of gratitude. It's like having an extra room. The worst: It's small and has only one closet in the entire apartment. We keep everything in there---clothes and even our air conditioner in winter. We have a bed with storage in it and lots of shelves.
What is the best and worst thing about your neighborhood?
The best is that it is so close to Manhattan so we have a very easy commute. We get to live in NYC and yet have the feel of a small town. In our area we have shorter buildings so it has a more small-town feeling. The supermarket cashier knows us. The post office clerk asks after my family.
There is no worst part. It is perfect for me.
What's the weirdest or scariest thing that has ever happened to you living in NYC?
I perform everywhere from churches to Carnegie Hall to Madison Square Garden to the subway.  The weirdest thing that ever happened to me is the city turned me into the 'Saw Lady'. If I had lived anywhere else this wouldn't have happened. I would have learned to play the saw but would have kept it as a hobby but the city pushed me to become what has now become my whole life.
When I started to learn how to play the saw I was selling souvenirs in Broadway theaters. In our off time I would bring my saw to work and sit in the theater parking lot to practice. I didn't intend for anyone to hear me.
One time a guy and his son stood listening and the man handed me $5. That was the weirdest thing that had ever happened to me but friends in theater said I should play outside the theater at intermission. They literally dragged me out during the next door theater's intermission and put an empty box on the ground for tips. I sheepishly played Broadway songs—one in particular was George Gershwin's Summertime. Almost immediately a crowd gathered. They were happy and clapping and started putting money in the box.  At the end of 15 minutes I had as much money in the tip box as I would earn at work that day. So no more practicing in the parking lot. Instead I played on 45thand Broadway.
Have you ever had complaints from neighbors about your playing at home?
When I first started playing, the neighbor's dog used to howl, but as I grew better he stopped. My neighbor heard me play and recommended me to the local Salvation Army Community Center and I was invited to perform. This city made all this happen!
When winter came I didn't want to stop playing on the street but it was too cold and so I ventured into the subway and was very nervous; it seemed dangerous. I figured I'd try it once but the response was just as great. If I was living in a city with no subway, I'd have stopped playing but NYC provides the best playing ground. Our subway stations have amazing acoustics. I've played in subways in other countries since—Paris, Rome, Prague--but the NYC subways are the best for musicians---such a boon---a natural reverb.
Have you ever had any odd neighbors or roommates?
I've met plenty of weirdos in the subway, but that's what makes it interesting.  Great people watching! I watch the people watching me. There is such a huge amount of tolerance in NYC which is so beautiful. I am addicted to it. I couldn't live anywhere else.
What's your dream home?
There's a house in Astoria that my husband and I called "Tara" because it looks like a mansion surrounded by a beautiful garden from 'Gone with the Wind'. It's on 12th St. in Astoria by Astoria Park.
What is the one thing you'd change about living in Manhattan?
I want more subway lines.
Well supposedly we'll have the Second Avenue one soon! Will you want to play the saw there the first day it opens?
Oh my! Yes, I hope so! It would be nice if while constructing the new subway stations they could take into consideration subway musicians and build a space for us. They have that sort of thing in the London subway—areas out of the way from pedestrians where we can perform.
Which line is your favorite and why? Your least favorite and why? Ever have any problems with cops?
I've only gotten a few tickets but the biggest was $150 because they said the teeth of the saw are a weapon. So now I only play a toothless saw. My favorite station is the N train mezzanine at Union Square. It's not so much the traffic, but the kind of traffic that matters. That area is home to lots of artists of different media…film, painters, sculptors. Such a great vibe.
My least favorite is the Steinway Street station on the R/G trains because it is usually desolate and once there was a murder that happened there. I stay away.
What about food in NYC? Do you cook? Take-out? Go out to eat? What are some of your favorite places or things relating to food in NY?
All of the above. We like to order from our favorite restaurant which only recently started to offer take out. We are addicted. It's Uncle George's Greek Tavern on Broadway in Astoria. It's homemade Greek food but the best part is they give so much we always have enough for two meals and it is so reasonably priced.
The other great food-related thing is that there are tons of mom and pop fruit and vegetable stores here. The amazingly fresh produce is not only fresher but also cheaper than the chain supermarkets'. We also have great small fish markets and butcher shops we like to frequent.
---
Hear & download Natalia's music: www.SawLady.com. Find out what happens when Natalia plays in the NYC subway: www.SubwayMusicBlog.com
Brick Underground articles occasionally include the expertise of, or information about, advertising partners when relevant to the story. We will never promote an advertiser's product without making the relationship clear to our readers.