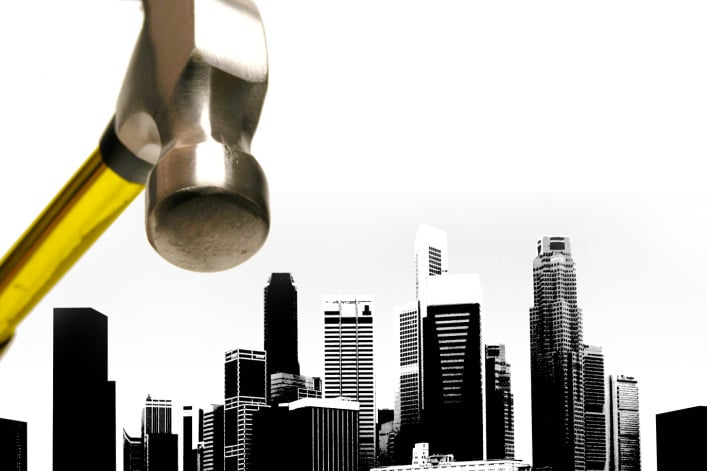 As a client, the most important decision you make will be who makes the decisions.
Before the Industrial Revolution, and the rise of engineering as an important component of building design, architects were responsible for aesthetic, structural and construction-related decisions. The great Renaissance architect Brunelleschi, for example, designed not only the dome of Florence, but also machinery to hoist the stone into place.
That would never happen today.
The complexity of building systems (and the presence of more lawyers) has splintered renovation responsibility into the hands of various specialized consultants: structural, mechanical and electrical engineers, interior designers, landscape designers, lighting, acoustic and audio-visual experts … the list goes on.
While you're unlikely to use the services of many specialists on an apartment renovation, enough parties will be involved to muddy design decisions and adversely affect the construction process.  You need to make clear from the outset how decisions will be made and who arbitrates in the event of a conflict.
Following are a few options, some more effective than others and one to avoid:
Architect in charge
In this traditional arrangement, the client dictates his or her needs to an architect who, with a team of consultants, spearheads design and produces a detailed set of construction documents that the general contractor uses to build the project.  The GC has no design responsibility, but is entirely responsible for the means and methods of construction.
Design conflicts that emerge during construction are resolved primarily by the architect, who directs the contractor to make the necessary changes. Arrangements of this type require complete trust in your architect, who will necessarily be involved in the project from beginning to end and will charge accordingly.
Interior designer in charge
When a project is primarily decorative, it's not uncommon for an interior designer to be in control. The architect plays a supporting role of filing basic floor plans with the city, while the interior designer produces the design documents followed during construction. The general contractor takes the lead on means and methods, though the interior designer may direct his or her own consultants, such as specialty painters, millworkers and tile setters.
This arrangement is economical, since you need hire only one designer. And it can work well provided that the work doesn't affect building infrastructure. Interior designers aren't equipped to handle substantial structural, mechanical or plumbing work, for example, which requires more time–and liability–on the part of the architect or engineers, who officially certify the drawings.
Client in charge
In a city well supplied with Type A personalities, it's not surprising to find clients who want to design it themselves and direct the subcontractors. With simple projects, such as kitchen-cabinet replacement, this approach isn't entirely unreasonable. Anything more involved, however, demands more time than most nonprofessionals are prepared to dedicate. Mistakes are common and learning on the job can get expensive.
I remember being consulted regarding a relocated bathroom in a posh prewar UWS building where the shareholder's project had been stalled in a state of demolition for several months. Properly supervised, the project should have taken 10 weeks. But the client, believing it to be a simple job, directed three contractors, two architects, an interior designer and a variety of subcontractors on her own. Two years later, I was called in again to find nothing had changed on the job site.
Contractor in charge
In rare cases, clients may build a long-standing, trusting relationship with one contractor, who serves as construction manager for all their projects. Under such circumstances, the GC is the primary liaison to the client and exercises wide latitude in the decision-making process, often recommending and directing the designers as well as the subs. Because the work isn't competitively bid or policed by the design professionals, absolute faith in the GC is essential. This is not a reasonable option if you're working with a contractor for the first time.
Free-for-all
Strange as it sounds, there are circumstances in which the client is absent or disinterested and doesn't designate someone to make decisions in his or her place. This is one runaway train ride to avoid, since it will extend your project and add unnecessary cost and frustration to the job. Architects, designers, engineers, consultants, contractors and sub-contractors get excited about starting a new project. After languishing on one that goes nowhere for years, when that feeling dissipates, it is hard to regain.
---
David Katz (www.KATZarch.com) has been practicing architecture in New York City for the last 20 years. Detail oriented, nervous and a little neurotic,  he specializes in co-op and condo renovations.
Disclaimer: Information provided herein is not to be construed as professional advice. Readers are urged to consult with a licensed architect regarding their specific circumstances prior to undertaking any renovation work. (We do not want any buildings falling down!)
See all NYC Renovation Chronicles.
Related posts:
Approval, schmoovel! Renovation perks for board members
4 neat ways to use an investigative lawyer in a co-op or condo
NYC Real(i)ty Speak: Renovate THIS
Dear Ms. Demeanor: The board shot down our renovation plans and now they're ignoring us
Brick Underground articles occasionally include the expertise of, or information about, advertising partners when relevant to the story. We will never promote an advertiser's product without making the relationship clear to our readers.