Improve
Q&A with actor/comedian Amy Schumer: NYC is the only place I feel completely at home with the possibility of a stranger peeing on me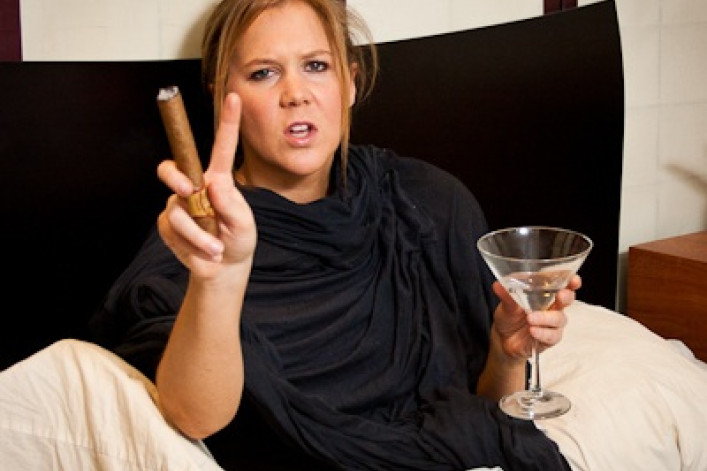 Outspoken comedian and actor Amy Schumer has moved at least 8 times within NYC in the last eight years—experiencing many a roommate complication, and going to great (and often shady) lengths to secure a good deal on an apartment.
Known for her stints on the Jimmy Fallon Show, Last Comic Standing and 30 Rock, she will soon appear on Curb Your Enthusiasm and au naturel in the March issue of Cosmopolitan magazine.  Today she takes BrickUnderground on a tragiocomic journey through her apartment dwelling past.
How does growing up on Long Island and going to college in Maryland compare to living in NYC?
Well, I also lived in Santa Barbara for a period of time because I followed an abusive boyfriend out there. I mistakenly thought that it meant he really liked me. Manhattan is a completely different world—universe—from anywhere else you could ever live. It's the only place one can feel completely at home with the possibility of a stranger peeing on me or getting flashed on a subway platform. 
What year did you move to Manhattan and what was your first apartment like? How did you find the apartment?
I moved to NYC to become an actress in 2003 when I graduated from college. I found a small studio for the monthly rent of $1,275 in Chinatown via Craigslist where I dealt with a shady broker—again with my habit of gravitating towards abusive relationships—who tried to give me advice on how to hack it in this city. I thought I could afford the place but soon had to get a roommate---in a STUDIO. I placed an ad on Craigslist and found a student from Ohio willing to pay for half the rent to sleep on a loft bed. Luckily she was great and we'd sit around watching Sex and the City. Neither of us had much of a social life as bringing someone home was really tricky.
Then the infamous blackout happened and I ended up being stranded with the boyfriend I had broken up with in Santa Barbara who had since moved to Murray Hill, above Noodles on 28th. There must have been a baby boom nine months after that night, because I was over him but still ended up getting back together with him, ultimately moving into the two-bedroom that he shared with a roommate.
I suddenly morphed into the shady broker by matching up two random people to be roommates to sublet my Chinatown studio.
In the meantime my boyfriend's roommate also moved his girlfriend in and she and I ended up orchestrating a coup after we decided we wanted to break up with our boyfriends. We wanted the apartment for ourselves. It took massive finagling to get our boyfriends out of it so we could take over their lease. I convinced my boyfriend that if he wanted to work on our relationship he'd have to move in with his mother and give me some space. I really just wanted the apartment and was victorious!
Wow! You really are shady…
Oh, you have no idea. I was working at Michael Jordan's Steakhouse at the time, but had no experience so I lied and told them I was an old pro at steak waitering…even though I was a vegetarian. I soon learned that success had little to do with bringing the food properly, but way more to do with upselling. I learned always to suggest the surf 'n turf.
So in essence you became the used car salesman of beef…a beef broker…
Yup! Then a girl I played volleyball with in college stopped in and said she had the deal of the century—a huge 2BR duplex in Chelsea for only $1600 a month. I jumped on that and for only $800 I ended up with a huge bedroom to myself, a sauna, and a very large backyard.
Sounds too good to be true…
Oh and it was. The only issue with the apartment was the roommate who was a big slut. She would come downstairs drunk nightly wearing a see-through nightie and no panties and flirt with my boyfriend. And when she wasn't doing that she was bringing gross strangers home. There was just too much tension so I moved on.
So far you've bunked down in Chinatown, Murray Hill, and Chelsea. Where did you go next?
Williamsburg, Brooklyn, but not the cool part. It was far away from the Bedford Ave/Lorimer stops of the L--close to where the old timers sat on lawn chairs outside of their homes and silently judged the young newcomers.
I ended up moving in with a couple that was reaching the end of their relationship, so even though we were the same age, it was like living with my parents; my new job was to be the mediator. At the time I was also stressed in my work life  because I was doing a play called Soccer Moms from Hell which happened to be the worst play in the world. I lived with that couple for nine months, the highlight of which was thinking I was alone—my bedroom connected directly to the kitchen—and calling my sister to tell her about a sex dream I had, only to afterwards find out the couple was having coffee a few feet away from my bed at the kitchen table.
I liked Williamsburg so I got a 2BR by Lorimer, but had to force my boyfriend to move in with me so I could afford it. There's nothing like Manhattan to provide you with forced intimacy. Two years later I moved out; he kept the apartment.
Whew. Then what?  
I was on the road a lot and I really only needed a place to crash now and then, so I moved to the worst part of Astoria--Broadway and Steinway--which is like the Times Square of Queens. Once again, a new boyfriend, a new apartment; that's my M.O.
Finally I ended up where I live today in a studio on the Upper West Side. I found it through a broker and truly love it. It has a backyard and is close to the water as well as the park, which is great for bike riding. I've been here for two and a half years and for a while had my comedian boyfriend move in with me, but sharing a studio is a bad idea. We broke up for a month just because of that and we are now happily together living separately. I don't think I ever want to share an apartment with anyone again, although it would be nice if he lived upstairs.
Well that sure is enough weirdness to last a lifetime, but what's the weirdest thing that has ever happened to you living in NYC?
While the blackout was pretty weird, my most quintessential NY experience—the one that proved to me I'm a real New Yorker—was being flashed twice. Most recently it was on a subway platform where a man opened his coat to expose himself. I didn't flinch, merely gave him a thumbs down and went about my day totally unfazed.  The most dangerous experience I had was having a man try to take my bag on the subway. I wouldn't let go and he hit me in the head. He rushed out at 72nd Street and I had to do standup that night with a huge bruise on my head, but hey, roll with it or move.
What's your favorite neighborhood and why?
The West Village is just gorgeous and I love the shops. If you go far enough west it's not busy.
What have you come to appreciate about the apartment that you didn't necessarily when you moved in? What has come to irritate you?
I continue to appreciate the neighborhood and am thrilled I have no bugs. What irritates me is the size. With my bike housed in my apartment, it is tiny. It has everything that a big house would but shoved into a ridiculously small area. The closets weren't built correctly so to open one door I have maneuver myself in weird positions, like Indiana Jones.
I know you rent, but do you ever think about buying?
I did think about buying but unfortunately the banker said I am far away from being able to afford it. Someday…someday.
How do you feel about doormen?
I had a doorman once (see "I had a thing for my doorman. Usually, it was vodka.") and I didn't like it. Made it very awkward if a drug dealer came over…
What's your dream home?
A penthouse in the West Village by the water.
So like Morton Square?
Well, yes, super luxurious but the stipulation for me would be I'd also have to be the most famous person in the building.
Are you worried about bed bugs at all?
I am terrified. The guy who I dated while living in Astoria got them. It was disgusting; I got bites. We had to throw everything away; I remember dragging down mattresses. The landlord did nothing. So we had to wash everything on high heat and put stuff in airtight bags. The thing about these bugs is they don't discriminate. A friend who dates a professional athlete got them in a fancy building on Columbus Circle.
Recently I got a bite so I called the man with the bug sniffing dog. Luckily the dog found nothing. The man even put a bed bug in a jar and hid it from the dog to prove he could smell them. The dog found it immediately and went nuts barking.
I know you are a Mets fan—would you be if you didn't live in NYC?
Absolutely. As I mentioned before I tend to gravitate towards being in abusive relationships so it makes sense I'm a tried and true Mets fan. They give me a little hope and I enjoy seeing it disintegrate in front of my eyes and somehow feel it is my fault for not supporting them enough.
 What is the one thing you'd change about living in Manhattan?
I have roots here. My grandmother, who recently passed away, was a bootlegger. Her place, Schumer Liquors, is still there, so I'm not going anywhere… As corny as this might sound, I wouldn't change a thing. There is something that keeps it so that not everyone can live in NYC. People who live here do so on purpose; you have to really want it. It's not easy. So I'll keep the dirt and crime and even the errant penises. It's survival of the fittest; New York City should be left to those who can take it.
See also:
Amy Schumer's: "I had a thing for my doorman. Usually, it was vodka."
Previous Q&A's:
Brick Underground articles occasionally include the expertise of, or information about, advertising partners when relevant to the story. We will never promote an advertiser's product without making the relationship clear to our readers.