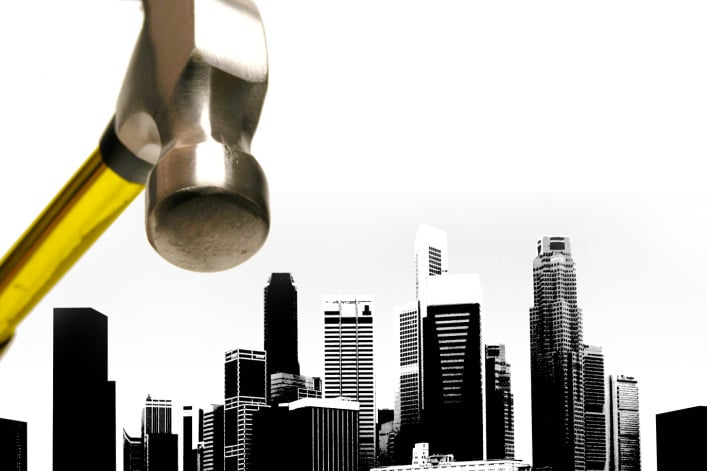 I always know that I am dealing with a renovation rookie when immediately after briefly describing their project they want to know the cost.
As a basic ballpark, the minimum cost of a respectable New York City renovation is about $250 per square foot, but unless you are doing a gut renovation, the cost cannot be accurately predicted this way. And even then, the cost of renovation work varies dramatically based on a seemingly infinite number of variables. 
While the size of the area of work is an important consideration, it is far from the only thing that affects the price. For an early indication of project cost I always take the following into consideration: 
Trades involved
This is an old joke: A plumber is hired to do a minor repair for a prominent attorney and after 25 minutes hands the guy a bill for $250.
Furious, the attorney says, "$250 for 25 minutes! I'm a famous trial lawyer and even I don't get that much!"
"Neither did I," the plumber says, "when I was a lawyer." 
Plumbers are expensive. So are electricians. Plumbers and electricians who work in New York buildings are required to be licensed, which requires a lengthy apprenticeship. They also need to be fully insured, all of which translates into a higher hourly rate compared to other trades. If your renovation involves the relocation of a couple bathrooms and the rewiring of the entire apartment, it is going to cost a lot more than if you are simply adding a couple walls and relocating a few high hats.
Want to save money? Don't move your plumbing fixtures, or don't add that powder room.
Product choice
The cost of a bathroom faucet can vary anywhere between $100 and $1,500 depending on the manufacturer and model, and as any serious chef will tell you, that industrial Wolf range is a bit more than a four-burner GE.
The same concept applies to things as mundane as hinges and hangbars. If you are retiling your bathroom, you can purchase subway tile for as little as $4 per square foot, stone tile for five times that, or stone slabs for two to four times that again. And with stone, the cost of installation is much higher as well due to the labor and skill involved. 
Painting 
Painting is a topic worthy of an entire discussion on its own, given that there is a huge variation in finish quality and the time required to get there. At the extremes, there is the kind of painting you did with your buddies in your first apartment sharing a few six-packs, and there is painting that involves time consuming wall preparation, the application of mesh followed by layers of skim coat plaster, two coats of primer and several coats of finish – not to mention the removal and reinstallation of every switch plate, wall outlet cover and light fixture. Guess which is going to cost more by about ten to twenty times. 
Cabinetry
Like plumbing work and electrical work, custom cabinetry will increase the cost of a job. But depending on the type and quality, the cost will vary from $500 a linear foot to $2,000 or even higher.
You will obviously pay a price for more intricately detailed work. Ornately framed wood and glass doors take more time and effort to produce than flat panel doors. And due to the greater craftsmanship required, natural wood finished millwork is more costly than painted. Standard woods like maple and birch are less expensive than oak or cherry which are still less than exotic woods such as mahogany, wenge or rosewood. (For this reason, even with more expensive cabinets, the interiors are often finished in less expensive standard maple.) 
The construction of the cabinet and drawer boxes also influences price. At the cabinet high end, corner joints may be dovetailed together. At the bottom end they can be glued and stapled. Cabinet boxes may be made of pressboard which flakes away over time or plywood which is much more consistent – and expensive.  The quality of hardware used will have an impact as well. Cabinets are worth more if they are installed on full extension telescoping glides and the doors are equipped with soft close hinges.
Want to save? Instead of going custom, go to IKEA. 
Bells and whistles
There is no limit to what a self-indulgent remodeler can add to a job, but there too, prices vary depending on circumstances. If you are adding a ducted central air conditioning system to your apartment, for example, assume anywhere from $15,000-$50,000 for the luxury depending on the size of the apartment, the amount of ductwork, and whether the equipment will be somewhere remote like on the building roof. 
It isn't uncommon to change out windows, but there is a difference between the standard grade aluminum double hungs, which will run you less than $1,000 each, and the handcrafted weight and chain six over six wood windows that will run seven times that.
The same thing applies to AV systems. If you are an audiophile, assume a bare bones minimum of $20,000 for a basic system, but several times that depending on the quality of your equipment, the number of speakers and how many flat panel screens you want in the bathroom.
---
David Katz (www.KATZarch.com) has been practicing architecture in New York City for the last 20 years. Detail oriented, nervous and a little neurotic,  he specializes in co-op and condo renovations.
Disclaimer: Information provided herein is not to be construed as professional advice. Readers are urged to consult with a licensed architect regarding their specific circumstances prior to undertaking any renovation work. (We do not want any buildings falling down!)
See all NYC Renovation Chronicles.
Brick Underground articles occasionally include the expertise of, or information about, advertising partners when relevant to the story. We will never promote an advertiser's product without making the relationship clear to our readers.