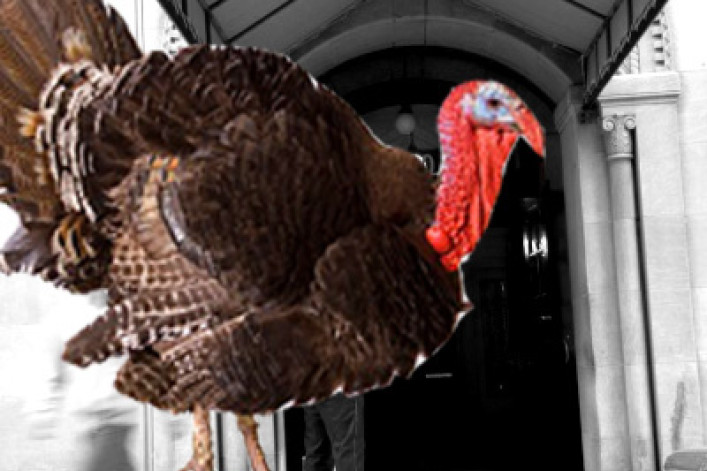 My first place in New York was a shared shag-carpeted room in an SRO hotel, the top six floors of which NYU had taken over to house transfer students like me in "on-campus" housing 25 blocks from campus. During my 20s I continued to pay my apartment dues along with my student loans, graduating from shares paid for in cash to being an actual named tenant on a lease.  Housing was always a struggle, though with one brief exception, things never got quite as bad as this guy, who sent the NYT City Room blog a picture of how he spent his first nine months in New York: Sleeping diagonally across the floor of someone else's closet.
Within a decade, I got married, had a kid, and a few years later moved into a grown-up apartment, a two-bedroom co-op on the Upper West Side for which I am exceedingly grateful.  Which brings me to the subject of this column, which is not just about being thankful for having a decent place to live in one of the greatest cities on earth.  It's also about how--like a spouse or a puppy or a new business--an apartment tends to reveal itself to you over time, and what exactly you're thankful for (or driven crazy by) can surprise you.
In my case, there are a few things I dislike about this place that I didn't pay attention to or just didn't care about at the outset:  The street noise that carries up to the 9th floor and causes us to sleep with the air conditioner fan running year round. (Yes, soundproof windows are on our wish list, right behind keeping up with private school tuition and maintenance fees.)  Our prewar closets, which would be roomy enough if we could actually access the two-thirds that is not actually very accessible. (One of these days, we will make over our closets too.) 
There's also the mysterious trick of physics that causes any strong odor in the line of apartment next to ours to collect in our kitchen/dining room/home office. The fact that I can turn on my stove with my backside while opening the silverware drawer.   And our high-and-climbing maintenance fees.

But back to the topic of this column: There is a much longer list of things for which I'm extremely grateful--many of which I never really thought about when we bought the place:
Our quiet upstairs/next door neighbors. 
Our non-open kitchen, which allows us to have dinner in full denial of the mess we have just created.
Our thick, noise-blocking prewar walls.
The small foyer between the bedrooms and the living room that can be closed off by a door on each side: No matter how loud things get in the living room, you can't hear it in the bedroom.
The lack of smokers on our floor.
Our outside-vented washer/dryer. (Okay, I knew exactly how grateful I would be for this--in fact, with a small child, the ability to put in a washer-dryer was a prominent item on my checklist.)
Our outside-vented exhaust fan above the oven.
Bathroom tiles that don't feel cold in the winter.
The dining room that doubles as a home office.
Our live-in super, Mike.  In terms of deliveries, you would never know this is a non-doorman building.  And in terms of helping out around the apartment, he may well be responsible for extending the life of my marriage. Also, he's a nice guy, and is always around to let me into my apartment when I'm locked out.
Our location a block from two different train lines (including one express line), and a block from Central Park.
Our minuscule but family-critical half-bath.
That's my list. What's yours?
Related posts:
Then & Now: I adapt to my prewar 'charmer'
Then & Now: Goat heads don't ask, don't tell situation
Then & Now: I fell for the view, then shut the curtains
---
Then & Now explores how time illuminates the pros and cons of an apartment--and how what draws people to a place isn't necessarily what keeps them there.
Brick Underground articles occasionally include the expertise of, or information about, advertising partners when relevant to the story. We will never promote an advertiser's product without making the relationship clear to our readers.