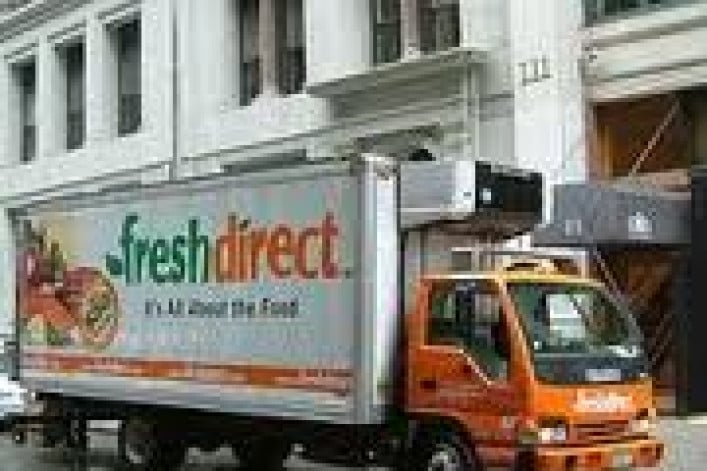 What do you do when Fresh Direct impairs rather than improves your quality of life?  Yesterday on CurbedNY, a downtown apartment dweller wonders how to get Fresh Direct to find another place to park its truck other than in the no-standing zone outside his window four times a day for up to an hour each time. The sound "is loud and literally vibrates our building," he says.  Parking tickets have no effect as "essentially for the companies the tickets are a sunk cost in doing business."  Curbed readers offer advice ranging from contacting the community board or a city council member, to stalking Fresh Direct's customer service center (cc to the CEO) by email every time the truck shows up, to tossing urine-filled water balloons out the window. 
From there, the conversation digresses into a heated, granular debate about grocery shopping options in the Financial District. Is grocery shopping there (a la  Zeytuna, Gristedes and Jubilee) better than Chelsea....?
"You're on crack if you think FiDi has better grocery options than Chelsea," says one ex-FiDi dweller. "There's Chelsea Market, there's a Whole Foods smack in the middle of Chelsea, there's a Western Beef, and there's a ton of decent supermarkets and small purveyors along the avenues. FiDi's retail footprint is tiny and half-ghetto in comparison, and the Whole Foods is in TRIBECA. On the HIGHWAY. On the other side of GROUND ZERO. No one's walking there 3 times a week from Broad & Beaver. And if you're having it delivered, might as well go with FreshDirect anyway. There will be no Fairway or Trader Joe's in the Financial District, ever. The residents are already there. The people already moved in. The retailers never did, and they never will. You got clowned by a shithead broker who talked a lot of shit that he couldn't back up. Keep telling yourself that a large-ish deli that shuts half of itself down at 10pm is as good as Fairway. You must cook like Sandra Lee. Don't quit the Beefaroni, son."  (CurbedNY)
Brick Underground articles occasionally include the expertise of, or information about, advertising partners when relevant to the story. We will never promote an advertiser's product without making the relationship clear to our readers.