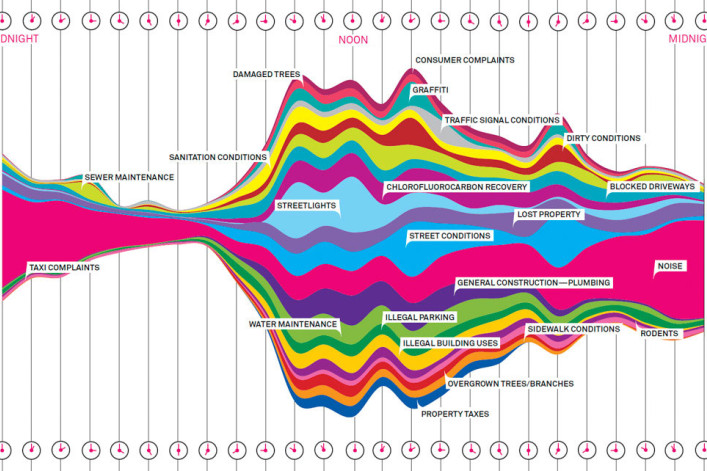 By time-stamping the 34,522 complaints made to 311 during the week of September 8th, this very cool graph on Wired.com shows when New Yorkers tend to get hottest under the collar about various quality of life offenses. We took a look at the complaints relating to vertical living: When are your fellow vertical dwellers most likely to pick up the phone and vent in the city's general direction about:
Noise: New Yorkers really hate noise. Not surprisingly they are most bothered by it in the wee hours, although complaints start picking up at around 8:00 p.m. (after the early bird meals?) and tapering down in the Ambien twilight after 2:00 a.m.
Property taxes: People take umbrage over their property taxes during mid-day, 10:00 a.m. to 3:00 p.m. being the prime time 311 hears from irate owners.
Plumbing and water maintenance are a concern during the shower hours of about 7:00 a.m. until 6:00 p.m. 
Rodents are a cause for concern from 8:00 a.m. to midnight, but for some reason cease to offend at that time.
Mayor Bloomberg's 7-year-old 311 program now fields on average more than 50,000 calls a day, offering information about more than 3,600 topics: school closings, recycling rules, homeless shelters, park events, pothole repairs, according to Wired.  Over 300 communities across the country have followed suit, establishing their own public kvetching centers. (Wired.com)
Brick Underground articles occasionally include the expertise of, or information about, advertising partners when relevant to the story. We will never promote an advertiser's product without making the relationship clear to our readers.