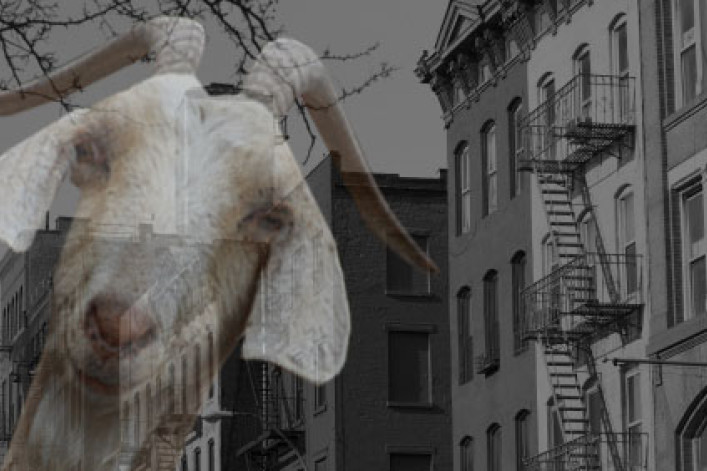 I moved to Midwood, Brooklyn from Atlanta because I had met and fallen in love with a Brooklynite—and he was the only thing I liked about the one-bedroom rental we found for $800 a month. I hated that it was small, dark, and messy. I found the layout odd—I wanted separate spaces for our living room and 'art studio'--and the walls and floors were bland and non-descript. I found the whole setup depressing.
Because I hated the way my apartment looked inside, I found myself exploring the area. I did love that it was located in an area where I was suddenly exposed to so many different types of people, places, cultures, styles, smells, and tastes. I got to feel like a stranger in a strange land; it was exhilarating. I constantly felt like I was on vacation and loved walking down my block and hearing languages I could not understand. The Brooklyn accents, as well as many of the other exotic ones I heard every day thrilled me. The newness of the subway stations, each a bit different and many filled with art, just added to the feeling of being an adventurer.
One time in my effort to get out of my uncomfortable apartment—I had only been living in the building for a few weeks—I found two freshly severed goat heads on my building's roof. I was later told it was part of a ritual to get rid of bad luck and that because a few months later I had thrown away the dried up skulls, I was going to be burdened with whomever's problem had been left behind. Great! Just what I needed—now I was cursed!
After living here for nearly a year and a half, things aren't so foreign to me anymore. The man I moved all the way to New York for became my husband. He has helped me change what was a small, claustrophobic space into a home. It has gone from being dark and decorated in "Early American Garage" to a place that has been feminized and that reflects our life together.
Since the early days, we have completely repainted, fixed up the floors, gotten new rugs, cleaned, reorganized, and mounted our artwork throughout our home. We put up new lighting too, and tons of shelving. We reorganized the layout of the living room and our art studio area, so it is segmented and seems bigger and airier. We have my husband's guitar collection hanging on the wall, and our friends play guitar in our living room frequently. I no longer even notice whether goat heads are on the roof—I've learned it is a 'Don't ask, don't tell situation'.
The only thing I haven't gotten over is that even though the inside of the apartment is far more pleasing, I am used to homes with outdoor space and access to nature. The windows are tiny, there is no balcony, and our door doesn't even lead directly outside. I spend my mornings with my head leaning out of my kitchen window feeding the squirrels to try to get a nature fix in.
Would I move here again? Yes. The rent is affordable, the area is fascinating, and even though the apartment lacks outdoor space, my husband is here and I am happy wherever he is.
---

Then & Now explores how time illuminates the pros and cons of an apartment--and how what draws people to a place isn't necessarily what keeps them there.
Brick Underground articles occasionally include the expertise of, or information about, advertising partners when relevant to the story. We will never promote an advertiser's product without making the relationship clear to our readers.