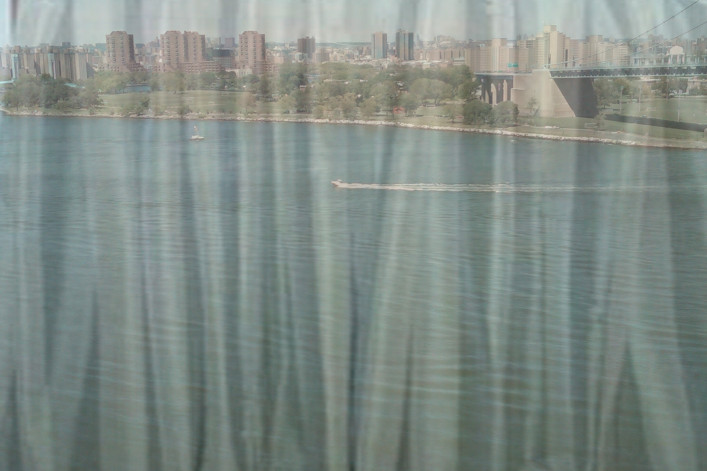 I rented in Manhattan for 10 years before deciding it was time to buy. The thing I cared about most was having an apartment with an open view of the water, preferably with a balcony. (If I couldn't have a boat, the next best thing was to be able to look at them.)
I saw a few places in Manhattan on low floors, but when I realized I could afford a $550,000 one-bedroom penthouse in Astoria, Queens with outdoor space, it seemed like a no brainer. My 400 sq. ft terrace has a view of Hell Gate, a narrow tidal strait in the East River that separates Astoria from Randall's Island. It was my favorite thing about the apartment.
It didn't hit me that Astoria is just not Manhattan until I moved in. I hadn't realized until I was living in another borough that I would miss the distinct feeling that Manhattan has. The energy just seems different in Queens and living so far from the subway made me feel isolated at first. When my car broke down in the middle of winter, the hike to the subway in 20 degree temperatures added a substantial amount of time to my commute.
Also, while there were many restaurants and bars and other entertainment in my neighborhood, I would usually drive into Manhattan when I wanted to go out to eat or to do something fun. All of my friends lived there as did most of the women I wound up dating. Friends hemmed and hawed about coming to visit me in Queens.
Flash forward five years: I have gotten used to driving into Manhattan and have now made quite a few friends right in my own neighborhood so I find myself staying in Queens more often. What I like most now about my place is that I have such a short ride to work in the Hunt's Point area of the Bronx. I frequently work until midnight and when I'm so exhausted the quick drive is extremely valuable--far more valuable than being able to stare at the water.
In fact, now that I've been living in my condo for the last five years, the view doesn't play such an important role in my life. I rarely go on the terrace and actually tend to keep my curtains shut because it gets way too sunny in my living room.
The thing I dislike most about the building now is that it does not allow food delivery people up to the apartments. This means every time I order food--which is far more frequently now that I have less time to cook--I have to go all the way down to the lobby to pick it up. When I learned about this prior to buying I didn't think it'd be a big deal. But now it is the bane of my existence; I find it is highly annoying to be resting on my couch in my boxer shorts and have to get dressed and presentable to go down in the elevator to sign for my food when the buzzer rings.
Would I buy this place all over again? Absolutely. I got great space for the price, and none of the bothersome things are dealbreakers.
---
Then & Now explores how time illuminates the pros and cons of an apartment--and how what draws people to a place isn't necessarily what keeps them there.
Brick Underground articles occasionally include the expertise of, or information about, advertising partners when relevant to the story. We will never promote an advertiser's product without making the relationship clear to our readers.