Improve
"You don't pick a rent-stabilized apartment--it picks you" (Q&A with Jason Sheftell, NY Daily News real estate correspondent)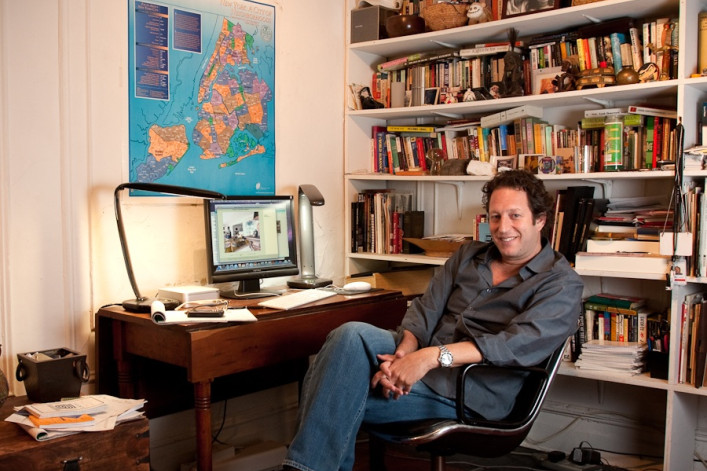 The son of a real estate broker and a psychiatrist, Jason Sheftell is the N.Y. Daily News' one-man real estate machine: He launched, writes and produces the paper's Your Home section (see Friday's story serving up Long Island City as the future Williamsburg of Queens) and pounds the streets of NYC's neighborhoods day and night chronicling the city's evolution at its most granular.
In addition to psyching out neighborhoods, the Brooklyn-born Sheftell has a knack for finding great, affordable apartments. His first place in New York City post-college--after living for a while in Paris--was a 2,000-square-foot two-bedroom in a townhouse where he basically only paid maintenance and utilities in exchange for showing the empty units and trying to transition people out so the landlord could sell the apartments as full-floor condos.
After graduate school in Alabama where he studied American Studies, he moved back to New York City to start his first writing job—at Cigar Aficionado magazine—and lived for a short time in the Gramercy Park area, but eventually ended up in the West Village where he has lived in the same rent-stabilized, two-bedroom West Village apartment for the last 12 years.
We all know how hard it is to secure a rent-stabilized apartment and you did so before you were even working on the real estate beat. How'd you do it?

You don't pick a rent-stabilized apartment; it picks you. It was all word of mouth. A friend knew I was a struggling writer and she recommended me to the landlord, who had a fairly unusual system for renting out the apartments she owned. The landlord basically asked, "Where do you live now? How much do you want to pay? How fast can you move?" She'd write all this down on an index card.

The most important rule was do not call us, we'll call you. Apparently if you called them they'd take you off the list.

So if you asked the wrong question or did the wrong thing, 'no apartment for you'?

There was another rule: You take the apartment they offer you immediately no matter what condition or neighborhood it was located in or you will not be called again. Even though it wasn't in the best condition, I took it immediately. It was a gift from above and I am thankful for it every day.

How does it compare to your previous places?

Compared to the closet-sized studio I lived in right before, this is cheaper and much more comfortable. Having lived in Paris I am used to this type of living space; it reminds me of a European apartment. It's not fancy but it's in a great location and rooms are well laid out. I'm only the third tenant in the last 110 years; the family before me lived there for 60 years.

Putting together the Your Home section for the Daily News, you must see tons of apartments all over New York City. What are some of the things you've seen? What have you learned during the course of your reporting?

I see at least 10 apartments per week; that's about 500 properties a year. Many have a rich history and I've become pretty in tune with the energy each hold. I can sometimes walk into a place and feel the energy of the people who have lived there before. Over the years, during the course of doing my job, I've even spoken to psychics about this and basically I've learned it is important to do something to your apartment to make it your own. New York is filled with powerful and intense people and our energy is never lost in the space where we live.

I've heard about people having spiritual cleansing or smudgings done to clear some of the previous tenant's energy from their new space. How would you say one can impact their space and really make it their own?

That's not really a surefire way to permanently clear out an apartment. It may work for a short while, but I think when you experience something powerful—like a marriage, birth, death, divorce--you've made your mark--good or bad—on an apartment. You have then cultivated a certain energy in the apartment. You could also decorate and make changes to the space to really make it your own, to leave a real mark on it. I think it also matters how long you are in a space. I believe houses belong to the people that live there the longest and they tend to imprint their energy on a space.

If you weren't living in the West Village, what neighborhood would you like to live in? What are the next big hot spots?

Every time I visit a new neighborhood I'd like to live there. I'm excited about so many places in New York City. East Williamsburg, Fort Greene, Dumbo, Long Island City. I wouldn't discount Sunnyside Queens. I think in the next five to ten years anything near the water will go sky high. Brooklyn waterfronts are already a hot commodity but will become more so. Red Hook is wonderful--if you have a car. It's like visiting a Nantucket fishing village. It's just going to get more and more coveted. Even the South Bronx, when it becomes a bit more rehabbed, will be a great place to live. I foresee it being one of the next big places that people will be clamoring to live.

Eventually I'd like to buy a place in the country. Buying is my next goal. But even when I do, I plan on trying to keep my current place. I have a real history here and would like to have it as a place to write. Eventually when I have kids I'd love for them to be able to use it and keep it in the family.

What attracted you to writing about New York City living?

I enjoy writing because I love to describe and see new things every day, and I feel very fulfilled knowing that I get to educate people on what barriers to avoid when entering a neighborhood. I have really learned how to look at an area and evaluate it. See it for what it is and what it can become.

Given your experience in New York City real estate, what do you think are some of the most important things to consider when deciding where to buy?

Selecting a neighborhood is crucial. If you are going to buy, will buying in a particular neighborhood be a good investment? Can you make money off of it? Why do you want to live there? Will it become more desirable over time?

Having lived in many different places—Connecticut, Pennsylvania, Hong Kong, Paris, Alabama—what is about Manhattan that draws you in and excites you?
I'm a New Yorker. One of my grandfathers was a plumber in East Harlem, the other was the head of the union for maitre d's and busboys in Brooklyn, and New York City as a whole is my favorite place, though not necessarily Manhattan. I think it's becoming one giant event space and if it's not careful will become one big Meatpacking District or Las Vegas. Even restaurants have become entertainment venues. Then there are pockets or enclaves around New York City known for something distinct. The peace and quiet of Brooklyn right now, existing side by side with the art culture and youth culture there, is so enticing. Ridgewood is young and artsy while Bushwick is known for its very underground music scene. Brooklyn on the whole is one of the best emerging food markets in the country. When the sous chefs for well-known Manhattan chefs go to open their own places, many set up shop in Brooklyn.

I have the don't-ask-don't-tell-approach to neighbors. I don't want to know their business and I don't want them to know mine, but I have many friends that live in sort of Melrose Place-like buildings, where the building itself is a distinct community. What are your feelings on neighbor relationships?

I know my neighbors pretty darn well, though more nearby than in my building, because many of my old college friends live within a few blocks. It's a comfort zone here although the neighborhood has transformed to another economic class around me and I feel out of place sometimes. Still, though, there are some incredible people who have made this neighborhood what it is.
Do you have apartment envy?
Every day. I think everyone in New York does and it doesn't matter where you live. Someone in 740 Park Avenue probably wants to live in the penthouse of the Jean Nouvel building on 19th Street & 11th Avenue, and that makes sense to me.There are so many amazing places to live, no matter who you are and where you live you can get envious. While I love where I live, it's impossible not to want more when you see these spaces. Still I'm happy to be here and working here. I'm one of luckiest people to get to write about New York City real estate. Cliché as it sounds, it is the greatest city on face of the earth. Right now I feel the New York I live in will be one that people will be writing about years from now.

What's your dream home?
A classic Soho loft with high ceilings and if I were to rent right now a dream rental would be in Frank Gehry-designed Beekman Tower on a high floor overlooking the harbor toward Brooklyn and Midtown. Lastly, an old historic house in Red Hook near the water with a big backyard. That would be heaven.
 
Brick Underground articles occasionally include the expertise of, or information about, advertising partners when relevant to the story. We will never promote an advertiser's product without making the relationship clear to our readers.