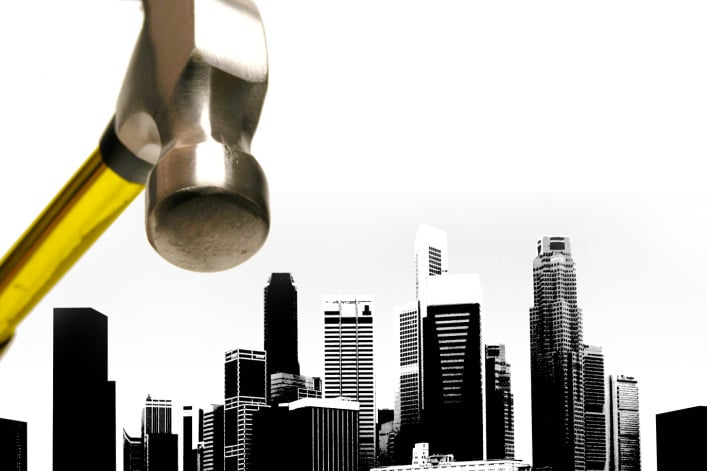 Choosing a contractor is sort of like hailing a cab during rush hour. You're happy to get one, but once inside, you're stuck there for the ride, no matter how smelly or uncomfortable.
You have to be sure you can go the distance with your contractor. Not only will you be sharing your quarters with him for the duration of your project; you will be living with the results of his labor long after the ride has ended.
Here are a few things to do before committing:
Check his license
Sadly, a nice business card too often does wonders to gloss over a questionable reputation. Make sure your prospective contractor has a Home Improvement License, one pre-requisite of which is a criminal history check. This will help you steer clear of unsavory people such as the Darien chimney specialist who scammed homeowners into buying services they didn't need.
Check his work
When considering a particular contractor, insist on visiting some of their past work. See not only their recently completed projects, but older ones that would reveal wear and tear. The work should look good both the day it is complete and after a few years of abuse. I remember one case in which a marble floor, pristine and polished at the conclusion of a job, cracked months later due to a poorly installed sub-floor. In another situation that ended in arbitration, a contractor who was in over his head bought poor quality lumber to save money. After he left the job the walls began to warp, cracking finishes and leaving doors that would not close.
Interview the ex's
Before you invite a contractor to move in with you, ask to speak with a few past clients – realizing he will probably send you to the most satisfied. Did the contractor do a nice job? Did they finish on time? Were there additional charges? What did you like most, what did you like least?
But even armed with this information, it is important to note that a contractor is only as good as the people doing the actual work, and these people might change from job to job, so…
Meet the family
The term "general contractor" (or GC) refers to the person or company responsible for carrying out the construction work. Depending on the scope of the project, a GC might use his company to do all of the work, or he might hire other "sub-contractors," (or subs) such as plumbers, electricians, or other trades to complete certain aspects of the work. When you hire a contractor, unless you demand your own subs – something most homeowners are not prepared to do--you indirectly hire theirs. It is a package deal – like your partner's family.
Ask the GC if the subcontractors are people he has worked with before and if they are people he (and you) can rely on to finish their work on time. Ask to see other projects they've done together. I know of one case where a plumber had his license revoked in the middle of a job, leaving the GC to find a new plumber to take care of the building department inspections and sign offs, this at considerable time and expense to the homeowner.
Finally…
One-man-band or full orchestra
Find out up front how many people will be staffing your job. Several years ago I had a small renovation job where the homeowner was led to believe a big crew would knock the job out in six weeks. It turned out the project was in the hands of one guy who showed up when he wasn't busy with other work. Based on the short schedule, my client had decided to stay in her apartment for the duration, which was unfortunate, as the job took eight months to complete. That's a lot of dust and a lot of showers at the gym.
Next up:
Contractor breeds: The mom-and-pop shop, the prima donna and other varieties
---
David Katz (www.KATZarch.com) as been practicing architecture in New York City for the last 20 years. Detail oriented, nervous and a little neurotic,  he specializes in co-op and condo renovations.
Disclaimer: Information provided herein is not to be construed as professional advice. Readers are urged to consult with a licensed architect regarding their specific circumstances prior to undertaking any renovation work. (We do not want any buildings falling down!)
See all NYC Renovation Chronicles.
Can't afford/find a two bedroom apartment? The right one-bedroom just might work
How much does it cost to combine apartments in NYC? (sponsored)
NYC Renovation Chronicles: 6 architects to avoid
Brick Underground articles occasionally include the expertise of, or information about, advertising partners when relevant to the story. We will never promote an advertiser's product without making the relationship clear to our readers.