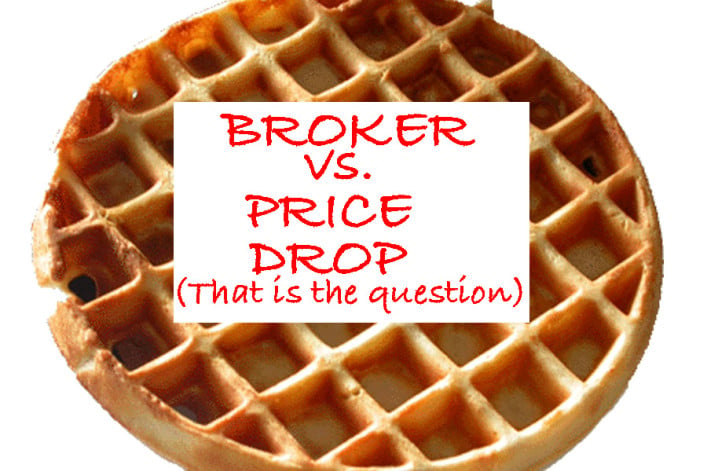 It's been almost a month since our last open house.
After four months on the market as a FSBO, we've taken it off in August because it's a traditionally quiet time and to give us a chance to re-evaluate.  
We haven't been sitting on our hands though. Instead, we've been talking to several brokers about exclusives on our apartment since that's one option we said we'd explore at the four-month mark.
If we go with a broker, we want someone who has a stellar track record of selling apartments on the Upper West Side, will take a 5% commission if it's a direct buy (without a buyer's broker bringing in the buyer), and accept a four-month agreement instead of the standard six months starting right after Labor Day.
As we talk to brokers, we've also wondered if we wouldn't benefit more from dropping our price and continuing to try to sell on our own.

The thing is, we're not convinced that the price is the problem. In fact, when the other studio in our building that was listed at $459,000 sold in two weeks, I was convinced that we were right about pricing our apartment at $439,000.

Say we did drop the price to $425,000 and offered a buyer's broker commission of 3%, we'd be left with $412,250.  If we keep the price at $439,000 and sell through an exclusive (paying a 6% commission), we're left with about the same:  $412,570. Which tactic is more effective?

And then there are other unknowns...can we sell the place at $439,000 or around there?  We don't know.  The brokers I've met with have each suggested different things (going higher, staying at the same price, going a little lower), but all the numbers have been within the ballpark of the listing price. Then again, some firms won't work with FSBO's at all, so the 3% commission wouldn't have mattered.
Another thing to consider is that buyers seem to think that brokers validate the price more, so perhaps they're more likely to get $439,000 from someone, whereas since we're the owners and not a broker, they might think the apartment should be priced much lower.
So, is it about exposure and the possibility that buyers just prefer to work with a broker rather than the owner? We don't know.
Looking back, we wish we had begun our FSBO journey offering a buyer's broker commission, because at least we would have had more exposure that way.  No one suggested doing that though, and we were actually mostly warned against all the broker calls.

So, now we are wondering what to do.  It's hard because we are really figuring all this out on our own, and there isn't much reliable advice out there.
While we figure out whether to list exclusively with a broker, it's also unclear to me how one goes about finding the perfect broker for their situation.  I have asked friends and acquaintances, and we've met some good people, but we're still on our search.

We're open to feedback. What would you do in our situation?

__________________________
Kathy is in the market to buy (from an owner OR broker) the perfect prewar 2-bedroom, 2-bathroom apartment in Brooklyn with private outdoor space that's near the subways (the good ones).

Click here for the complete FSBO Diaries.
Brick Underground articles occasionally include the expertise of, or information about, advertising partners when relevant to the story. We will never promote an advertiser's product without making the relationship clear to our readers.