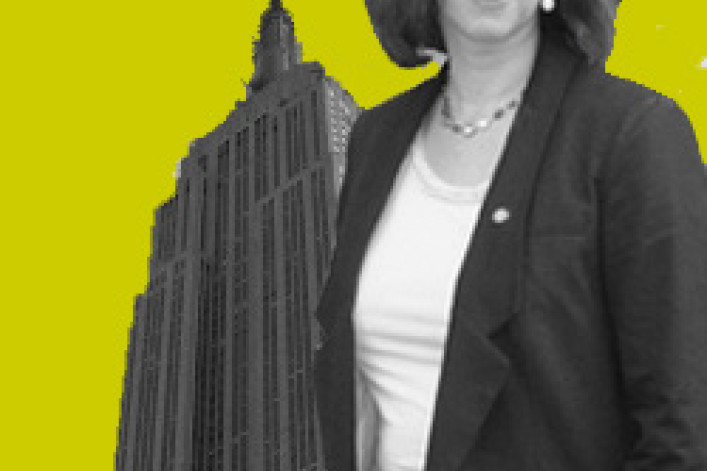 We first spoke to New York State Assemblymember Linda B. Rosenthal in June after the state legislatured passed her bill forcing landlords to disclose bed bug infestations to potential renters. (The law still awaits the governor's signature.)

That victory is just the tip of Rosenthal's pro-apartment-dweller work. Like State Senator Liz Krueger--currently championing a bill to level the playing field between co-op/condo owners and their boards--the twice-re-elected Rosenthal is keenly interested in the home front.
Among other legislation sponsored by the Upper West Side assemblymember is a new law prohibiting illegal hotels in apartment buildings;  another that blocks landlords from requiring electronic rent payments (a practice Rosenthal says is unfair to the elderly and poor); and a proposal for a tax credit to replace bed-bug infested furniture that foundered, she says, in a tough fiscal climate for government.
In the calm before her re-election bid this fall, we caught up with Rosenthal for a Q&A.
She told us how her work helping families clean up after their apartments after 9/11 changed her forever; how some landlords can actually profit from bed bug infestations; and why a phone call from her office on behalf of a renter can be very, um, motivating to a landlord or management firm.
Q.  Why are housing issues so central to your goals and achievements in office? Is there a personal connection?

A. I grew up in a rent-controlled apartment on 93rd and Amsterdam.  My family was always talking politics and housing issues in general, as many Upper West Side families did.

While growing up I witnessed people not being able to afford their rent, or having problems getting heat or hot water—that kind of classic landlord-tenant struggle. There were days when we didn't have heat and my mother would have to call the super.  

After graduating from the University of Rochester in the '80s, I moved in nearby with my grandmother, in her rent-controlled apartment, back when real estate was in the dumps and you really didn't stroll on Columbus or Amsterdam.

The landlord tried to evict us, saying my grandmother didn't really live there. She was 89 years old and they subpoenaed her to come to housing court downtown.  The super who she'd known for years testified against her. It was a horrific experience.

The judge made the apartment rent stabilized and arbitrarily established a higher rent. Had I known more I would have said you can't do that. There should have been no change in status or rent because I was living with my grandmother. But I did get the apartment in my name.

Q. Where do you live now? What's the building like?

A.  I live in the same apartment. It's a one-bedroom with another small room like a maid's room.  It's a great apartment.

The building is still a rental. It's become much younger and more transient over the years. Everyone always guessed it would go co-op but it never has.
Q. How did you get into politics, and why did you stay?

A. Around the time of the eviction proceeding, I met one elected official, Ed Wallace, and one future elected official, Scott Stringer, campaigning at a subway.  I went to a meeting they held on tenants rights and housing issues.  I wound up volunteering for years while working as an editor of engineering journals.
What surprised me the most about politics was that just any person could walk in and become deeply involved and help make change. Here I was a 20-something and I got to speak to the elected officials themselves and work with them on community issues and housing issues of the day—AIDS, tenants with tons of problems, and crime.
Finally in 1992 I quit my day job and became the Manhattan director for Congressman Jerry Nadler.
Q. You were still there during 9/11?
Yes. His district encompasses the World Trade Center area, so I spent three or four years working with the whole issue of contamination caused by the horrific disaster. How it affected the whole neighborhood and people's health and where they lived.  A lot of the work I did was to push the EPA into broadening their involvement and admitting the dust was very harmful.

I was also helping residents get their buildings and their lives together.  A lot of their homes were fully contaminated and the EPA said, 'It's not so bad – clean it up yourself.' All the way up to White House  They never did admit the air was dangerous, and now tragically we see all these people--the volunteers cleaning up--dying now of strange cancers that don't usually hit those age groups.
It made me think that the government has a lot of power that it has to use in the right way. And there were some elected officials and people in government truly doing their best, and others wanted to shirk responsibility and pretend everything was fine.  I guess this led me to believe I could personally represent people as well.

When Scott Stringer's seat became vacant, people said why don't you run? You know this job, you know this work.

I said you're right.  

Q.  You've been very involved with bed bug issues lately. Have you ever had bed bugs?

A. I've been exposed to them, yes. Friends of mine and people I know have been very affected by bed bugs, and constituents too.

I heard of a number of cases where people would move into vacant apartments after a huge search and paying money to the broker, the security deposit—they go through all this and then a week later they wake up totally bitten because they didn't know there were bed bugs.  

Some of these people moved out – their lives were totally disrupted because they didn't know there were bedbugs. And if it was a rent regulated apartment the landlord got to raise the rent again—by 20% every time someone moves out.  

Q. That sounds like an incentive not to exterminate. Or worse!
A. If the governor signs the disclosure bill, hopefully that will encourage landlords to treat the apartment before renting it out again, which is ultimately the landlord's responsibility anyway.

Q.  What are the chances the governor will sign the bill – is there a risk he might not?

A.  I'm optimistic.  I worked for him in '85 when he ran for senate. I know him for a long time and I know he has been very helpful to tenants in his career.

Q. What's next on your bed bug agenda?

A.  Now that the problem has really spread to the retail side as well, I'm talking with various retail establishments about the losses they've sustained from having to close stores, exterminate, and get rid of merchandise.  It's not fair to them.  A tax credit is one idea. I want to hear more ideas from them.

Q.  Since you started working in politics, the price of NYC real estate has exploded. How has that affected the expectations of apartment dwellers in terms of the problems they bring to you?

A.  Some people are paying tremendous amounts and they don't get service commensurate with the huge amount of rent or mortgage, but I don't think they're demanding more.  There are certain basic rights you have when you rent or own an apartment.  Conversely, if you're getting a good deal you still deserve the same heat, hot-water, bed-bug/roach-free existence.  

Q. What about secondhand smoke?

I used to hear about secondhand smoke more.  I think I don't as much now because smoking has decreased—for instance, today is the 12 year anniversary of the day I quite smoking.

I get more noise complaints—people above them are making too much noise late at night, and there's noise out on the street.

We're getting more harassment of elderly people in the past few years, I think because a lot of them live in rent-controlled apartments—though rent-controlled apartments are not the deal they once were, with rents going up 7.5% each year, far more than rent-stabilized apartments. I'm trying to work on that, because these are mostly seniors on fixed incomes that can't afford it.

We also hear about pets. Some landlords don't rent to people who have dogs or they want to evict people who do. We write letters for them.  Sometimes it will take me calling the landlord or managing agent.  They back off, or become more accommodating and work better with the tenant because sometimes it's too much bother for them to have an elected official get involved.  Or they're afraid there will be an organized effort against them.

Q. Do you ever get involved with co-op and condo owners' problems or do you mostly deal with renters?

A.  Co-op and condo owners tend to come less to elected officials, maybe because they have their own internal governance.

Q. Or maybe because they're cowed by their internal governance--by the board?

A.  Right.  It's the same with renters who are fair market value—they have no rights at all. Landlords charge what they want and generally give one-year leases, so if tenants complain too much, what's the landlord's incentive to keep them except in a down market?

They need to be organized and get some legal protection. That would be a humongous effort and it would involve tenants and tenant groups in all boroughs. But if they did organize, it would be a powerful political force.

Q. What do you like most about your job?

A.  I like that I can pass laws that actually have an impact on people's lives.  But also like talking with constituents because I want to know what's important to them. If I can help them in any way—whether through my office trying to ease their situation, or a if it's a statewide issue I can impact—that's what I want to do.
Related posts:
NYC bed bug disclosure bill sails through legislature; it's up the Governor now
Coming soon to a co-op/condo near you: Transparency and fair play?
Brick Underground articles occasionally include the expertise of, or information about, advertising partners when relevant to the story. We will never promote an advertiser's product without making the relationship clear to our readers.