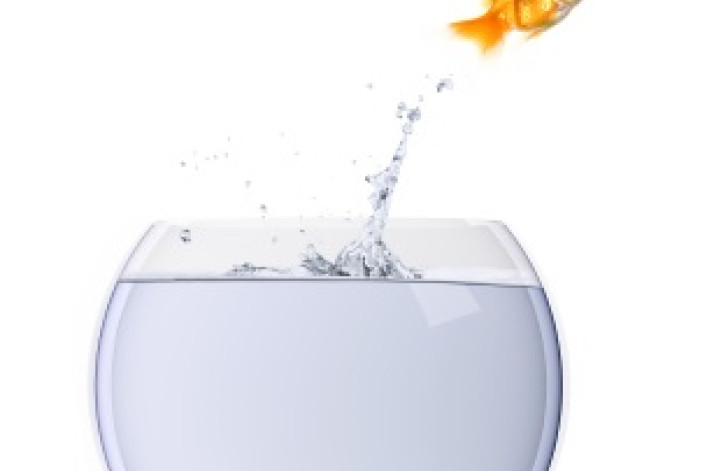 Some day someone will map out the Stages of FSBO to trace the emotional phases of the process.

The first few would be Anxiety, Invincibility, and Limbo, which I guess is where my husband and I are at right now.

Our studio has been on the market for two and a half months now. 
We've had three offers:  Two solid ones from neighbors, which the board rejected, and two from the same woman (before and after my neighbors were rejected the first time) who then vanished.

And while we have had amazing feedback on the apartment, lots of serious interest, and I know it's just a matter of time before we sell…the truth is I'm ready to move on.

Apartment selling is a lot of work: It takes a lot of time and emotional energy to prepare for and host open houses, keep tabs on the market and think about what else you could be doing to market your place.

At this point, my husband and I are well beyond the initial nervousness and excitement of putting our apartment up for sale.  I'm starting to think about my options.

Should we take the apartment off the market?  Should we offer that 2.5% commission to all buyers' brokers?  Should we stop having open houses and just see who calls?  I don't know.  We're trying to figure out the pros and cons.

But for now, here's an update on my lessons learned.

1.  Don't get excited until you have a signed contract in hand:  We've had people who were thrilled with the apartment book second appointments and then not show up.  Or they say it's absolutely the perfect apartment for them and then not make an offer.

I've stopped trying to analyze them. I have, however, considered following up with them.  I've put off doing that because my sense is that people want to be polite and I won't get honest answers to what happened, even if I make it clear that my interest is just in constructive feedback.  

Also, even an accepted offer is a pretty embryonic stage of the deal:  Board approval has turned out to be a much bigger variable than we expected.

2.  Neighbors are not necessarily going to pass the board:  This has been one of the biggest surprises for us. Our board rejected my next door neighbors who have lived in the building for nine years, and who four years ago bought an adjacent studio and expanded their apartment.

The board isn't obligated to explain their decision to the neighbors, to me, or to anyone.  Instead, they explained, I should be thankful that they told me the purchase would be rejected even before a board package was submitted by my neighbors.

2.  Try to be patient:  Two and a half months feels like a long time, but for a FSBO seller who doesn't have the same resources as brokers, it's not that long.  It takes longer to get the word out, because I can't afford weekly ads in the NY Times and newspapers and real estate sites aren't inclined to make my apartment a "featured listing" since I'm not a potential advertiser.  
What I'm focusing on now is making sure each person who visits the apartment really understands the features of the  unit and we're not just letting the apartment speak for itself.
We're working from a smaller pool of people because we're not a bargain walk-up apartment or non-descript post-war building.  Also, studios tend to be sought after as pied a terres and by parents of students, neither of which is allowed in our building. And the barriers to entry are a bit higher here than in some other buildings; for instance, there's a 25% deposit required, instead of 20%, which works out to be $26,000 more.

3.  Carry on:  Every time I got annoyed about the board rejecting my neighbors, my husband reminds me that dwelling on it is futile.  The only productive thing I can do is market the apartment. I have been pasting flyers near open houses of comparable apartments, giving flyers out to the doormen and deli owners who work nearby, and writing this column. We'll give it some more time and hopefully we'll find that buyer.
__________________________
Kathy is in the market to buy (from an owner OR broker) the perfect prewar 2-bedroom, 2-bathroom apartment in Brooklyn with private outdoor space that's near the subways (the good ones).

Click here for the complete FSBO Diaries.
Brick Underground articles occasionally include the expertise of, or information about, advertising partners when relevant to the story. We will never promote an advertiser's product without making the relationship clear to our readers.