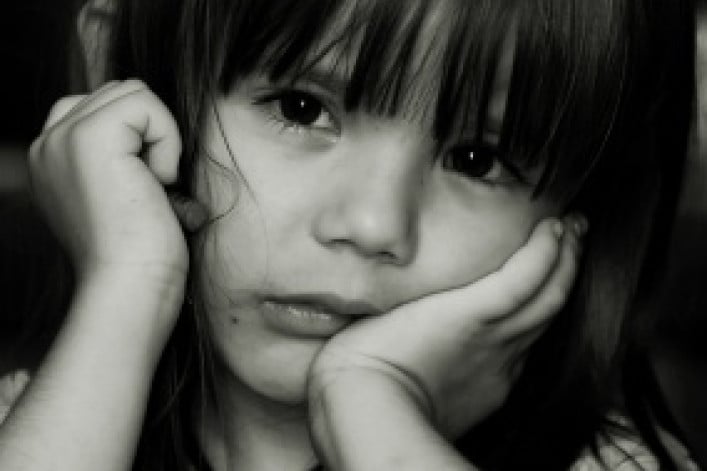 My husband and I bought our condo in Tribeca when I was pregnant in 2003.  We moved into the P.S. 234 zone because we knew we would never have enough money to send our daughter to private school.

Our building is small—less than 30 units—but there were three other kids my daughter's age.  They grew up together and they had a fantastic relationship.

My daughter was so close with our next-door neighbors that she would go over there for dinner two or three times a week. We would leave the doors open so the girls could run back and forth. It was utopia. I had visions of the girls walking to school together or playing together after school.
A year ago, when it was time to register for kindergarten, all four kids applied to P.S. 234.  I didn't find out about the overcrowding and the lottery until then.  It  hadn't been a lottery the year before.  And it was too late to apply to private schools even if we could have scraped together the money.

All three of my neighbors got letters from P.S. 234.  Our letter never came.  Our daughter was the only one in our building who didn't get in.

Instead she got into P.S. 150, which is a great, intimate community school that has one class per grade.  But unlike P.S. 234 it doesn't have a lot of resources: It doesn't have a cafeteria, a gymnasium or an auditorium.

At first, she was really upset that she wasn't going to school with her friends, kids she had seen nearly every day for five years.  She literally didn't know anyone at her new school and it made her adjustment there initially difficult. But now it's March, and she loves her school, her teachers, and her new friends.
As for me, I was really bitter at first at the fact that all the other kids in our building got in.  And things changed socially.  I didn't know what to say to my neighbors and they didn't know what to say to me.  Because if they say things like, "Oh, I'm sure she'll get in next year" – you don't want to hear it – it's just b.s. 
My daughter started school at P.S. 150 in September, and since then we hardly see the building families anymore.  You get busy and everything revolves around the school--birthday parties are kids from her school, playdates are with kids from her school, and on the weekends there are so many other activities.
We are still all really friendly with everyone and we always say, "Let's have a playdate soon." But that has yet to happen simply because people get so busy.
This year's letters just went out for kindergarten and I just found out the two kids in our building who applied both got in to P.S. 234. So my daughter is still the only one going somewhere else. At this point though, this doesn't bother me.
My husband and I actually do love her new school, including the fact that it's small enough that she knows everyone there.  In hindsight, we think this was the best choice for her.  I think if she went to a much larger school, she would have felt overwhelmed.  There is a great sense of community here that has, in a way, replaced the community feeling we had in our building.
As far as other families facing a situation like ours, where their kids are going to different schools than their building friends, just know that if you want to maintain those relationships, it will take a lot more effort on your part, especially if both parents are working.  
Other Inside Stories:
Why I let my neighbor steal my newspapers for 4 years
Brick Underground articles occasionally include the expertise of, or information about, advertising partners when relevant to the story. We will never promote an advertiser's product without making the relationship clear to our readers.