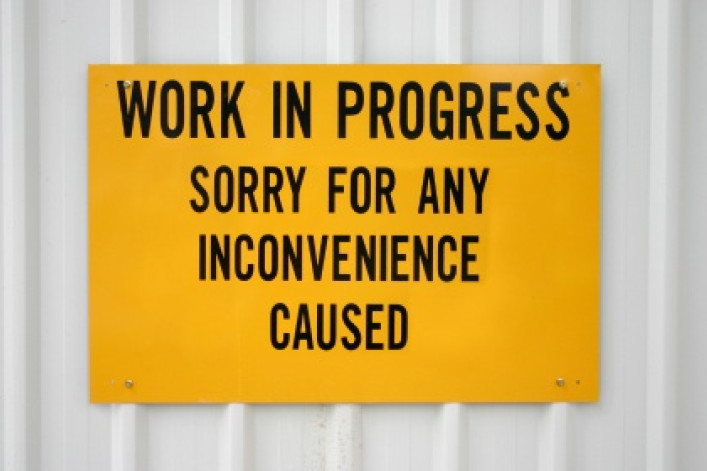 Over on StreetEasy, a debate unfolded recently about whether it's smart or self-destructive to write your apartment-dwelling neighbors a letter informing them that you're about to renovate.

Most everyone agreed that in the perfect world, a written heads-up is the courteous thing to do.

But a vocal minority warned that a personal letter could invite problems from the loco minority.

"My architect nicely told me I was nuts," wrote one commenter. "She said I could nicely introduce myself to neighbors as I met them and thank them for their patience, etc, but to leave letters would invite the crazies.
All it would take would be one nut suddenly saying 'Hey! Wait! I work at home! What hours are you doing this? On the biggest holiday of my culture will you be working?' Etc. And then the counter letters to the board begin."

The commenter recommended other ways to soothe jangled neighbor-nerves.

"Maintain a tight reign on the tidiness of your job and consideration of your workers and you'll keep the neighbors happy. Amply grease the super ahead of time--that buys LOTS of good will.
Tell him you know a reno is an inconvenience and you apologize ahead of time and want to thank him for any added work you cause him and that you want him to call you the instant he detects the slightest problem. Your neighbors will be fine."

Another said a simple notice posted in the lobby by the managing agent worked fine.

We checked in with several architects and designers to get their views: All three were firmly pro-letter.

"After 20-plus years of planning and managing renovations in NY apartments, we believe it is essential to advise neighbors of forthcoming construction projects in multi-family buildings," says Tom Degnan, principal of design/build firm Degnan Design Group. 
In fact, he says, many co-ops require letters because "the noisy aspects of demolition and construction often reverberate throughout multi-story buildings."

There's little backlash risk, points out Manhattan architect Ethan Gerard, because condo and co-ops already regulate construction hours, holidays, dust, debris, the use of pneumatic hammers, etc.
"So, the idea that writing a letter will give the 'natives' ample time to strike back by complaining to the board is usually a moot point," he says.
Kelly Giesen, a Manhattan designerand serial renovator, agrees.

"I have not had any issues so far as the places I have improved were awful and neighbors are happy the work was being done.  I also show them my progress throughout which they enjoy seeing," says Giesen.
Moreover, she says, "Many times my projects inspire neighbors to do work on their places as well, so they come to me for advice.

As for what should go into a letter to your nearby neighbors, it can be as succinct as a brief heads up with the dates of your renovation, an apology for any inconvenience, and a thanks for their patience.

Other info suggested by some StreetEasy commenters:
A list of the rooms that are being renovated and the sort of work being done (eg a simple floor refinishing vs ripping up the old floor)
Assurances that the contractor has been instructed to keep hallways clean, finish by 5 pm daily, keep the music down and not to smoke in public places
Your cell phone number in case any problems arise
Brick Underground articles occasionally include the expertise of, or information about, advertising partners when relevant to the story. We will never promote an advertiser's product without making the relationship clear to our readers.