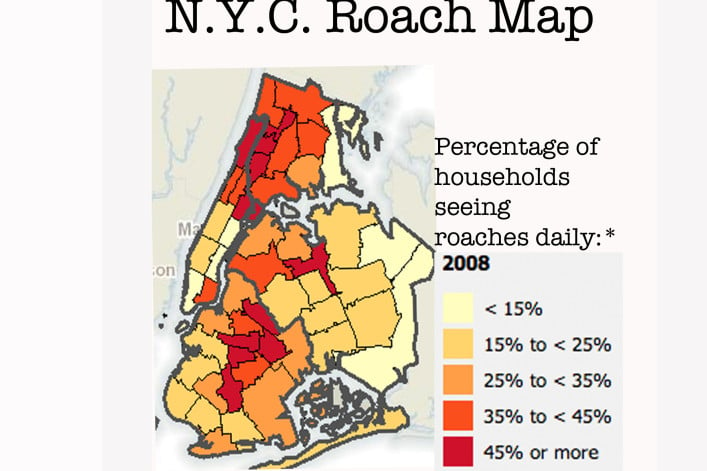 Now you can determine your neighborhood's pestilence ranking online.
The new Environmental Public Health Tracking Portal maps the most livable neighborhoods for mice, rats and cockroaches. It's a useful if somewhat balky offering from the NYC Department of Health and Mental Hygiene.
Here are the highlights--or lowlights, depending on your proximity:
Roaches
The Upper East Side upheld its sanitized reputation in daily sightings of roaches last year: Only 9.5% of households saw roaches every day for a month last year, followed by 12.7% of Greenwich Village/Financial District and StuyTown/Turtle Bay denizens.
The Upper West Side ranked slightly more pestilent (19.1%), while the Chelsea/Clinton/Midtown neighborhoods scored a 23%.  Among the most overrun were the Lower East Side/Chinatown (42%) as well as East Harlem (51%).
Meanwhile across the East River, Brooklyn Heights/Ft. Greene logged a 25.4%, Williamsburg/Greenpoint 26%, and Park Slope 18.6%.
Mice and Rats
The new portal also offers a neighborhood-by-neighborhood snapshot of the percentage of buildings spying a mouse or rat during the three months before the 2008 survey. (Somewhat unhelpfully for city dwellers who hold rats in far greater disregard than mice, the two vermin are lumped together in the data.)
In Manhattan last year, the fewest furry incursions occurred in StuyTown/Turtle Bay (6.7%), followed by the Upper East Side (10.2%), Greenwich Village/Financial District (10.6%), the Upper West Side (14.5%), Chelsea/Clinton/Midtown (18.7%), East Harlem (29%), and the LES/Chinatown (31.5%).
In Brooklyn, Willamsburg/Greenpoint scored a 19.7%, Park Slope/Carroll Gardens 20%, and Brooklyn Heights/Ft. Greene 26.3%.
...Plus, one glaring omission
As Bedbugger.com points out, the stats don't include bed bugs, which have arguably replaced mice, rats and cockroaches as the scourge of our decade.
"You certainly can track them. Toronto did in 2003," notes Bedbugger.
"But the city is not doing so, or — to the degree they are tracking complaints — they're not letting us see the results in the same way they are for mice, rats, and cockroaches.
We hope a bed bug infestation tracking program — including sharing the resulting information with the public as is done with these other urban pests — will be among the recommendations made by the New York City Bed Bug Advisory Board.  And soon."
Related links:
Bed bug insurance? Apparently not
Bed bugged storage (Part 1):  Is your stuff safe?
Bed bugged storage (Part 2): How to protect your stuff
NYC bed bug stats: A vast understatement?
$250,000 bed bugs online; another co-op goes to war

Brooklyn still #1 bed bug borough; Manhattan (UWS & North) next

Co-op hair-raiser: $250,000 bed bug bill

Your neighbor's bed bugs
Cool stuff: New bed bug iPhone app
Brick Underground articles occasionally include the expertise of, or information about, advertising partners when relevant to the story. We will never promote an advertiser's product without making the relationship clear to our readers.