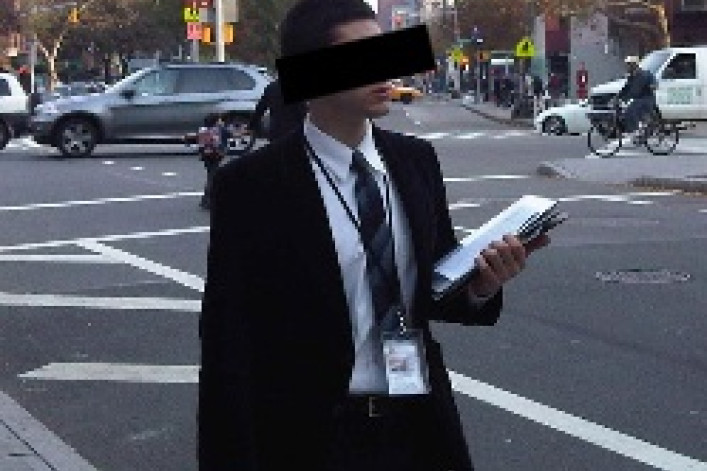 Last week's arrest of a serial robber posing as a UPS deliveryman has left West Village parents jumpy: An alarm has gone out about a "tall skinny white guy, youngish, with an Eastern European accent" gaining unauthorized entry into some non-doorman buildings over the past couple of days.
Here, with the writer's permission, is the warning posted two days ago on West Village Parents, a popular subscription-only online community:

"Please be on the look out for a man trying to gain entry into buildings as a 'man from the utilities'. He tried multiple apartments in our building at 3pm and 7pm yesterday. He got in somehow and tried each doorbell along the corridors, moving between stairwells. He tried to convince our Super to let him into apartments. He also did the same thing in the two neighboring buildings.

He is a tall, skinny, white guy, young-ish, has an Eastern European accent, wears a suit and has an ID card around his neck. I have posted a photo of him [above] our neighbor took, as well as of his ID, up on the Photos section.

The West 12th Precinct said to call 911 immediately if you see him, as they have had several complaints in the last 2 weeks. You can also call Officer O'Neill at 212 741 4811.

UPDATED: our neighbors did some digging around on Direct Energy, the company on his ID - it is associated with gas bill scams (Google it) and they try to sign you up for terrible rates on contracts that are impossible to get out of."

So, at best, this is a rep for a scam and at worst (e.g. trying to get into your apartment) a danger to you or your family."

Another West Village parent followed up yesterday with a report that she and a neighbor had been buzzed by two men claiming to be from a utility company and asking to discuss her ConEd bill.  She said the police told her no crime had been committed.
When we caught up with the original poster, who asked to remain anonymous, she told us her co-op near Sixth Avenue and West Houston was not the only building targeted.

"The guy tried it many buildings on our block," she says.  "I was most worried about the guy asking the super to let him into apartments…By the time cops were called, they didn't even look at the photos (I tried to show them on the phone, but they just lectured us on calling 911 quicker next time).  There was no email or MMS address to send to the Precinct and as such, I still haven't brought them a printed copy of the photo yet."

Brick Underground articles occasionally include the expertise of, or information about, advertising partners when relevant to the story. We will never promote an advertiser's product without making the relationship clear to our readers.