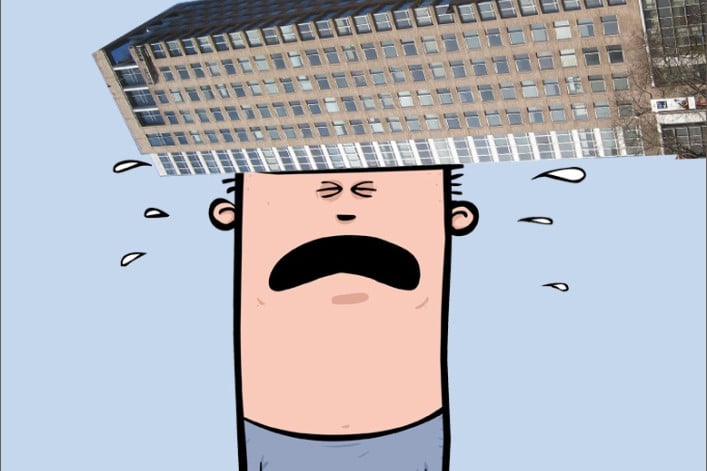 The Situation:
I used to live in a SoHo loft that had been renovated by squatting artists in the 1970s. To make their apartments as huge as possible, they'd created a crazily narrow public hallway. Every time you had to move furniture, or came home a bit wobbly after a night out, you cursed that tight space.

These days, the Americans with Disabilities Act (ADA) would have prevented such short-sighted construction by dictating a minimum hallway width.

In a previous column, we identified who has to follow ADA rules. Below, a brief tour of what the ADA may compel you to do.

Here's the Deal:

• Basically, ADA regulations create better, safer spaces and traffic patterns by mandating certain widths, turning radiuses, distances between counters, and spaces around permanent furnishings and plumbing fixtures.

• Sometimes these regulations bump up against either an owner's wish list, or an actual impediment, such as an 18" thick structural column. Your architect or designer will adjust your plans on a case-by-case basis.

• If you will be changing any doorway or any wall with a door in it, you will have to widen that doorway to 36" (or 32" if a pocket door is used). Creating a flush threshold at doorways, as opposed to a normal raised saddle, is an option you may want to consider even if you don't need it now (hey, you never know when you might have a skiing accident).

• In a kitchen renovation, the main aisle width should be 44 inches. In some spaces, a secondary aisle width of 36" will be ok, but check with your architect. Meeting this requirement can be difficult in tight NYC apartments, so under certain circumstances, your narrow existing aisle may be grandfathered in.

• In a bathroom, when you move fixtures from their original locations, you trigger ADA regulations. These are too complicated to describe here, but much of it is common sense: Position a toilet next to a wall where a grab bar can be located, allow enough space around the toilet, make it easy to get in and out of the shower, etc.

• Even if you're not required to, it's a smart move to reinforce walls for grab bars per ADA guidelines. Towel bars are not strong enough to support a falling adult.

• For more details, a free pdf of building standards (with drawings) is available from the ADA website: (http://www.ada.gov/stdspdf.htm), and you can purchase the complete NYC local code from The City Store: (http://a856-citystore.nyc.gov/Default.aspx).
Related links:
Um, why do I need a handicap bathroom for my 3rd floor walk-up?
Brick Underground articles occasionally include the expertise of, or information about, advertising partners when relevant to the story. We will never promote an advertiser's product without making the relationship clear to our readers.