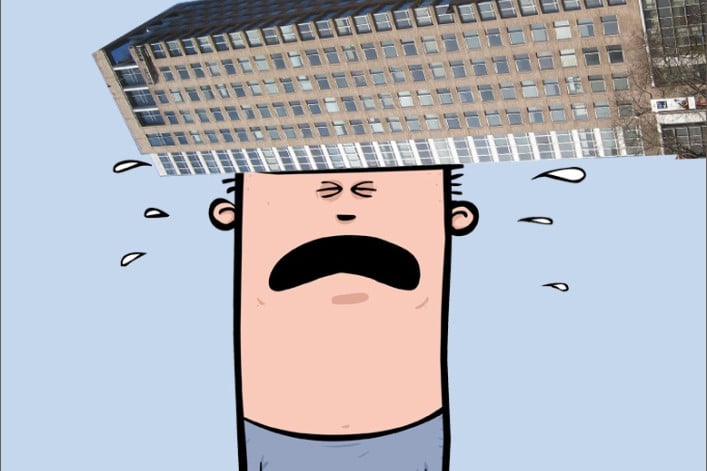 The Situation:
Recently, I moved from one apartment to another in the same building. Thus began the familiar ritual of living with paint swatches taped to the walls of every room.
Except for my bedroom.
My rug was on the brink of being installed and I needed to get the walls painted right away. This bedroom is just across the courtyard from my old one. Even though I know that light is what makes a color look good, in my arrogance (hey, I do color consultations for a living), I figured the lovely soft gray I'd used at the old place would work just fine here.

Twenty minutes before the new rug arrived, I stood back to take in the effect: Oh dear. The light here is much stronger and from a slightly different angle--ergo, sophisticated gray is now baby blue. Now I'm going to have to work extra hard to repaint around the rug. Of all people, I really should have known better.

Here's the Deal:

1) DON'T FORGET TO TEST! Start with the little chips, cut them apart and tape them up. When you've got it down to three options, go online and order larger swatches or mini test jars. Put those up and live with them a while. Check if they work as well in sun and rain, at night and during the day.
If you're still not sure, buy a quart and paint it in two corners, and on two walls. Test your swatches where they'll be visible through a doorway; you want to make sure the colors transition nicely from room to room.

2) DON'T BE SEDUCED BY "PRETTY." At the paint store, most people tend to gravitate towards the stronger, brighter, cleaner colors. But when applied to an 8-foot-high wall, the color can look garish and aggressive because of the light that's peculiar to New York City. Here, even on blue-sky days, our light is refracted by soot and skews gray.
To compensate, try going two shades grayer than you originally thought. Even if the swatch is not as "pretty," it will probably get you where you really want to go.

3) DON'T BE TIMID. Linen White is the bane of my existence. How on earth did this bland off-white become the default choice in a town known for its chutzpah?
Even if you're more comfortable with neutrals, mix it up a bit: go to the bottom half of the color chart of your favorite neutral–a dark taupe, grey, or chocolate can turn the rest of your beige, white or tan home into smart foil for a moment of drama.
If your apartment looks predictable, try one bold color, used on an accent wall, hallway or powder room; it will make your guests think they don't know everything about you after all.

4) AVOID "CEILING WHITE."  If you are unsuspecting, your contractor will say, "So, you want ceiling white?"and you'll think of course, that must be what everyone does. Sadly, 'ceiling white' is usually an ugly gray-white similar to the color a ceiling becomes after five years of dirt and grime have landed on it. "Decorator White" is a close cousin. No good decorator would choose it.
Sometimes the best ceiling is not white at all: it can be better to make the ceiling a pale shade of your walls. If you want a "white-white" ceiling, choose a white that coordinates with your wall color. Test it out in place like any other color. If that's too complicated, go with either "Atrium White" or OC-65 from Benjamin Moore. OC-65 is my stand-by white of choice, and works well with almost any color.

5) GO WITH YOUR GUT No matter what your best friend thinks, no matter what your mother says, despite the look your designer gives you, sometimes when you're right, you're right. I will never forget two times I was proven so dramatically wrong about a color by clients.
The first was a 10-year-old boy, who, when allowed to chose a color for his room–a loft with 12-foot-ceilings–chose an orange so electric I almost physically recoiled. The second was an arty bachelor who dictated we paint his entire studio apartment–walls, molding AND ceiling– a color that can only be described as baby diaper brown.
The results, in both cases: Outrageously good--two of my favorite spaces. That orange room made you smile every time you saw it. And that dirty brown studio? The vibrant artwork he packed the place with shone like jewels against it--it was amazing.


Brick Underground articles occasionally include the expertise of, or information about, advertising partners when relevant to the story. We will never promote an advertiser's product without making the relationship clear to our readers.