In case you missed it
I asked my landlord to make ceiling repairs for 13 years. Then it rained in my kitchen (video)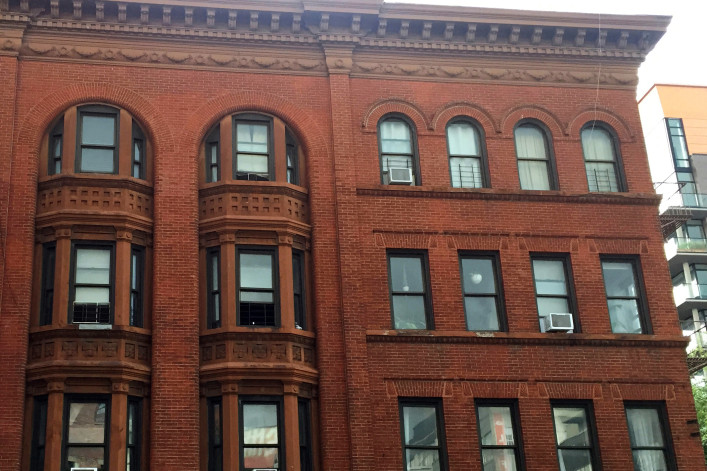 One day I woke up early to an unfamiliar, yet not unnatural, sound. Thanks to a storm outside, it was full-on raining in my kitchen. The walls and ceiling were spewing rainwater like some kind of experimental art piece that brought the outdoors inside. 
But this was my apartment, not a gallery; the sight of all that water was devastating. I put on shoes with rubber soles, waded in, and gingerly unplugged the refrigerator to avoid an electrical hazard, and shot a few seconds of video. Then, from the safety of my couch, I watched helplessly as the rain and plaster came down, crying from rage and frustration. This could all have been avoided if my landlord had done the few repairs that I had been requesting for over a decade.
I live in a quaint-looking, 14-unit tenement in Williamsburg, run by an LLC spun off from a large and powerful real estate agency based in Manhattan. I have been in my rent-stabilized apartment for 20 years, and when I first moved in, I paid my rent on time. 
---
Editor's Note: Brick Underground's Inside Stories features first-person accounts of dramatic, real-life New York City real estate experiences. Have a story to share? Drop us an email. We respect all requests for anonymity. An earlier version of this post was published in November 2018. We are presenting it again in case you missed it.]
---
Back then, the building had a hard time attracting tenants: It was old, there were chickens on the fire escape, an illegal day care on the second floor, unpleasant smells wafting up from the restaurant downstairs, and exhaust fumes from the bus stop.
Now the neighborhood is beyond trendy, and the chickens and toddlers have left the building, buses use cleaner fuel, and the restaurant has a vent. Management wants the stabilized units emptied. They like the high turnover, so they can raise the rent every time a wealthy resident who can't stand the lack of services decides to move out. It happens frequently.
This also means the management company does not provide services or repairs to the tenants like me who don't pay well-above market rates. In fact, my flood was a direct result of this neglect. 
Back in 2005, management did a faulty, cheap roof "repair." That winter my ceiling had fully collapsed, exposing my kitchen to the elements; concurrently, the heat went out, so the fire department had the building vacated for a week until the boiler was replaced. I packed a backpack with essentials, and with my cat and dog, headed to my friends' spare couch. Thankfully I had somewhere safe to go. But my kitchen still needed full repairs. It had been completely destroyed. 
After returning from a week of couch surfing, I discovered there was black, sooty water coming off of roof beams that had been burned in a fire during the 1930s. Instead of entirely removing the charred beams, they just added support beams to them. Underneath the ceiling's "dry" wall, I now know what lurks. It took about a month for the repairs and new appliances to be installed. I ate take out every night, which was costly, often unhealthy, but the only choice.
Ceiling was never really fixed
Ever since the 2005 event, the ceiling has shown signs of a slow leak. And so every month, when I send my rent check in, I documented the damage and urged management to make repairs before I had a full collapse again. I emailed photos of the ever-expanding leaks. They continuously ignored my pleas—until the major leak, when I called every number I had for anyone at the LLC and real estate agency and went ballistic, stating I would call the fire department within the hour if the maintenance team did not show up. They arrived in 55 minutes.
The uncontrolled flooding capped off four years of dealing with one official city agency after the next. I am now an expert on all the acronyms, thanks to navigating the legal system for rent-stabilized tenants in NYC: I am dealing with the Tenant Protection Units (TPU), Housing and Urban Development (HUD), and battling PARs (Order and Opinion Petition for Administrative Review) and filing multiple "tenant affirmation of non-compliance" (TANC) forms via the Division of Housing and Community Renewal (DHCR). I won a rent-abatement action, which can only be challenged by the LLC in New York Supreme Court within 60 days. 
The judgment from the New York State DHCR Office of Rent states, "There is no other method of appeal." I thought the ruling would end part of my struggle, but the LLC remains committed to fighting it, even delaying providing my lease renewal. Currently, I am filing another TANC form and awaiting yet another inspection from DHCR. All of this is done by snail mail, by the way.
How to protect yourself
But thanks to my experience, I know more about tenant law than I ever would have expected. I did this all on my own, successfully, as I cannot afford a lawyer. If you're ever in my shoes, here's what you need to know: 
Nothing motivates a landlord like losing money. If you are in an apartment, co-op, or condo, and have building-wide issues that are not being addressed by the landlord, document the issues with photos and fill this form out for a rent abatement.
You'll receive a docketing acknowledgement notice from the DHCR Rent Administration in about a month. This docket number allows you to search online for your case status. 
That can take three to six months, but the rent abatement is retroactive to your previous lease amount. Your landlord can appeal with the PAR, but if they don't show improved services, they lose. 
Then they will wait a few months and hit the DHCR with a "notice of commencement of proceeding to restore rent," and you must get off the ropes and hit back with the form "answer to notice: tenant's response to owner's rent restoration." Send the form in with the photos of the lack of services, and the law will continue to side with you. This will go on, there will be inspections, trips to the post office and hassles, but tenacity is your friend here.
This is where you can find the whole process, contact info, and links to many forms.
It has taken so much of my time, and if I did not have the option to work from home, there is no way I could handle the logistics of trying to keep the roof over my head.
Readers may think, "Why doesn't she just move?" As a journalist and teacher, I cannot afford it. And I like my home, and my neighbors. The repairs could easily be made. I won't feel shame for my circumstances. The management company excels in making our lives unstable, so I remain committed to fighting for repairs.
Brick Underground articles occasionally include the expertise of, or information about, advertising partners when relevant to the story. We will never promote an advertiser's product without making the relationship clear to our readers.