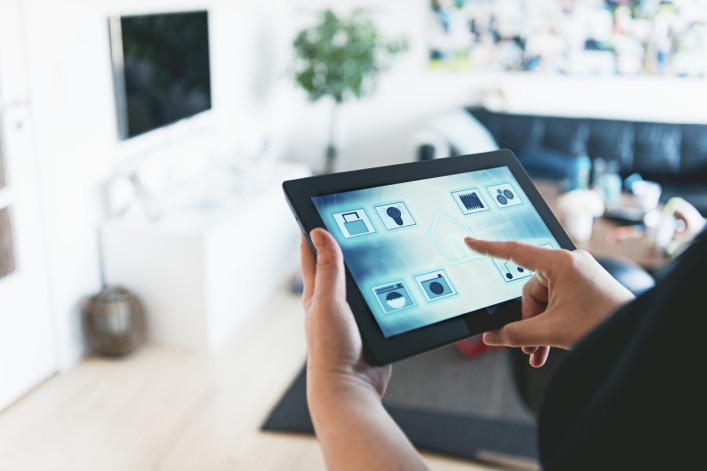 While smart devices such as Amazon's Alexa are making it easier by the day to turn our apartments into hyper-connected havens of digital convenience, having the entire cyber-universe at your beck and call has its downsides. As anyone who's ever placed a protective piece of tape over their computer's webcam can attest, a home filled with digital devices is also a home that's at greater risk for web attacks and personal data breaches.
Two incidents in particular have brought the issue to the forefront of late. First, there was the October East Coast internet outage that resulted from a coordinated attack on the company Dyn, in which home devices such as webcams and DVR players were infected with malware, and weaponized in such a way to flood Dyn's servers. (This is what's known as a "botnet" attack—Wired has an explainer here.)
The second, more recent incident came with the news that Smart TV company Vizio had tracked users' viewing data without their consent, then sold the information to third-party companies. So whether it's an issue of personal data security or having your devices turned into tools in a larger digital battle, 2017 is definitely the time to get your cyber security on lock. Below, simple tips to significantly step up your apartmen'ts cyber security—consider it the digital equivalent of a deadbolt:
Which devices to be careful with
Unfortunately, the answer here is pretty much "all of them." Specifically, any device that you connect to your apartment's wifi could potentially become a security risk. "Usually, anything that can be connected to the internet is what we classify as a 'connected device'," explains Jessica Smith, Vice President of Digital Forensics at security firm Stroz Friedberg. "That would be the first point to think about: 'What devices do I have around my house that are connected to the internet? What devices have I had to connect to my wifi'?"
Besides your smartphone and computer, this means tablets, smart TVs, digital butlers such as Alexa, smart appliances (such as refrigerators and air-conditioners), even baby monitors and security cameras. "Cameras are notorious for opening automatically," notes Joe Caruso, CTO of Digital Forensics at Evestigate. 
In particular, though, you should view your wireless router as your first line of defense. "Even when you're not using it, a hacker can tell the router to open certain ports, and then once those are open, an attacker can access those ports remotely and view your cameras," says Caruso. "Or they could use it to set up software that will allow the device to become part of a botnet that will attack other devices." (The latter is what happened to Dyn during October's internet outage.)
"There are sort of two different avenues you want to consider—the first is security, and the second is privacy," says Smith. "Security would be, if the devices are hacked, what is the security risk to you, and to other people." For instance, a hacker using your security camera footage to plan a home robbery, or a hacker utilizing your smart devices as part of a larger-scale attack on a third party. 
"From a privacy perspective, the question is what sort of information are these devices compiling about me and my activity, and who it's being shared with," says Smith. 
How to protect yourself
Though the level of risk out there can seem daunting (and as this Quora thread demonstrates, difficult to discern once it's actually invaded your devices), a few relatively straightforward solutions can make a world of difference. "Ninety-nine percent of hacks that happen are not sophisticated 'super hackers'," says Caruso. "They're kids that are looking for credit card numbers or some kind of financial gain, and they're going to take the low-hanging fruit." Meaning, then, that even a small amount of added difficulty getting into your networks will likely deter most of them onto the next target. Some steps to consider:
Brick Underground articles occasionally include the expertise of, or information about, advertising partners when relevant to the story. We will never promote an advertiser's product without making the relationship clear to our readers.