Ask an Expert
To combine or not: What's the best strategy for selling two adjacent NYC apartments?
The time and cost of the construction work will impact your decision making
Technology can help buyers visualize the potential without you doing the work
Another factor to keep in mind is who you are targeting as a potential buyer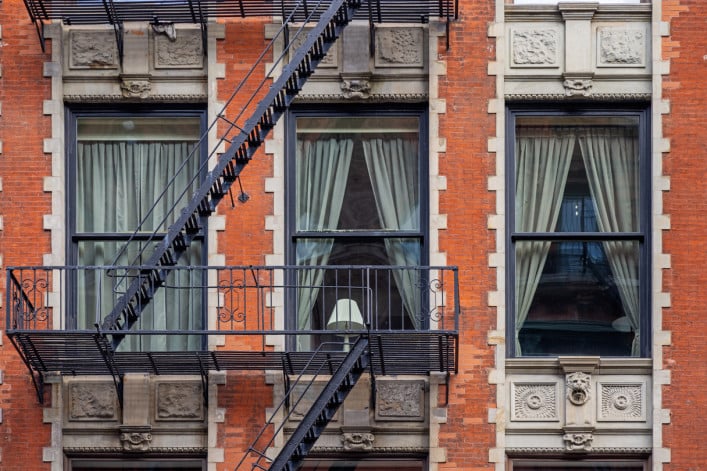 I'm looking to sell two neighboring apartments in a building on the Upper West Side. What is the best strategy? Should I combine the units before the sale or give the buyer the opportunity to do their own configuration?
There are lots of factors to consider as you weigh whether to combine apartments before you sell, including the sales price and your appetite for renovation, our experts say. 
Kobi Lahav, senior managing director at Living NY, says in about 20 percent of circumstances, it makes sense to combine two adjacent apartments—but it depends on the market, the cost of the renovation, and the seller's willingness to do the upgrades.
Another factor to keep in mind is who you are targeting as a potential buyer. Buyers at lower price points are more sensitive to today's higher mortgage rates, so the fact that a one bedroom or a studio might not sell as well as a larger apartment is an argument for doing a combination.
Buyers of one bedrooms and studios are less active in the current market because they tend to rely on financing and are more sensitive to high mortgage rates. Buyers of larger apartments are dealing with the same issues but generally have more money to put towards the down payment so you may find more interest in a combined apartment than your two, smaller apartments, Lahav explains.
But there's always the risk if you decide to combine two apartments that the market may have shifted by the time the renovation is done. "It's a gamble," Lahav says.
What is the expected sales price of the apartments? 
In the past, two adjacent apartments were worth more uncombined rather than combined, says Deanna Kory, a leading broker at Corcoran. In her opinion this is no longer the case. "The cost of renovating is currently so high that most buyers do not want to engage in a renovation to make the combination themselves," she says. 
She points out there will always be exceptions to this rule. If you can combine the two units for a reasonable price or the combination makes for a particularly unique apartment, there is a chance the combination apartment will sell better than the individual units.  
It may depend on whether there are similar units available in the building. "If you create a three bedroom in a building that only has studios and one bedrooms, you might be onto something," Lahav says. 
Today's higher mortgage rates mean buyers who need financing to close on smaller, starter apartments are biding their time, renting rather than buying. At the same time, more expensive units are selling to affluent buyers who can handle higher monthly mortgage payments or are less affected because they are paying all cash. 
Your gamble will be deciding whether to spend several months renovating to create a larger apartment. By the time you finish, you might find the market has changed, mortgage rates have fallen, and smaller apartments are back in demand.
The solution here is to hire an experienced agent to advise you on the difference between the individual and combined potential sale prices to see what would be your best route. "If larger units in the building are selling at a premium and there's data to show this," Lahav says, this might give you the confidence to do the renovation work. 
What is your appetite for renovation?
The time and expense of the potential renovation needs to be weighed against the projected impact on the sales price. "In a regular renovation, things can easily veer off track—in a combination, even the strongest appetite for renovation can easily be ruined," says Nicole Beauchamp, a broker at Engel & Völkers. 
Some apartments align beautifully, others are more complicated. All involve filing plans, getting board approval, and carrying the apartment while the combination takes place. 
Lahav has experience selling neighboring apartments and says understanding the cost of the renovation is crucial. Not only will problems arise during construction, but you also need to unify the two spaces so they feel as if they are one. "Buyers who have a vision will have the breadth to deal with all the problems—the seller has less motivation than a buyer who is excited about the space," Lahav says. 
You should also be aware, recent changes in the insurance market are forcing buildings and managing agents to adjust alteration agreements to ensure exclusions in the policies don't result in a contractor's insurance denying coverage if there's a claim. This is making it more difficult to employ smaller contractors in the city's co-ops and condos and making renovations more expensive. 
You will also need to make sure all the permitting is closed as required. This would be the case for any renovation but if you want to sell soon after the work has been done, it could slow down your deal if there are issues uncovered by the buyer's attorney during the due diligence, Beauchamp says. 
If you've owned the apartments for a while, consider why you have hesitated to combine them until now. 
Who is your buyer?
As a seller, you have to guess who your buyer will be and what they would like. Some of the design decisions you make may not appeal to a prospective buyer. Beauchamp says that's the case with "any renovated apartment but it's perhaps more true with a combination." 
In many cases, Lahav says, "It might be easier to find two separate buyers at a lower price point to maximize your return as opposed to connecting the units." He says that 80 percent of the time he suggests sellers list neighboring apartments together—advertising them separately and showing the potential of a combination so you hit the widest market. 
"Once you combine them, you immediately reduce the size of the potential market of buyers," he says. 
Technology can be very helpful in allowing a buyer to visualize a combined apartment—without you footing the bill for the renovation. Virtual tours are commonly used to market new construction, often with a video created for a space that doesn't yet exist. The same can be done for a combination apartment. 
"Usually my recommendation is to show people how it would look, give them the costs, and tell them what you expect the combined unit price would be—you show them where they make the money without doing it and killing your chance of selling the smaller units," Lahav says.
One more consideration when selling two uncombined apartments to one person is that some lenders will only finance one of the apartments with a residential mortgage—the other may be considered an investment and have a higher rate.
Melissa Cohn, regional vice president at William Raveis Mortgage, says this is "hard to do with a co-op as most banks don't lend on investment co-ops." However, there are workarounds. 
"If the buyer is purchasing solely to combine, then some banks—largely private banks—will allow the buyer to put money in escrow with release of the funds conditional upon completed combination," Kory says. In this case, the entire loan will be at a residential rate.
"Building approval for the combination is also required," Cohn says. She points out, selling the units already combined gives the buyer more choices when financing.
Brick Underground articles occasionally include the expertise of, or information about, advertising partners when relevant to the story. We will never promote an advertiser's product without making the relationship clear to our readers.