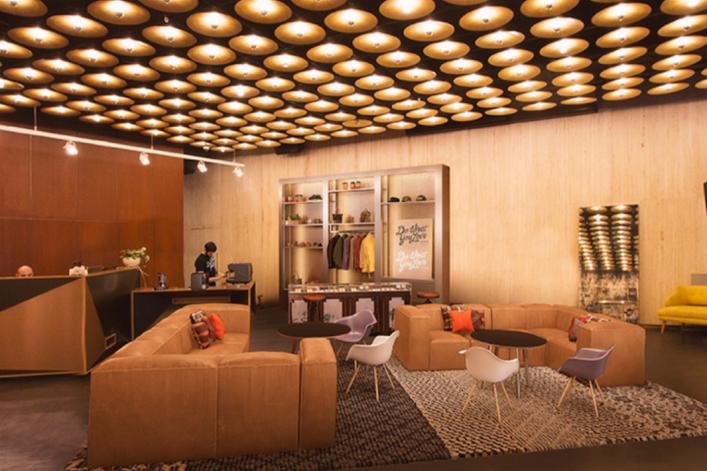 If you were looking to get into a WeLive co-living space for a discount, you're out of luck. The company has announced that after nearly a year of "friends-and-family" rates, their apartments at 110 Wall Street will rise to market rate starting in January. A spokesperson for WeLive told us that renters were made aware of this inevitability as soon as they moved in.
To get a sense of the difference in the introductory or "beta" rents—which kicked off when the building opened in April—and current rates: A studio will now start at $3,050 a month, whereas it had been available for $2,000 a month previously, The Real Deal originally reported.
WeLive is a subsidiary of WeWork, an ever-expanding global network of shared work spaces. (Full disclosure: Brick's offices are in a WeWork building.) Like WeWork, WeLive encourages social engagement, with communal spaces for renters, including a yoga studio and arcade. Rent includes linens, some furniture, access to a common kitchen (though apartments have their own kitchens, too), unlimited coffee, tea, and beer, and concierge and housekeeping services.
The building—which has WeWork shared working spaces on lower floors as well as WeLive apartments on higher floors, raising questions about the viability of true work/life balance—has homes ranging from studios to four-bedrooms. The company is not in the business of roommmate matching, which means if you want one of the larger apartments you'll need to come with your own roommates.
A company spokesperson declined to quote prices for apartments beyond the $3,050 studios, but private bedrooms—which are rooms within a larger apartment, and not standalone with its own kitchen like a studio—are quoted at starting at $1,900 (!) a month. Even in the New York real estate market, this is awfully pricey—there are still plenty of places in Manhattan where you could have a studio or one-bedroom entirely to yourself for the same cost as a WeLive bedroom (though not likely that it'd come with free coffee and beer).
Brick Underground was informed that the building is over 90 percent occupied, with a waitist. Some people are on month-to-month leases, others sign leases for a year or more. Rents are generally negotiable depending on the length of commitment, and there's no broker's fee. Some apartments are set aside as hotel-style accomodations, which range from $305 to $675 a night. 
"The concept works incredibly well," says the spokesperson. "We're really pleased with the progress."
After opening its Financial District location, the WeLive opened another location just outside D.C.  The company spokesperson wouldn't confim or deny rumors of an upcoming Seattle location, but said they're committed to expanding the model.
Brick Underground articles occasionally include the expertise of, or information about, advertising partners when relevant to the story. We will never promote an advertiser's product without making the relationship clear to our readers.