The Search
From Staten Island to Long Island City: I won a housing lottery apartment so my wife and child could finally join me
After entering housing lotteries for over five years, he landed a one bedroom for $2,295
Wait, there's more: A year later he upgraded to a two bedroom nearby for $3,065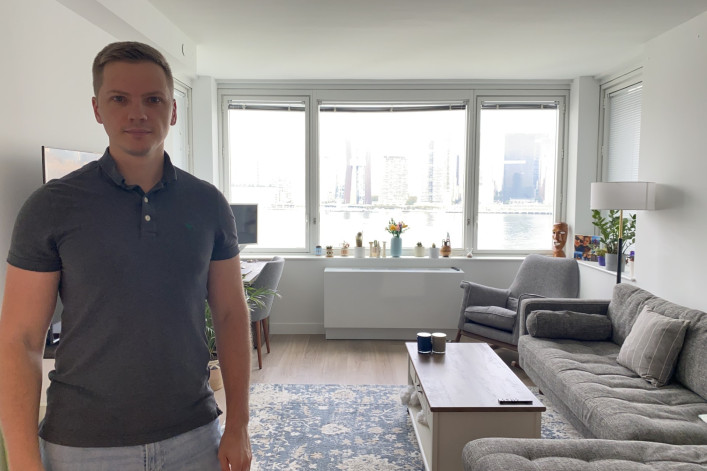 After getting his green card, Philipp moved to New York City. Over the next five years, he tried for an apartment through the city's housing lotteries, finally landing a place that was big enough for his wife and child to join him. A year later, he was able to upgrade to a two bedroom for his growing family. Here's his story as told to Kelly Kreth. 
I was born in Uzbekistan and raised in Russia. I moved to New York City seven years ago after winning a Diversity Visa (green card) lottery.
When I first moved to New York, I lived with a roommate in Sheepshead Bay, Brooklyn, then in Midwood, where I rented an apartment by myself. 
Most recently, I lived in Staten Island. I rented a studio at the Urby development for $1,900 per month with views of the Verrazzano Bridge. The apartment is small but put together very well. I had everything I needed, including an in-unit washing machine. The complex is also lovely, with an outdoor pool and fireplace, a park, and free gym. 
However, the neighborhood wasn't particularly appealing. When you walk two to three blocks out from your home in any direction, you don't feel safe. 
I enjoyed hanging out with friends and neighbors by the pool and playing volleyball, which was the best thing to do in the summer. We played table games in common areas or had parties in our apartments during the winter. Also, there are two good Italian places in the building: Seppe Pizza Bar, for great pizza and cocktails, and Pastavinosi, which has very delicious pasta.
Food shopping and ordering in is almost impossible in SI. It took me 25 minutes to drive to the nearest Trader Joe's. I would take an Uber to Brooklyn or go to Manhattan to pick up quality eats.
Even though I had a car, I would take the train and ferry to commute to Manhattan for my job at one of the biggest global media companies, where I am a product manager for a well-known streaming app. I also own a small digital marketing company startup.
It usually took 40 to 50 minutes to reach Manhattan. Even though the ferries run every 30 minutes during the day, if you're late to the station by just one minute, you have to wait 30 minutes for the next ferry. 
---
[Editor's Note: Brick Underground's series "Transitions" features first-person accounts of what it's like to move from one New York City neighborhood to another. Have a story to share? Drop us an email. We respect all requests for anonymity.]
---
Why he left Staten Island for Long Island City
Over five years, I had applied for 34 different housing lotteries through NYC Housing Connect and was selected to continue the application process for nine of them, but after reviewing the apartments, buildings, and neighborhoods, I didn't pursue all of them. My suggestion is to only apply for apartments that you really like.
There was one exception: In October 2021, I found out I had won an apartment at 5PointZ, a luxury high-rise in Long Island City. The whole process took five to six months. 
Once I got the email telling me that I had been chosen to be considered for an apartment, I needed to send a lot of paperwork, including proof of my income to make sure I was in the right income bracket. Then I needed to fill out a few more applications. Then I had to wait until I received the final confirmation.
Meanwhile, I saw the apartment, and I loved it. It's a one bedroom that was large enough for my wife and child to finally be able to join me. The building amenities are great: a huge gym, huge lobby, indoor pool, indoor full-size basketball court, playroom, party room, poker room, golf simulators, BBQ area, doorman, mailroom, and laundry in the basement—plus there is a washer/dryer in the apartment, all for $2,295 per month. 
Once I signed the lease, I had 30 days to move in. This was a challenge because I had just resigned my lease in SI. I tried to negotiate a lease break with no success. They would only let me go with a fee. I even contacted NYC's Department of Housing Preservation and Development to see if I had any recourse but the answer was no. You have to figure it out by yourself. So I posted my place in a Facebook group for renters looking for apartments and found someone who was willing to take over my lease. I guess I got lucky once again. 
The move from Staten Island to LIC was pretty easy. I used a great moving company called Dyno Moving. I booked the move two weeks in advance and it went very smoothly. They helped me to pack my electronics, disassemble all my furniture, pack it, and reassemble it after transportation. 
What he thinks about housing lotteries
The lottery is amazing. My first rent was 40 percent below market and I found this great family-friendly neighborhood in NYC, where I knew I wanted to stay.
And luckily, after about a year, I won an even better two-bedroom unit in a different LIC building that was 50 percent below market rent. I had applied around the time I won the other lottery—we had another child on the way, so we were hoping to move into a larger place. Also, because my other lease was about to be up, I had no challenges in just moving. 
We moved here in December 2022 and I now pay $3,065 for a much bigger apartment with an amazing view of the water. The building is also similar to 5PointZ in terms of amenities.  
If I ever move, it will be to a house, but not in NYC. 
How he likes the new nabe
Long Island City is quiet and safe. There are many bars and restaurants (Woodbines is my favorite), a Trader Joe's across the street and a Targe nearby, and Gantry Plaza State Park, which has the best view of Manhattan, is just a couple of blocks away. On the way there, you can get a cold beer at Fifth Hammer Brewing Company or Rockaway Brewing Company. Free events with live music are always happening next to Culture Lab LIC on the weekends. It is the best neighborhood in New York City for families because there are lots of kids and parks. 
The best thing is you can order food, 24/7; I can get anything I want.
 
The only minor issue is parking. If you don't want to spend 30 to 40 minutes looking for a spot, you can easily pay $300 to $400 per month on parking tickets. It took a while for me to get used to the situation and figure out where and when to park my car. 
Thankfully, the subway is just across the street. Now I take it and get to work in 15 minutes. 
Dog owners are another thing that bugs me. I love pets, especially dogs, but the dog owners in my building are a different story. They let their dogs pee on the building's doors and walls, which always stinks.
Another thing that I don't like is that people here are more closed off and not as friendly. They smile but never go beyond that. At Urby SI, it was like a big family.
 
Although it will take me some more time to make close friends, my SI neighbors have visited me, and they all love LIC and my apartment and have even started filling out lottery applications in the area. We have the best view of the fireworks on the Fourth of July. 
As for me, I know I am a very lucky man. My next goal is winning Powerball. 
Brick Underground articles occasionally include the expertise of, or information about, advertising partners when relevant to the story. We will never promote an advertiser's product without making the relationship clear to our readers.