If you're young and just starting out in NYC and don't want to live with roommates, but still want a central location in Manhattan, your living options are likely limited to studios, and small ones at that.
Here's one that ticks the right boxes and is surprisingly affordable for the neighborhood, plus it's not too claustrophobic—if you're ok with a sleeping loft.
The sleeping loft in this corner studio, 138 East 38th St., #5E in Murray Hill, fits a full-size mattress (with room to sit up, according to the listing). There's a wall-through A/C, and the building has a live-in super and new laundry room. Also according to the listing: There are views of the nearby Chrysler Building.
It's asking $2,100—which is well below the $2,700 median asking rent for studios in Murray Hill.
The windowed loft has a big stair that extends into the center of the room and it looks like there is a closet under the loft. There are two additional closets, and the floors, kitchen, and bath appear in good condition, if very plain.
If you're young—you may like this part of town—there's lots of bars here. Also nearby are Trader Joe's, 2nd Avenue Deli, and an AMC movie theater.
So what's the verdict? 
As always, when weighing New York City apartment listings, we turn to our Take It Or Leave It experts: Constantine Valhouli, founder of real estate research and analytics firm NeighborhoodX, freelance writer Lambeth Hochwald, and myself.
But first, here are more pictures of the apartment.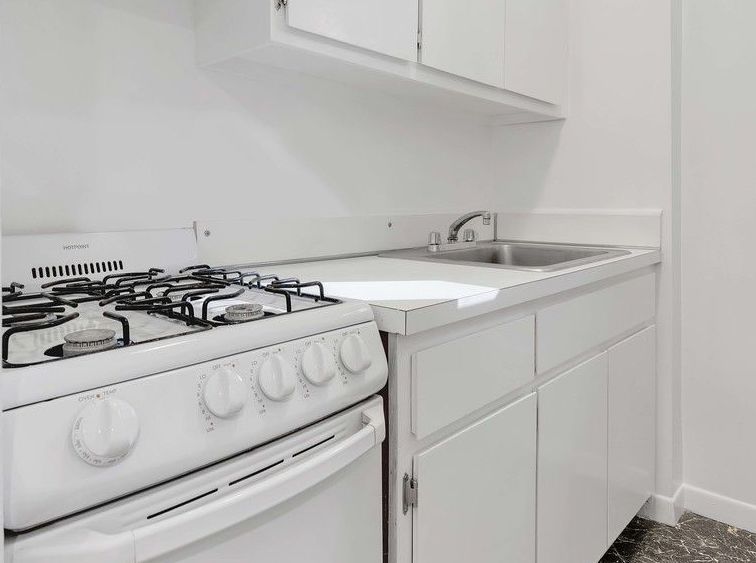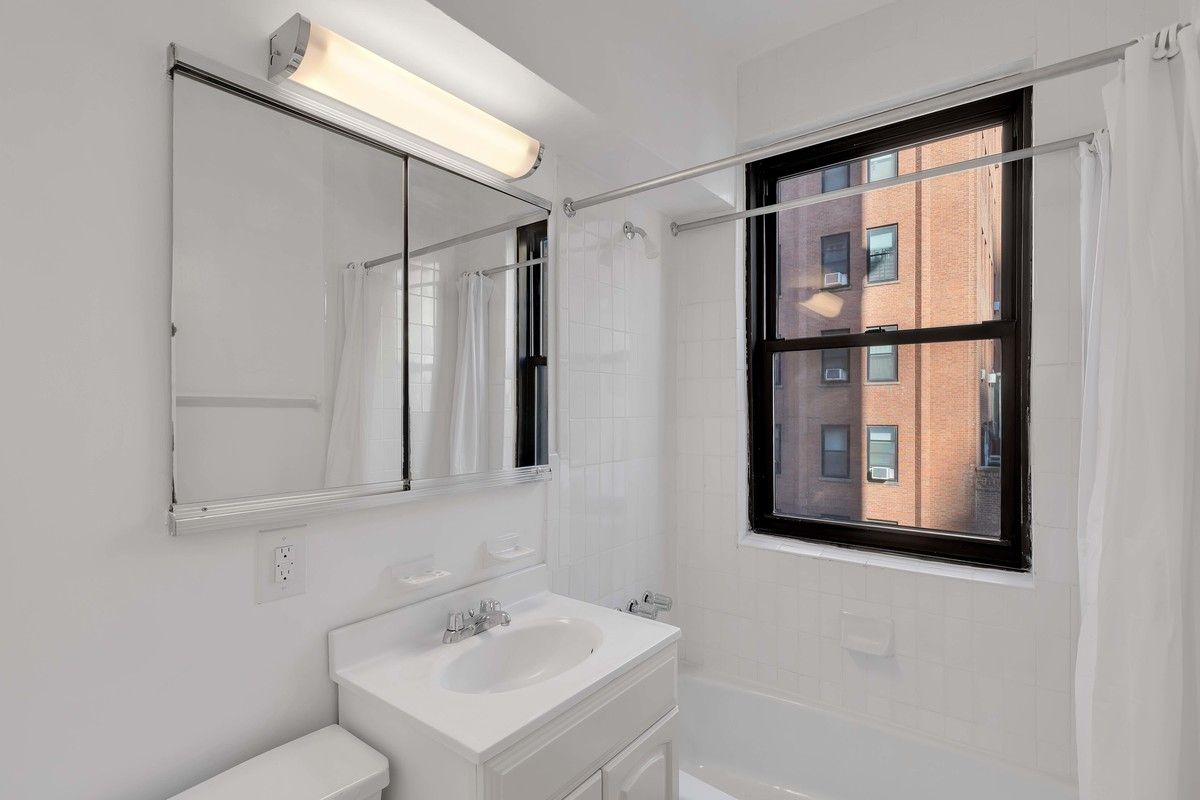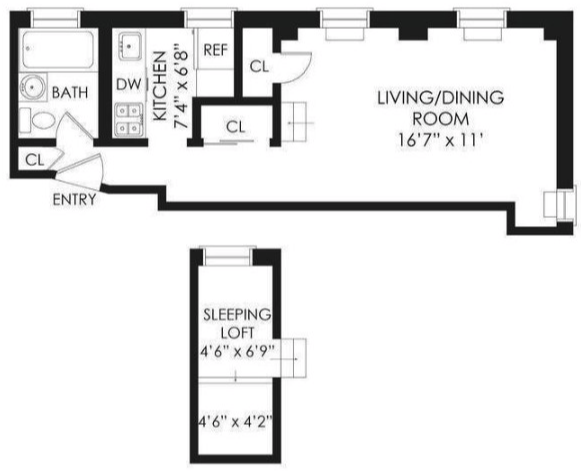 Pros and cons 
 "Okay so I'll admit that this studio looks very move-in ready but the cons outweigh the pros. I'm talking about the purported sleeping loft that puts the C in claustrophobia. Can you imagine sleeping there when you have a lousy cold or stomach bug? Maybe it's me but that 'loft' seems better for storage than for staring at the ceiling counting sheep." —Lambeth Hochwald
"The sleeping loft reminds me of Yoda's cave on Dagobah, except if he were paying Midtown Cloud City prices. But you and your significant other/Tinder date/random person from Pod 39's rooftop bar are going to have to re-read the Kama Sutra and dog-ear the pages of what can be done within the space constraints of that loft. We recommend pages 22, 34, 55, and 102." —Constantine Valhouli
"The stairs are safer than a ladder, but putting it smack in the middle of the room (a really odd thing to do) will make furniture arrangement tricky. Still, the apartment looks bright, with two windows in the living space, plus windows in the kitchen and bath. Unfortunately the kitchen and bath are drab and a bit depressing to me. They definitely need some decorating help." —Jennifer White Karp
Whom it's perfect for 
 "A Manhattan neophyte who will do anything to live in the 212." —Hochwald
"Your first job in New York City is going to endless pain, and hopefully you have a cozy nest to come back to and nurse the psychic wounds from not owning the means of production. Except that this represents over 50 percent of your pre-tax income if you're making $50,000 a year. So perhaps this apartment just adds to the pressure that turns the lump of recent-graduate coal into an early-career diamond?  —Valhouli​​​​​​​
"Someone who earns closer to $80,000, because the sad fact is that a NYC landlord is going to want you to earn 40 times the monthly rent. But this being NYC—they probably can get it." —White Karp​​​​​​​
Take it or leave it
Leave it. "You don't even get a doorman and yet you're paying over $2,000 per month (plus a fee)—no thanks!" —Hochwald​​​​​​​
Take it. "[Cue black turtleneck, cigarette dangling from fingers, general 'Casablanca' world-weary vibe.] I've seen worse places asking more money." —Valhouli​​​​​​​
Take it. "When you're young you don't spend much time at home anyway." —White Karp
Brick Underground articles occasionally include the expertise of, or information about, advertising partners when relevant to the story. We will never promote an advertiser's product without making the relationship clear to our readers.