Staten Island seems like a world away for many New Yorkers. And yet, there it is, a not-so-long ferry, drive or express bus ride away. This week's Take It Or Leave It selection is a short walk from the ferry terminal in St. George.
The two-bedroom apartment is in the top floor of a Victorian house, and has views of the harbor. Despite an odd layout, there's a lot of charm here. 
As always when weighing New York City apartment listings, we turn to our Take It Or Leave It experts—myself, Constantine Valhouli, founder of real estate research and analytics firm NeighborhoodX, and freelance writer Lambeth Hochwald.
So, is this apartment worth renting? First, the basics:
Size: Two bedrooms, one bath 
Location: 150 Daniel Low Terrace, #1
Price: $1,900 a month 
Days on the market: 23
Flexible layout: No
Transit: Staten Island Railway at St. George, Staten Island Ferry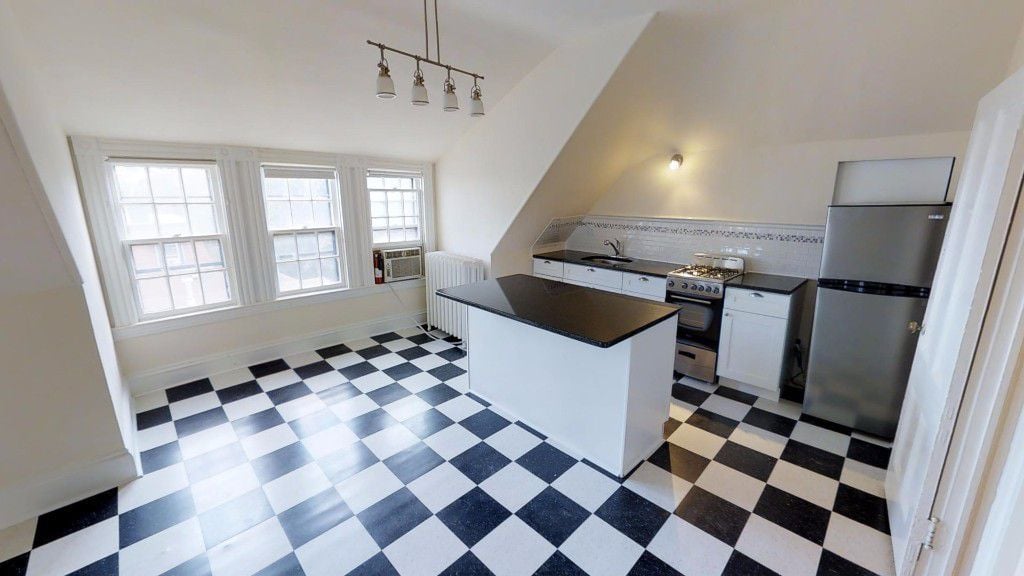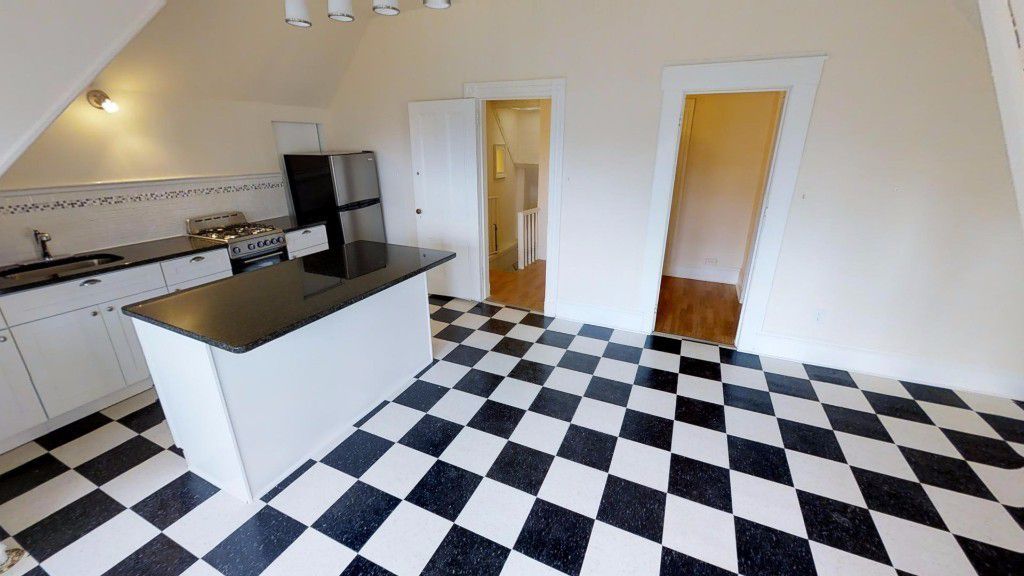 Pros and cons
"Holy smokes. This St. George two bedroom is some kind of gorgeous. Sure, it kind of resembles a dollhouse with its quirky bathroom setup and somewhat dizzying black-and-white tiled kitchen floors, but the sheer number of windows and light make up for any odd layout issues."—Lambeth

"This is a charming and thoughtful conversion. The room in the tower, with the wall of windows, seems like an amazing place to read, or entertain. Water views, for less than the price of an apartment on the Lower East Side?! And even the kitchen and bathroom are nicer than most of what we're seeing in Queens or Brooklyn. The commute is a con, although St. George is the best-located neighborhood in terms of ferry access."—Constantine

"I love this apartment. Let me count the ways: a room with an entire wall of windows, a claw-foot tub, water views, Victorian details. The only con I can think of is the location, but that's only a con if you work outside Manhattan or if you like to go out every night. The free ferry ride sounds pretty fabulous, especially if you work downtown."—Georgia
Who would this apartment be perfect for
"A couple who work in the FiDi and are ready to give Staten Island a try. With the ferry just blocks away, living here means a quick commute."—Lambeth
"A young couple, perhaps. Or someone who can work remotely a lot. But for most young singles, it may be worthwhile to spend a bit more and compromise on quality to have access to the nightlife that defines New York City."—Constantine
"A couple who like to hibernate, read, cook, and generally spend time at home."—Georgia
The verdict
TAKE IT. "Enjoy living in an 1899 Victorian with water views!"—Lambeth
TAKE IT. "Take it, just for the water views and that gorgeous tower room."—Constantine
TAKE IT. "Seems like an adventure to me!"—Georgia