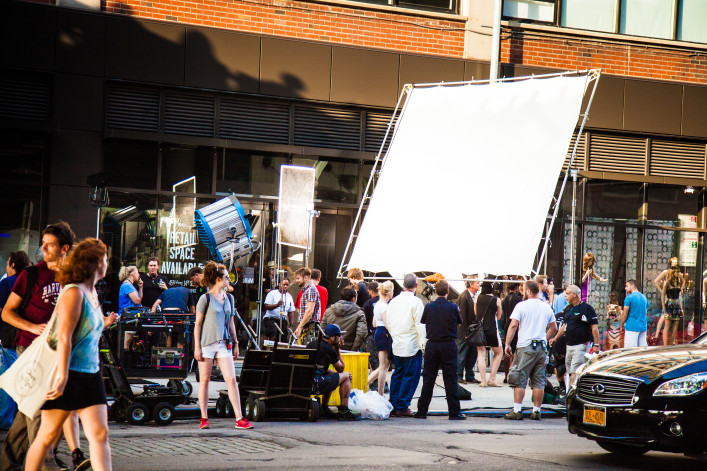 I'm moving soon and just found out there's a film shoot on my street on the same day. I'm worried the movers won't be able to park. What should I do?
Television and movies are finally filming again in New York City after being shut down because of the pandemic. When a shoot happens, large trailers take up much of the available parking. Here are some tips if your street is turning into a film set on the day you're supposed to move.
One simple answer: If you find out about the filming in advance, you can contact your movers to reschedule, says Nancy Zafrani, general manager at Oz Moving. Production companies are required to post notices on the street 48 hours to one week before filming, says a representative from the Mayor's Office of Media and Entertainment. However, if you do need to postpone your move at the last minute, you might have to pay a cancellation fee, Zafrani says. That happens when movers don't have another job to fill the gap in their schedule.
---
[Editor's Note: Realty Bites tackles your NYC rental questions. Have a query for our experts? Drop us an email. We respect all requests for anonymity.]
---
If rescheduling isn't possible, you still need to call your movers to let them know parking will be tricky, Zafrani says. You should also talk to the film crew to find out how long they will be there. 
You can try to see if the production company will make space for your movers. Check the notice for contact information for the location managers—explain your situation and see if they can help. You can also speak with a parking production assistant to see if they can make space for the moving truck.
Most of the time productions set in the city like to film B-roll (secondary footage that's used between scenes) so having movers working in the background usually isn't a problem, says Joseph Crea, a representative from Dumbo Moving. If the set is closed, the movers will usually wait it out, he says.
If there's no parking for your moving truck, and it has to be parked very far from your building, you might have to pay a long push fee, which is usually $100, Crea says. But it's very rare for this to happen, he says.
One last tip: Be patient with your movers—moving in NYC is never easy, and a shoot makes things even more complicated. Besides, there might be a silver lining: You (or your stuff) might possibly be in the background of a new show or movie. 
Brick Underground articles occasionally include the expertise of, or information about, advertising partners when relevant to the story. We will never promote an advertiser's product without making the relationship clear to our readers.