Roommates + Landlords
I took a trip to housing court to find out if my apartment was legally deregulated. Here's what I learned
Past cases are not searchable online but you can access them in person at the courthouse
Make sure to identify the appropriate court for your borough to visit for your research
Use the court's computers to dig into past cases before getting in line to see the clerk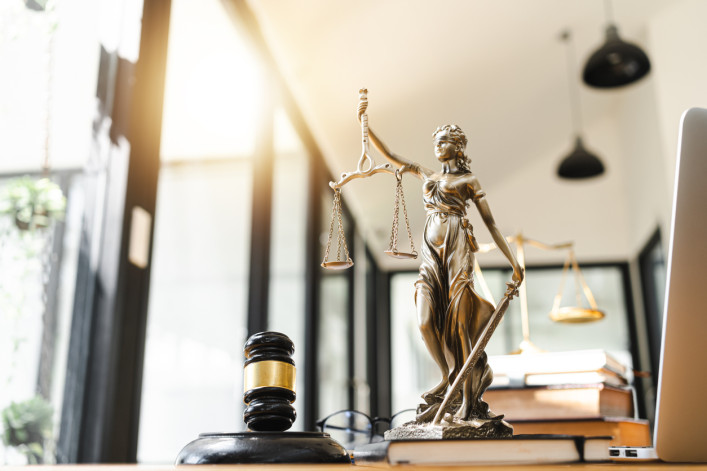 I decided to take a trip to housing court after finding out that my apartment used to be rent stabilized. It was likely legally deregulated in 2011, but I decided to find out if there were any previous disputes over my apartment, rather than take my rent history at its word. 
While many New York City court cases are can be searched online, housing court is an exception. During my day in court, I found 13 cases through the court's in-house computer search system. None of them shed any additional light on my apartment's rent history, but I did learn how to navigate the city's court system in person. 
If you're looking to do some digging into your landlord, read on to learn from my field trip (and my mistakes).
Finding the right court
NYC has a housing court in each borough. Cases are generally filed in the borough where you live and you should go to the court in your borough if you want to get paper records.
I headed to Kings County housing court at 141 Livingston St., looking to get the skinny on past lawsuits connected to my Brooklyn apartment building. If a previous tenant sued my landlord, they would most likely have filed that suit in Brooklyn, where I live. 
The entrance to the court—an unassuming office building just past a fish fry restaurant—was fairly easy to spot. Once inside, headed through a security apparatus similar to what you'd expect from the TSA: bag scanner, metal detector, uniformed security guard, etc. The line moved quickly—a rare treat, I would later learn—and after unpacking and repacking my pockets, I strolled over to the elevators to try to find the clerk. 
If you want to search a different court, you can find Bronx county housing court at 1118 Grand Concourse, New York County housing court (a.k.a Manhattan) at 111 Centre St., Queens county housing court at 89-17 Sutphin Blvd., and Staten Island Housing Court at 927 Castleton Ave., according to the New York State unified court system. 
Expect a lot of lines
I wandered onto the fourth floor, where there was already a long queue of New Yorkers looking for legal advice from the court's help center. There were maybe 10 people in line, despite the fact that the center was closed for an office lunch break. (A helpful staffer propped the door open promptly at 2:15 p.m., after the office's lunch break).
The help center offers free advice, such as how to file to file forms and new cases—but I was looking for past cases. The second floor clerk's office had my answer.
The second floor revealed another, longer line of maybe 20 people. It was not a cheery group. In the 88 degree summer heat, I could barely notice the air conditioning, if there was any. We were all sweating and frustrations abounded. "Who wouldn't be mad in this heat?" a woman behind me remarked.
Our line represented a broad cross-section of New York: a construction worker—yellow vest still on—stood ahead of me, a woman rolled her toddler out of the elevator and into the line, and a duo chowed down on a personal pizza while speaking a language that sounded like Russian. 
Everyone had a different reason for being there. The man in front of me was fighting a nonpayment case, and two heads beyond him, another renter wanted to file a motion to pause a legal proceeding. The woman behind me was trying to get her landlord to stop raising her rent. "He's a landlord, he's trying to get greedy," she said. 
There was one common thread—most of the people in line were minorities. That's not entirely surprising, as evictions disproportionately impact minority renters in NYC. Communities of color face the highest risk of eviction, according to a 2022 report from the New York Advisory Committee to the U.S. Commission on Civil Rights. Black renters are twice as likely to have been threatened with eviction than white renters, according to a survey from nonprofit the Community Service Society. 
These disparities were clear in housing court, but the staff at the clerk's office were clearly trying to help everyone as quickly as possible. They directed visitors to different resources, helped people research cases and provided translators to those who needed one. 
Do your own research first
While waiting in line, a court staffer directed me to a self-service computer, located on the left hand side of the clerk's office. Learn from my mistake: Skip the line and do a little research first if, like me, you're just in court for information.
I was able to look up cases against my landlord using the name of the limited liability company that owns my apartment building. The court's self-help computers allowed me to search all of NYC's housing courts as well, not just Brooklyn. 
A staffer advised me that the fastest way to get copies of court records was to take a picture of them on the court computer. If you want paper copies, you'll have to get in line, give the court clerk the index number of the case you want, and ask for a file retrieval. So bring a book or a Rubik's Cube, it might be a bit of a wait. 
As for my search, I didn't find anything of note aside from two nonpayment cases that were settled over a decade ago, meaning my apartment was likely legally deregulated (or at least that no one had ever challenged that deregulation in court). While I didn't learn anything of note, I did leave with a valuable lesson of how to search housing court records, and what to expect if I ever need to go back. 
Brick Underground articles occasionally include the expertise of, or information about, advertising partners when relevant to the story. We will never promote an advertiser's product without making the relationship clear to our readers.