Affordable Housing
Hochul signs new housing laws to protect NYCHA and market-rate tenants
Four laws give tenants additional safeguards during emergencies
A tenant's estate can now cancel their lease after the tenant dies
NYCHA must notify residents of unsafe drinking water within 24 hours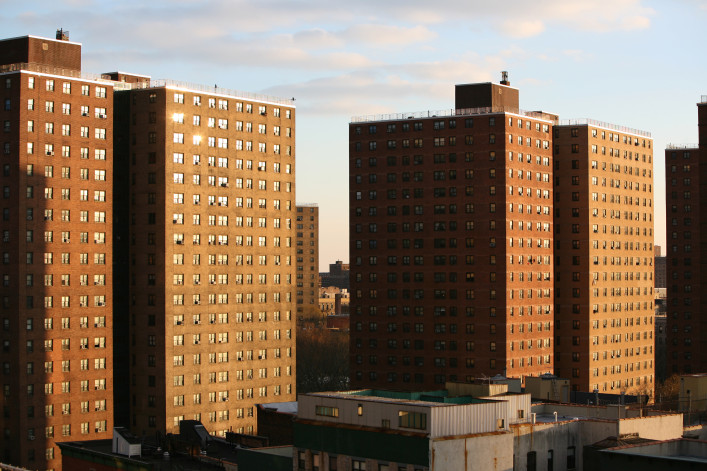 Governor Kathy Hochul signed a slate of new housing-related laws on Friday, including one that would notify New York City public housing tenants of unsafe drinking water following an arsenic scare at an East Village development last year. 
All told, the four laws would give market-rate and public-housing tenants additional safety protections during emergencies.
"New York has the highest percentage of renters of any state in the nation [and] every New Yorker deserves access to a safe and healthy home," Hochul said in a statement.
NYCHA must notify tenants of unsafe water
Last September, the NYC Housing Authority told the 2,600 tenants at the Jacob Riis Houses that the agency had found arsenic in the complex's tap water two weeks before notifying residents. One week later, City Hall officials did a 180: they told residents that there was no arsenic, and that the laboratory that tested the water had contaminated the samples.
Under the new law, NYCHA would have 24 hours to notify residents if a utility or government agency tells the agency that one of its building's water is unsafe. It also requires that NYCHA establish guidelines to ensure that its contractors follow federal, state, and local laws when collecting and examining water samples. 
"All tenants, including residents of NYCHA developments, should expect that the drinking water supplied to their buildings is clean and safe," said Assemblymember Linda Rosenthal, who sponsored the bill. "It is unacceptable that too often they face uncertainty when it comes to the quality of water coming out of their taps."
Owners need to know about entry devices
Two other bills similarly take aim at tenants' safety, but in market-rate apartments. One would require owners to notify tenants when a keyless entry device—technology that lets someone into your building without having to buzz them in—is installed. And the law takes aim at one particular keyless tech-user: Amazon.
Last year, a co-op building in Westchester uncovered that a third-party contractor had been installing keyless entry devices in its building so that Amazon delivery drivers could access the property without being buzzed in. The new law requires a board or owner's consent to install this type of technology, and that the board or owner perform the installation.
"By mandating written consent for keyless entry devices in residential buildings, we are safeguarding New Yorkers' rights and protecting against unforeseen costs," said Senator Kevin Thomas, the bill's sponsor. "This will set [a] precedent for responsible technology implementation in our communities."
Emergency personnel can get tenants contact info 
Another safety-related bill would require multifamily owners to turn over residents' names and contact information to emergency services personnel during a crisis. For example, if there was a fire, firemen could request the names of a building's residents to determine whether or not they are inside the property.
The law also states that an owner must get a tenant's consent to collect such information, can't distribute it for other purposes, and has to update it during every new lease or lease renewal, according to the law's text.
A tenant's estate can stop paying rent
A final bill allows the executor of a deceased tenant's estate to end the tenant's lease through a written notice to their landlord. Previously, a tenant's family had to pay until the end of the lease term, though they could get out of that burden by requesting a subletter. 
"With today's signature by Governor Hochul, we're correcting the appalling situation whereby families of deceased tenants are held responsible for the remainder of rent on apartment leases," said State Senator Brad Hoylman-Sigal, who sponsored the legislation.
Brick Underground articles occasionally include the expertise of, or information about, advertising partners when relevant to the story. We will never promote an advertiser's product without making the relationship clear to our readers.