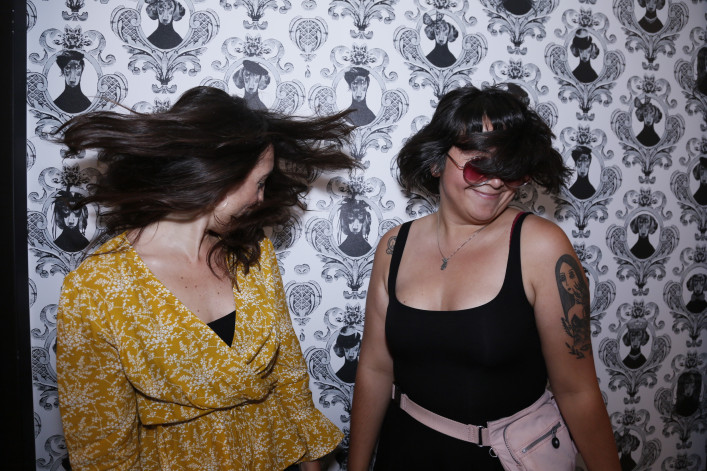 If you're interested in co-living, you are probably aware that it's a crowded field with many players, most of which promise some aspect of "community."
"Most co-living companies use the word 'community' a little too loosely, particularly considering their acceptance of most applicants as long as they can pay the rent," says Avi Mermelstein, co-founder of here&now, a new co-living company that just opened a newly-renovated building in Bushwick. "Throwing 30 people in a house and calling it a "community" is ridiculous. Co-living websites bait members with the perfect photography. Then, when the 21-year-old biology student realizes she just signed a 12-month lease with a 45-year-old man, things get weird. If you're for anything and everything, by definition, that's the antithesis of community."
here&now is a good fit for people who are eager to be part of a co-living experience, want to meet people and grow personally and professionally, all while opting-out of what Mermelstein sees as "a rental product that fits our parents, not us."

Disrupting the disrupters
​The inspiration behind here&now's new co-living experience is two-fold. One: The traditional way of finding a place to live in New York is rigid, predatory, and expensive, with high-pressure brokers, hefty fees and moving costs, and confining, long-term leases.
Two: The belief that community is more than sharing a living space with anyone who's financially qualified, with some organized activities thrown in.
here&now seeks to curate a holistic and eclectic living experience, with a diverse group of like-minded people—fun, socially responsible individuals.
Put another way, members are there to have fun, get shit done, and make a difference.
"here&now is not for everyone, and everyone is not for here&now," says Mermelstein. "For example, if you're not interested in connecting creatively and professionally with your fellow residents, or you're a lawyer who works from dawn until midnight everyday, this is not a good fit. While all other co-living companies will happily take your money, we won't if you're not right for us."
At last count, the company received 110 applications in just three weeks for one of the 18 spots in the building, which has six apartments with three bedrooms and two baths.
Current residents include a coder, two in tech startups, a freelancer working in advertising, an app developer, and a personal coach, and hail from near (like Long Island) to further afield (southern U.S.). While there are no age restrictions at here&now, most renters are in their early 20s to late 30s.

Different, but the same
While here&now views community, and how you foster it, differently from other co-living companies, residents enjoy all the conveniences of the co-living model.
For rents that range from $1,400 to $1,700 a month, members get a room with a Casper mattress, linens, a dresser, fully-equipped kitchen, smart TV, wifi, and all utilities. In keeping with the collaborative, creative, and entrepreneurial spirit of here&now, personal and common spaces are furnished with products created by Etsy artisans and craftspeople.
Beyond the apartments, here&now also has a large lounge/co-working space, where cold brew and kombucha are on tap. (This is also where weekly Sunday night dinners take place, organized by all the residents at here&now.)
Other perks of living at here&now include a common backyard and roof deck (complete with grill) and shared bikes.

How to get here&now
Sound like your type of place and your type of people? Applying to live at here&now is easy: Simply fill out an application online. While there's no brokers fee, a credit check is run on all prospective residents, and turnaround is typically 24 hours. (Proof of employment, in the form of a W2 or employment letters is required; freelancers may provide proof of funds.) There's no maximum length of stay at here&now. The minimum stay is four months.
Of course, all applicants are interviewed in person to see if they are looking for the kind of community here&now is offering. "It's mostly to make sure we're exactly what people want," Mermelstein says of the face-to-face meeting.
here&now: Co-living with Impact 
Co-living in Bushwick. Entrepreneurs and side hustle addicts need only apply. 
Brick Underground articles occasionally include the expertise of, or information about, advertising partners when relevant to the story. We will never promote an advertiser's product without making the relationship clear to our readers.