In recent years, New York has made moves to level the playing field for renters in one of the world's most expensive cities. Changes to the rent laws in 2019 capped rent increases and expanded tenant protections, while in New York City, the de Blasio administration has made progress on its ambitious plan to create or preserve at least 300,000 affordable units.
But the most straightforward, time-tested way to secure affordable housing remains via the NYC Housing Lottery. You may see the phrase "affordable housing lottery" and assume your income is too high to qualify, so it may surprise you to learn that people from a wide range of incomes can apply—including those who make from $25,080 to as much as $137,940 as an individual (see more details on those thresholds below).
That's not the only common misconception about the NYC Housing Lottery. In fact, we're entering a whole new era of affordable housing in the city, with rent-stabilized luxury buildings, a more user-friendly application portal, and more opportunities than ever. With demand surging again and concessions like free months and owner-paid broker fees disappearing, registering for the housing lottery is a smart way to save money in the long term, not just a one-time discount or savings for just the next year or two.
Here are four things you may not know about affordable housing in New York City.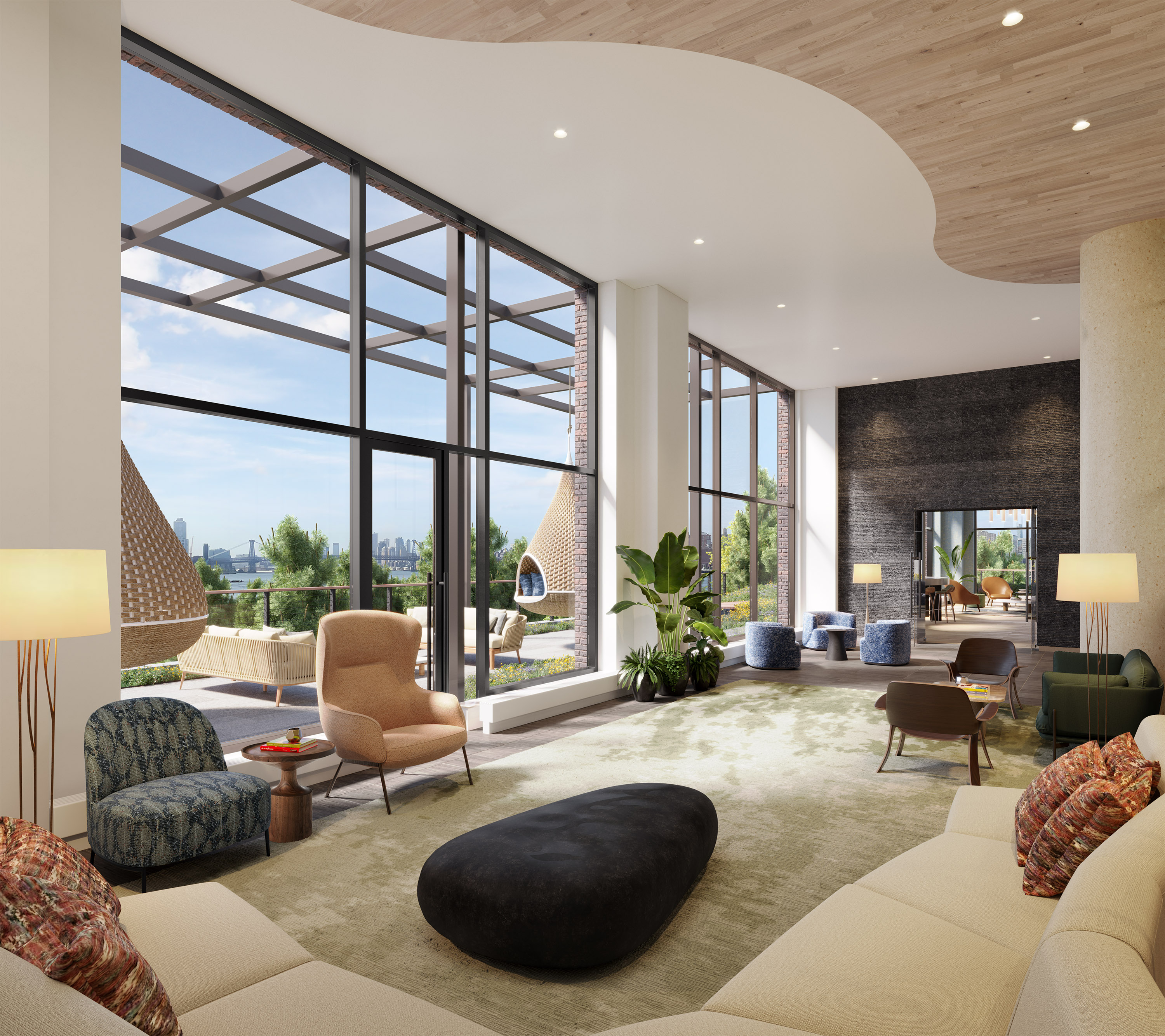 Affordable housing is not stripped-down housing
When you picture affordable housing, do you imagine something like the building pictured above? Gleaming, modern towers with terraces offering panoramic city and river views, anchored in a waterfront park—it might not be the first image that comes to mind, but this new development, Gotham Point, is a great example of the new affordable housing in New York City.
Gotham Point offers an elevated approach to modern living on the edge of Long Island City. It has more than 1,100 units—75 percent of which are available in the housing lottery—across two towers designed by Handel Architects, one of the city's leading architecture firms. All residents get to enjoy its curated range of luxury amenities, including co-working spaces, terraces, a community urban rooftop farm, a dog spa, an indoor/outdoor fitness club, a children's playroom, and personal concierge services.
There are over 800 affordable units at Gotham Point, and they have the same attention to detail, the same amenities, and the same state-of-the-art finishes as the market-rate units. Think Silestone quartz countertops, premium stainless-steel appliances, and complimentary window treatments.
You don't compromise on location, either. Situated above Hunter's Point South Park, Gotham Point is an affordable home base in one of NYC's most vibrant, convenient, and in-demand neighborhoods, with access to all the fine dining, shopping, arts, and green space that Long Island City is known for. 
Want a quick commute? You'll be living near the Long Island City Ferry Terminal in Gantry Plaza State Park—which means you're just a seven-minute ride from Midtown Manhattan. That's not the only way to travel. You're also close to the Court Square subway station, the Long Island Railroad's Hunters Point stop, and several Citi Bike locations.
People from a wide range of income brackets can qualify
From studios to three-bedroom apartments, Gotham Point is open to a wide range of incomes, with rent subsidized on a sliding scale from 30 percent of area median income all the way up to 165 percent of AMI. To put it in terms of dollars, the maximum income limits range from $25,080 to $137,940 for an individual, and from $35,790 to $196,845 for a household of four.
That's one reason why the new crowd of affordable housing renters includes people who work in finance, education, advertising, media, not-for-profits and the arts. To meet the needs of the modern work-from-home professional, Gotham Point offers multiple co-working spaces and spacious floor plans that accommodate a home office. 

A new streamlined application process
In June 2020, New York City launched an updated housing lottery portal. The new NYC Housing Connect is a major improvement over its predecessor, with customizable search, mobile-friendly design, an enhanced application process that determines up front what you're eligible for, and a streamlined selection process that allows applicants to submit documents electronically, receive real-time alerts for important deadlines, and generally move through the process faster.
If you've never put in an application for the NYC housing lottery, there's no better time to do it.
Once you're in, you're in
Thanks to rent-stabilization, your rent will only increase by a small, set percentage. That means the longer you stay, the more you save. And in a city with ever-increasing rents, here is, perhaps, the best news of all: Once you're approved for affordable housing, you're in for good. Which makes this not just a short-term opportunity, but one of the best ways to afford to live in NYC long term that many people don't know about.
Ready to get the process started? Visit gothampointlottery.com for more information, including to find out if you qualify, or visit the newly opened leasing gallery on the ground floor of Gotham Point's South Tower at 57-28 2nd Street in Long Island City. The lottery is now open for applications for Gotham Point's South Tower. Visit NYC Housing Connect to apply by December 29th, 2021.
Brick Underground articles occasionally include the expertise of, or information about, advertising partners when relevant to the story. We will never promote an advertiser's product without making the relationship clear to our readers.