Late last year, a study from StreetEasy found that the city's expanded East River Ferry service was causing rents to rise in some waterfront neighborhoods like Greenpoint. The reduced-price ferry service aims to cut commuting time in areas not served well by public transportation.
But the rent is falling for this apartment at 311 Eckford St., about six blocks from the ferry dock—it was reduced slightly three times this month and is currently asking $2,285. That's lower than the $2,495 median rent for a one bedroom in Greenpoint.
Apartment #7 has a lot in its favor: It's been renovated, has ceiling fans and windows in every room, and heat and hot water are included. It's also on the top floor, so there are no upstairs neighbors stomping around overhead—and at 850 square feet, pretty large for a one bedroom.
As always when weighing New York City apartment listings, we turn to our Take It Or Leave It experts: myself (filling in for senior editor Nathan Tempey), Constantine Valhouli, founder of real estate research and analytics firm NeighborhoodX, and freelance writer Lambeth Hochwald.
But first, here are more pictures of the place.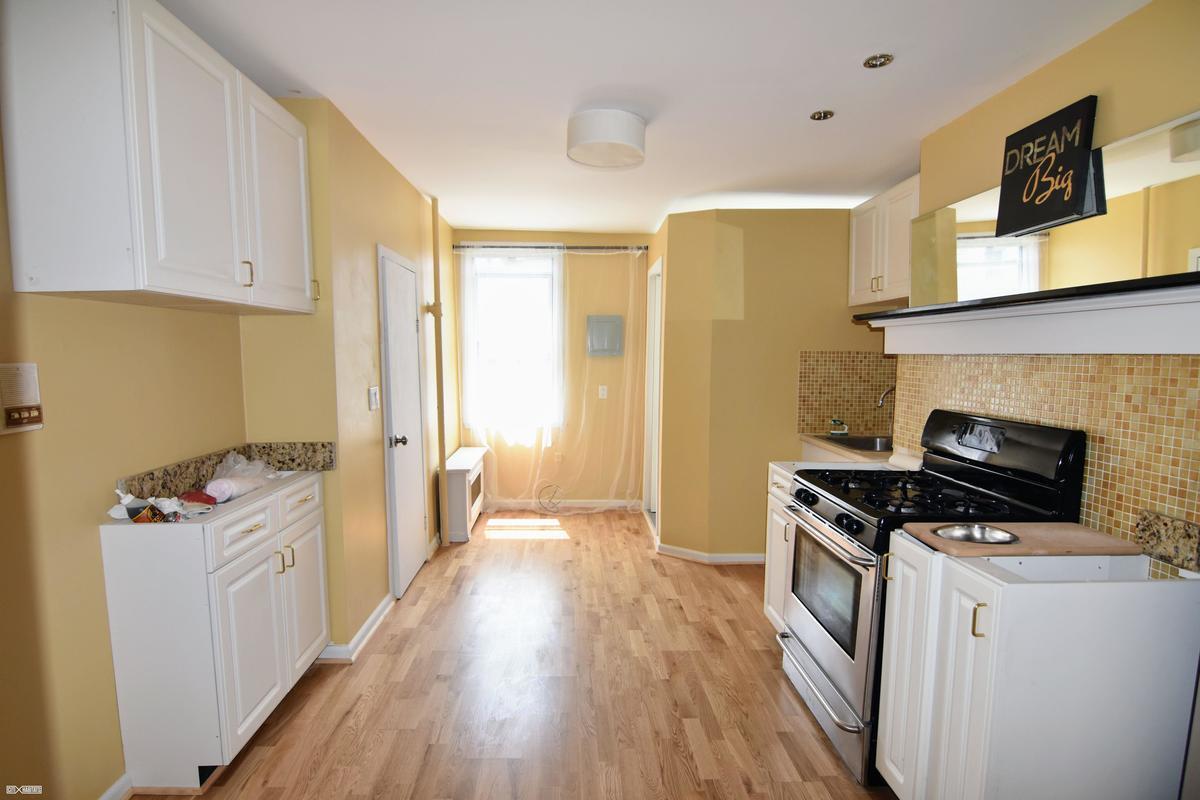 Pros and cons
"Oh, I'm a sucker for a sunny backsplash, and this Greenpoint kitchen does not disappoint on any level. Isn't it amazing what built-in shelves can do to perk up a room that's painted anything but industrial-renter white? I dig the look of this place, but there's always a but: In this case the square footage of the place concerns me as we're talking 850 square feet for a cool $2,300." —Lambeth Hochwald
"It's Greenpoint. Realistically, it would be worth living here just for the food, nightlife, and above all the best damn coffee I have ever had in New York City: Champion Coffee—it's cold brewed and then nitrogen-infused, and they go the extra step and use cold-brewed coffee ice cubes. So, I would gladly live in a parked van in a tandem parking spot, just to be close to that coffee. 
"Washer/dryer 'nearby' but not in the building. I'd chat with the landlord about this, even if they amortized the cost of the appliances over two years, it'd be worth it. Plus, the apartment is huge for a one-bedroom (over 800 square feet) so it definitely has space for the units. Also, the pesky L train shutdown thing. But the G isn't too far away." —Constantine Valhouli 
"I agree this kitchen is a cut above for a rental, but the layout is a little inconvenient because of its minimal counter space. Still, there's room for your own kitchen island, which would be the solution. The bedroom is large, and I like the cool gray color, but please get new curtains for this place, preferably wood blinds (the faux ones are good too). Those sheers aren't providing privacy or style. —Jennifer White Karp
Whom it's perfect for 
"A couple working along the G line who have been priming for a move to Greenpoint and are finally ready." —Hochwald
"Someone who works in Midtown East and would enjoy taking the ferry everyday." —White Karp
"Anyone who wants to experience all of NYC's mischief at a price just slightly higher than that of a studio in Yorkville. And anyone who wants to be a short walk to the mischief of Williamsburg, without living above the trucks and drunk crowds." —Valhouli
Take it or leave it
LEAVE IT. "It's a tall price to pay for a walk-up." —Hochwald
TAKE IT. "Just to be close to Champion Coffee." —Valhouli
TAKE IT. "A cheerful, well-appointed kitchen like this makes an apartment into a home." —White Karp