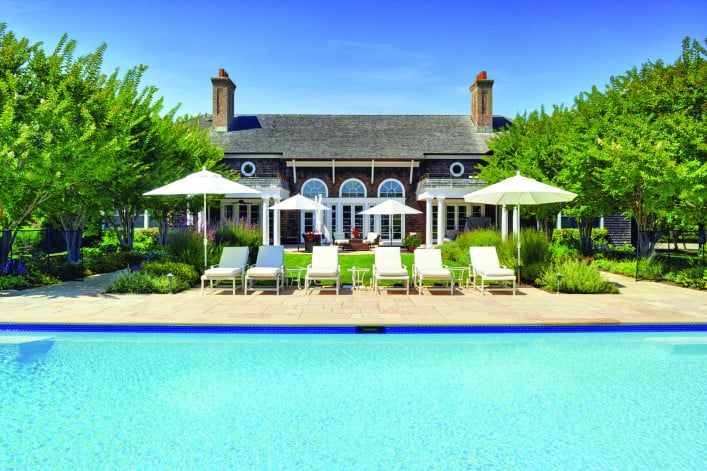 Looking to rent a summer house in the Hamptons? Even if you're an experienced New York City renter, you will quickly learn that short-term, seasonal rentals on the East End of Long Island come with a whole new set of considerations beyond renting a whole house versus an apartment.  
"Whether this is your first time renting or you vacation every year on the East End for two weeks or the entire season, you shouldn't go it alone," says Ernie Cervi, regional senior vice president in Corcoran's East End office. "Take advantage of the knowledge and skill of one of our experienced agents, who will help you select the best house for the best value in the town that suits you best."
To ensure your summer home—and summer experience—is everything you want it to be, get answers to these questions first.
1. How do you want to spend your summer?
If you haven't rented in the Hamptons before, it's easy to underestimate the variety of options. Each town offers a different array of experiences, conveniences, and things to recommend it. The same can be said when considering the North Fork versus the South Fork. For example, if you don't care about being near the ocean and instead value fewer crowds, cheaper prices, and calmer waters, the North Fork could be a good option.
Since your rental will be your home base for your summer experience, it's important to determine how you want to spend your time. Do you want to go to the beach every day? Do you plan to host a lot of family or friends, thus necessitating a bigger house? Are you a foodie? Do you want to surf? Are you planning to boat? Will you be commuting to your house on Fridays (in which case, say, Bridgehampton might be a wiser choice than Montauk) or will you have some flexibility to finagle your commuting schedule to spend less time in your car? 
"The key thing in today's market is to work with an agent who knows the area. You could spend months doing it online, but you can't tell from pictures what or where anything is," says Susan Breitenbach, an experienced broker who works in Corcoran's Bridgehampton office. 
Vicky Thompson, a real estate broker in Corcoran's East Hampton office, agrees. "The rental market out here tends to be very local, so if you want to be in Montauk, work with a Montauk broker. If you want to be in Amagansett, work with an Amagansett broker, and so on," she says."The agent is there and knows the houses. You can tap into that knowledge."
A knowledgeable broker can also help you secure beach passes, boat rentals, and other conveniences you'll want to reserve the summer (sometimes well ahead of time), and they can help you make transportation arrangements.
"Do your homework in advance," says Cee Scott Brown, an agent based in Corcoran's Sag Harbor office. "If you know you will be renting in East Hampton and you want an East Hampton beach pass, get it early as they sell out quickly. As a broker, if I'm dealing with a new-to-the-Hamptons renter, I give them pointers and contact information."
2. What's not included in the rent?
The most financially consequential difference between seasonal rentals in the Hamptons and rentals in the city is that leases are almost never all-inclusive.
"If somebody has never rented out here before, one of the first things I bring up is that there are additional charges," Thompson says.
Adds Brown: "In the Hamptons, the majority of rentals require that the tenant is responsible for lawn and pool maintenance, cable, water, electricity, propane or gas for the pool heater, and a housekeeper. Fortunately, it's usually handled by the owner after the tenant pays a utilities deposit, which the owner uses to pay for these services directly."
It's obviously important to know what is covered by your rental lease and what is not, as the answer will affect your budgeting. You should also expect to pay a security deposit, typically in the range of 10 to 20 percent, depending on the rental term and other factors such as pets. The rental amount usual includes the broker's fee.
3. Is the house currently for sale?
Do you want to plan your daily outings around showings at the house you're renting? Thought not. It isn't uncommon for rental houses to be simultaneously listed for sale, which means you might have to deal with a broker coming to show the house. If you don't want to deal with that, ask beforehand, and if it's a sticking point, you may be able to  negotiate a show clause in your rental lease (with terms such as requiring a 24-hour notice).
4. Has the house been rented before?
You might not think to ask this question of the homeowner, but it's an important component of your planning process.
"If it's a new spec house and it hasn't been rented before, it might not be stocked with the amenities that you would expect to find, such as beach towels, wine glasses, a second set of sheets, and so on," Breitenbach says.
You don't want to find that out after you arrive.
5. Are pets allowed?
The default with summer rentals is no pets allowed, but there is some wiggle room there, if you are willing to pay.
"Some people just think they can automatically bring a pet, but that needs to be negotiated," Breitenbach says. "Sometimes you see online 'no pets,' but that doesn't necessarily mean no pets. It can be negotiated, sometimes with a 20 percent security deposit."
Conversely, if you're allergic to cats, you may want to make sure the house hasn't hosted felines in the recent past.
Ready, set, rent
To ensure a successful and seamless summer rental experience, find a local agent who knows the market and will advocate for you. That's the best way to make sure all your needs are met, and that any pets, kids, and/or elderly parent who needs a ground-floor bedroom are accommodated.
"Just tell me as much information as you can," Breitenbach says. "A good broker is someone you're comfortable with, who gets what kind of person you are and how you want to live."
Visit Corcoran, Hamptons today, or email [email protected] to take the next step toward securing your summer getaway in the Hamptons.
Brick Underground articles occasionally include the expertise of, or information about, advertising partners when relevant to the story. We will never promote an advertiser's product without making the relationship clear to our readers.