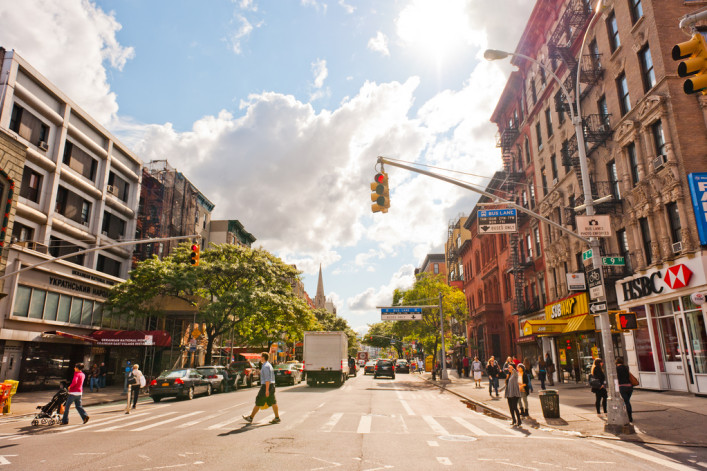 Looks like last month's numbers weren't a fluke: The latest wave of monthly rental market reports is making the rounds today, and it looks like the city's rental prices are continuing to stagnate and even drop a bit, depending on the segment of the market.
According to the Douglas Elliman August rental reports, in Manhattan, the median rental price of $3,399 didn't change year over year, and even slipped in certain parts of the market (think luxury and doorman buildings). Meanwhile, landlord concessions are up (they were offered on 12.1 percent of deals this year, as opposed to 7.4 percent at the same time last year), but new leases are also up by 1.8 percent. What this means, according to Jonathan Miller, who authored the report, is that high demand is being matched by a flood of inventory, which is keeping prices from rising further.
Citi Habitats also released its rental reports today, and found that average Manhattan rents dropped by $12 month over month, and $11 year over year.
"The volume is high but inventory is rising faster, and that's keeping price growth in check. And I still maintain that prices are at a 'high plateau,'" says Miller. This would also explain why prices crept up in the cheapest 30 percent of Manhattan's rental market, where inventory tends to be stagnant. (How many developers have you heard of that are building cheap—and not luxury—rental buildings, after all?) In other words, prices are dropping or flatlining for high-end renters thanks to a flood of pricey new apartments, but anyone looking for cheaper digs will still feel the squeeze. 
Similarly, in Brooklyn, median rental prices dropped 1.9 percent to $2,859, while the number of deals jumped by 35.8 percent, and listing inventory rose by 42.7 percent. "In Manhattan and Brooklyn, there are a lot of transactions, it's just that prices are not rising," says Miller.
This is particularly interesting as we ease out of summer—typically the peak season for rental activity and prices—into the slower months of the year, when renters can often wrangle deals. For context, Miller sent over these charts showing just how much rental volume rises and falls from season to season in Manhattan and Brooklyn: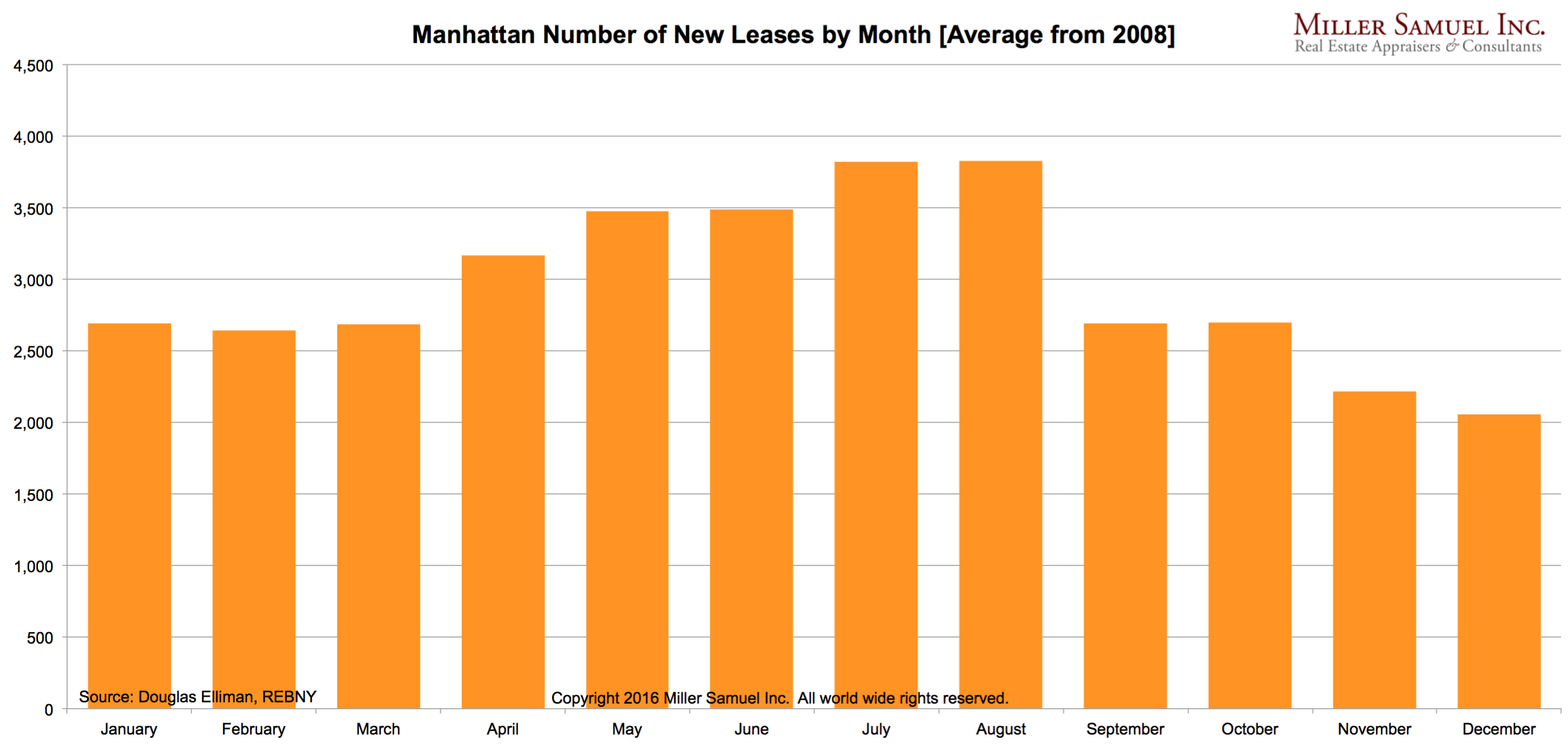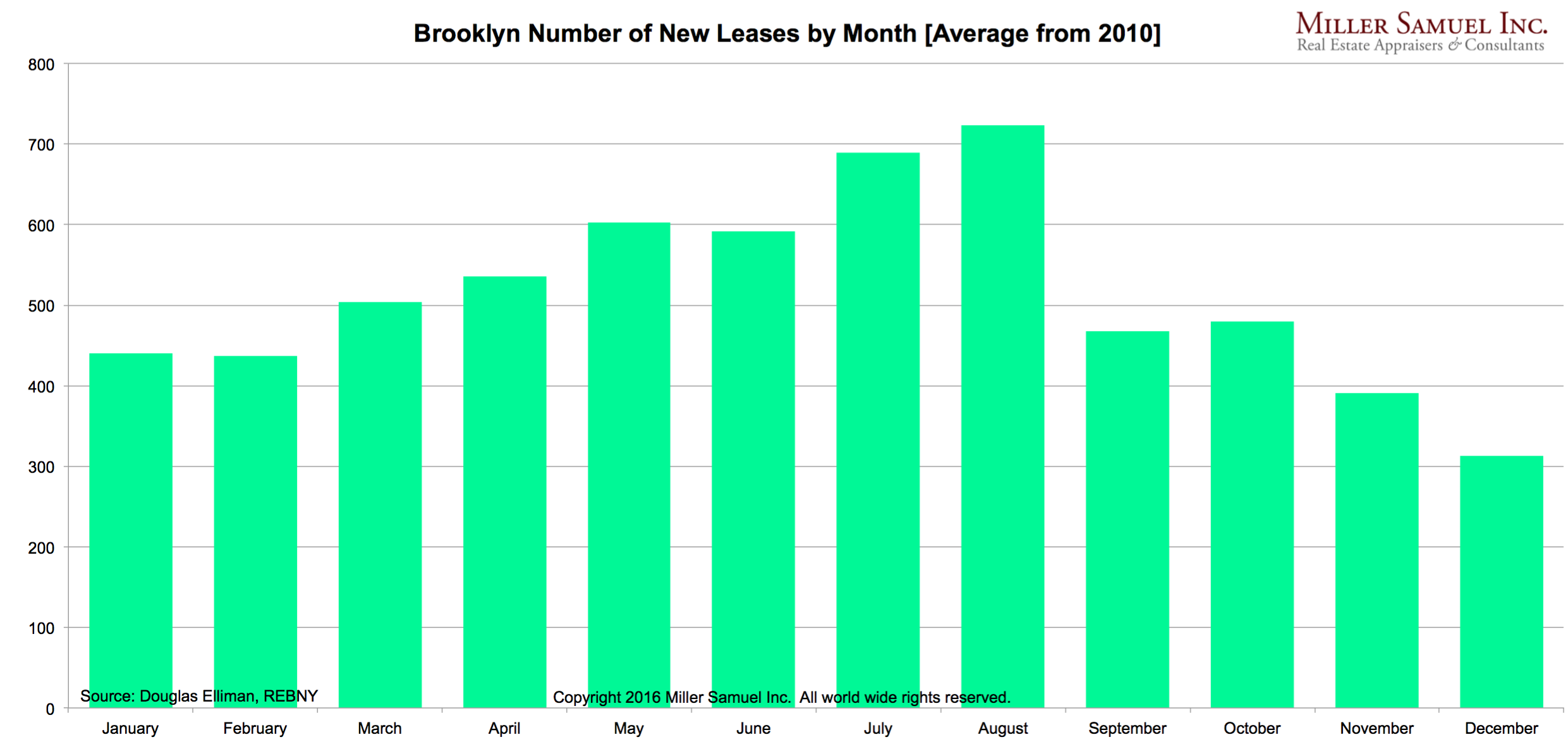 And while the Elliman reports show numbers in northwest Queens up by 5.3 percent in August, Miller notes that rents in the borough are particularly sensitive to influxes of new development, meaning that the spike is less dramatic than it might seem. "Queens has largely been bumping along month by month—in eight months of 2016, there were four months when prices rose, and four where they declined—there's no real trend," says Miller. "Inventory is growing just as fast as leasing, which keeps prices from rising."
The TL;DR version of all this: As the recent wave of new development rentals finally hits the market, the balance of supply and demand is changed, and rents aren't rising the way they have been over the last several years. (That is, unless you're on the hunt for a lower-priced apartment.) And we'll be very curious to see how this market slowdown in the gangbusters summer months translates to fall and winter—will landlords have to up the ante from their concessions offerings, and (gasp) actually lower rents?
Brick Underground articles occasionally include the expertise of, or information about, advertising partners when relevant to the story. We will never promote an advertiser's product without making the relationship clear to our readers.