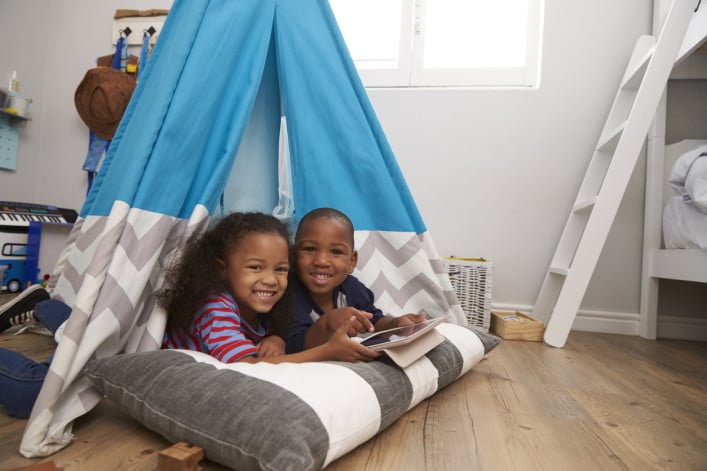 One of the biggest challenges of raising children in New York City is creating enough personal space for them in the home. That's especially true for siblings, who are often forced to share a room. While elementary school-aged kids can split a space rather well, things get trickier in middle school when many siblings—especially those of different genders—begin to crave a little privacy.
We asked New York City interior designer Cori Thune, who has tackled the bedrooms of many clients' children, to share her top tips for successful room sharing for growing kids in the city. 
Skip the bunk beds 
Thune urges clients to skip this traditional space saver because it's not a long-term solution.
"Most kids are over the up and down and the lack of head space by the time they're 10," she says.
If you absolutely must have a bi-level arrangement, Thune recommends two loft beds instead, since they have the same footprint as a single bed but the under-mattress area can be used for work, play or lounging.
"A loft bed gives each kid his or her own private space in a way that a bunk bed can't. And personal space is especially important when sharing a bedroom," she says.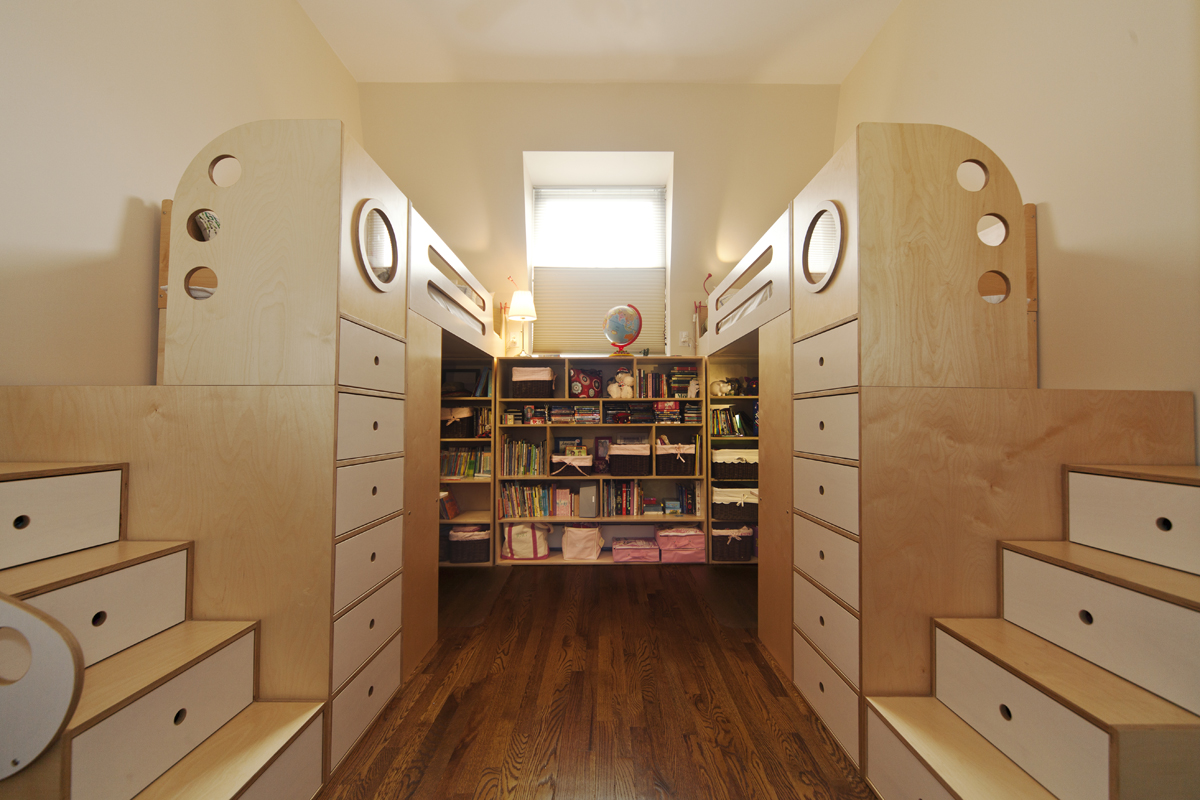 When possible, opt for a pair of (small) twin beds
"Yes, two twin beds do suck up more precious floor space than bunks, but they're more comfortable and will offer more years of use plus, the older kids get, the less floor space they need for play," says Thune. 
She seeks out single beds built as narrow as possible, like Room & Board's Fort Bed, which is 41 inches wide (just 3 inches wider than a standard twin mattress). She also likes beds with built-in storage, preferably those that pull out on the side versus the end of the bed, because it's easier to access. Land of Nod's Twin Topside Storage Bed (pictured below) includes drawers and cubbies for storing books, clothes, stuffed animals, toys, and whatever else needs storing.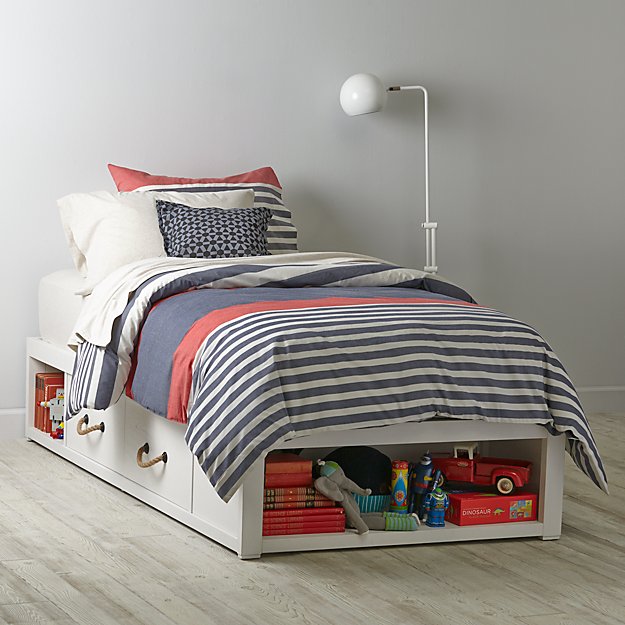 Divide the room
What so many kids really want from their room is some personal space of their own, which can be tricky, but not impossible, when siblings are sharing. Thune recommends splitting the space with some kind of room divider.
"It doesn't have to be a wall," she says. And remember that many buildings don't allow you to put up temporary walls anyway.  "A curtain hung from a track on the ceiling is totally fine."
One of her favorite room-dividing solutions is a pair of bookcases (choose ones with solid backs), arranged so that each child has a side with shelves and one with what appears to be wall space.
"They can decorate it with posters or pictures to make it their own," says Thune.
At the very least, give each child one side of the room by arranging beds parallel to one another with a chest of drawers between them to create a sense of personal space.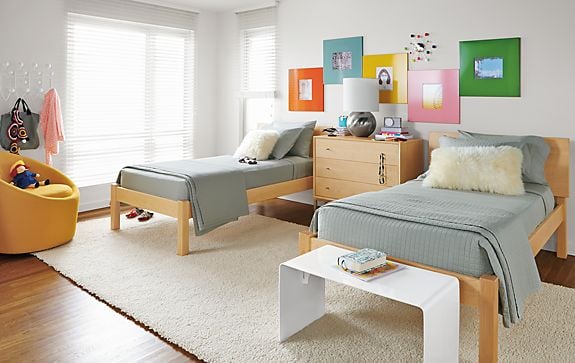 Choose accent pieces that pull double duty
In a small room, choice of furniture is extra important. Thune suggests picking pieces that serve multiple purposes. A narrow desk or console, like the 17" deep Addison Desk by PBTeen, is slim enough to double as a nightstand.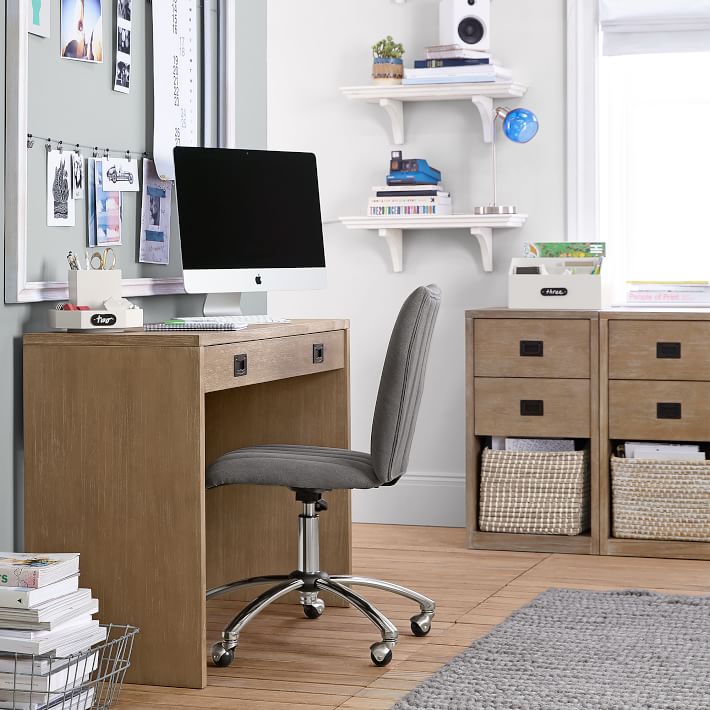 Don't overlook the nook
Even the smallest or narrowest of spaces can be put to good use within a shared room.
"The narrow walls on either side of a window are great for bookcases," says Thune.
Ikea's Billy Bookcase ($49, pictured below) comes in widths under 16 inches for tighter areas. For really slim spots, add a couple of hooks or a coatrack to create a backpack- or sweatshirt-hanging station.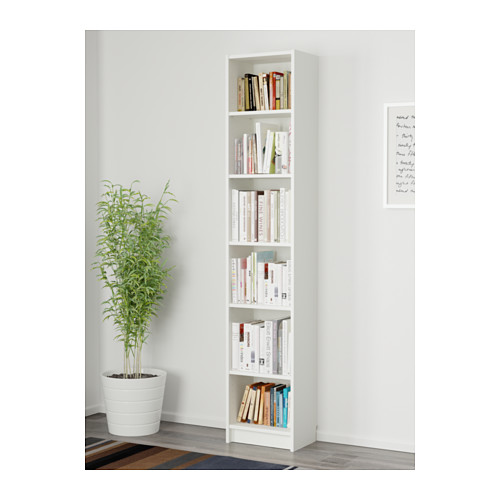 Invest in the closet
If you own—and even if you rent—investing in a closet is a smart idea, since one that is well designed can significantly reduce the number of storage units required within a room.
"Get as much into the closet as possible," says Thune. "Kids need drawers for underwear, socks and pajamas. Cubbies are good for T-shirts and sweaters." 
Thune recommends the elfa system (available at The Container Store, pictured below) for a quick, easy and affordable fix.
"Just take a picture of your closet with the door open and closed, measure the interior width, depth and height and an elfa expert will work with you to design a custom closet to suit your needs," she says.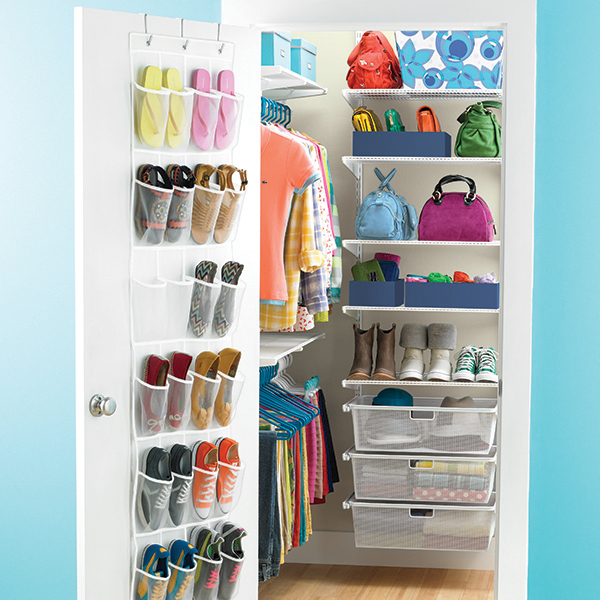 If only raising kids were so easy.
Brick Underground articles occasionally include the expertise of, or information about, advertising partners when relevant to the story. We will never promote an advertiser's product without making the relationship clear to our readers.