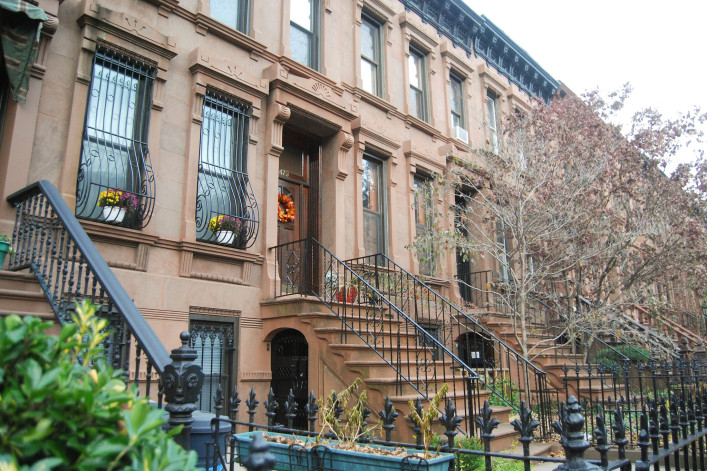 If you're weighing whether to rent an entire New York City townhouse instead of an apartment, considerations of privacy and space will likely be at the top of your list.
Renting a whole townhouse allows you to spread your life over multiple floors, have some outdoor space, and not lose sleep from noisy neighbors on the other side of your wall (or worry about your own footsteps keeping others awake). If you're wondering whether to sign a lease on a townhouse, you should make sure it will fit your lifestyle, especially when the alternative might be a luxury rental with amenities like a pool, gym, playroom, and parking spaces—not to mention building staff. 
"One of the things you will need is a lot of money," says George Cambas, agent and owner of Towne House Properties in Brooklyn, where four-story, 4,000-square-foot rentals are in the region of $10,000-$12,000 a month.
"People wanting to rent townhouses are primarily looking for space and very often they are relocating from somewhere else," says Cambas. "The fee and the rental might be paid for by the firm or the company and they will look around for a couple of years, put their kids in a nearby school and see whether they like the neighborhood. Then they'll probably buy." 
(Of course, if your budget is smaller, there are townhouses in NYC that have multiple rental apartments, typically one per floor, that are comparatively less expensive. These tend to be one- or two-bedroom apartments, and large rentals are rare.)
Are you ok with 'old'?
Wooden banisters and marble mantels are the stuff of NYC real estate fantasies but townhouses can come with baggage.
"By virtue of it being a townhouse, it is going to be an older property," says Jason Harber, broker at Warburg Realty. "It's important to know the condition of what you can't see, as well as what you can." First, he suggests checking the power coming into the building. "If you look at the power box, you need 200 amps. If you don't have enough and you're running cable, HVAC, and computers, it will really drain your power or you could find you blow a fuse." (And he's not talking about your blood pressure.) 
Harber also recommends checking the age and brand of the boiler.
"While a Mclain can go for 40 years, there are other brands that might be 35 years old and are just hanging on, and you don't want to find that out in the middle of February."
Your broker should be able to help you find out when it was last serviced. Harber also suggests checking the HVAC and the water pressure in the sinks. On top of the rental payments, the tenant will generally be paying for utilities including gas and electricity so it's worth making sure the systems are efficient.
Check the safety of banisters and basements
In terms of safety, Jeff Schneider at Gotham brokerage, a Brick Underground sponsor, says "your tub won't overflow into the apartment below and if you cause a kitchen fire, it won't burn up the apartment next to you, but you may be held responsible for damage to the townhouse. You are dealing with a larger space with some additional hazards, and repairs can be quite expensive. Your insurance policy can cover this situation, but check the policy and make sure you have proper limits."
"Sometimes staircases can have rickety banisters," says Harber.  Some clients like the older feel of antique banisters and original floorboards but you have to know what you are getting into. Harber adds, "you are not owning it, but you'll be living there, so it's just as important."
Another consideration is the basement. "Check for moisture," says Harber. "You want a dry basement that meets the safety standards. If it feels like you're entering a sauna, steer clear."
You get a backyard but no parking
Like all compromises, you'll be weighing the pros and cons.
"You have a backyard," says Cambas "but invariably you are not going to get a parking spot. If it's a corner house it might have a garage at the back. There are a few new row houses that have been built with garages but that's the exception."
Having a green thumb isn't obligatory, but it helps. "The owner might clear any debris in the backyard but it'll be the tenant, who might be there for a few years, who will do the landscaping," Cambas says having outdoor space bigger than a balcony isn't the only advantage of renting a townhouse. "There's an ambiance and neighborhood feel with a townhouse you don't get when you're on the top floor of a high-rise."
Find out who to call when there's a plumbing problem
There's no requirement for a managing agent in a building with less than three units so it's worth finding out who you'll be dealing if the dishwasher backs up. "A non-resident owner usually has someone who can take care of things," says Cambas. "They might have a floating superintendent who will address any and all repairs." A townhouse tenant will be responsible for salting the sidewalk and shoveling snow as well as taking garbage to the curb.   
"If there is ice damage or water damage from the roof after a storm blows part of it away, you typically are not responsible for structural repairs," says Schneider "but the landlord is not responsible for damage to your property. You need insurance for that."
Brick Underground articles occasionally include the expertise of, or information about, advertising partners when relevant to the story. We will never promote an advertiser's product without making the relationship clear to our readers.