Then & Now
My love-hate relationship with the Windsor Terrace house I fell head-over-heels for 17 years ago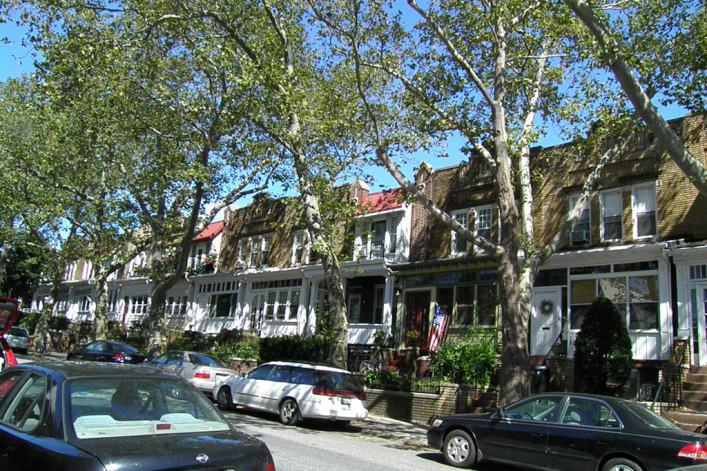 When my husband and I bought our rowhouse in Windsor Terrace, we felt like we'd hit the New York real estate jackpot. 
We were thrilled to snag a hard-to-come-by house in a family-friendly neighborhood, especially since we had been outbid on another single-family house a few blocks away. Losing the first house hurt but finding another one on a nicer block with a better layout more than made up for it. 
I'd always loved old houses with character and I nearly swooned when I first laid eyes on the 10-foot ceilings, original oak parquet floors, crown molding, pocket doors and vintage stained glass skylights that brought lots of natural light to the second floor. 
---
Editor's Note: Brick Underground's Then & Now features first-person accounts of what attracts New Yorkers to their apartment or house, and how their initial impressions evolve over time. Have a story to share in your own words or with the help of our writers? Drop us an email. We respect all requests for anonymity.
---
The kitchen, however, was not charming. It had a massive 66-inch-long cast iron porcelain farmhouse sink, no cabinets save for a beat up built-in butler's pantry and a no-frills gas stove. An old, rusty brown refrigerator sat in the adjoining room, which had a pantry and exterior door leading to a deck and garden. To access the door, you had to climb up a set of shiny steel folding steps. But while the space was awkward, it was still better than the shoebox-sized kitchen in our Park Slope rental. 
I felt like the luckiest woman in New York City to have not only a house but a backyard and front porch. My family and I would have plenty of space.
Seventeen years after buying this place, my love for my house has waned. I suppose it's like most love affairs that begin passionately and eventually cool off or burn out altogether. 
A catalog of chores
That's because I now know what it takes to maintain this place. It's a lot of hard labor—mostly my labor—to keep this castle clean and presentable. Some days I actually relish the challenge of sweeping, dusting and vacuuming, knowing the rooms will look wonderful when I'm done. I don't need to go to the gym. I work up a good sweat trudging up and down stairs with my mop, bucket and cleaning products. But on most days, housework feels like drudgery.
Those wonderful 10-foot ceilings also make thing challenging for a 5-foot, 6-inch woman. I use a heavy three-step stepladder to reach the top shelf of the butler's pantry and recruit my taller husband to change light bulbs in the ceiling.
Though beautiful, the stained glass skylight in the bathroom leaks after heavy snowfall. I pile towels on the floor to soak up the mess. 
If I had my druthers, I would have turned the basement into a cozy living space instead of the man cave it has become. Tom and our son Jake and sometimes Jake's friends enjoy loud, fast-paced games of ping-pong or pool. The noise is annoying but at least it keeps my boys out of trouble.
But my biggest grievance is what happened to the living room. When Tom first started his financial planning business, we figured he could work from the third bedroom, which is upstairs. Tom mounted shelves from the Container Store and got a portable air-conditioner for that room. But he couldn't function in the 11.5-foot by 6.5-foot space and the A/C in there didn't work very well. He also needed to meet clients in person so it made sense for him to set up shop in a larger room near the front door. 
Home office saves money but is an eyesore
We save a bundle of money by not renting an office for him and Tom saves time and aggravation not having to commute. It makes sense and yet it makes me crazy. I hate seeing the messy cables, papers, file folders, computers and storage containers taking up space in the largest and nicest room in our home, a room with a decorative fireplace, chandelier and beamed ceilings.
To make the eyesore disappear, I recently decided that we would keep the pocket doors between the office and the former-dining-room-turned-living-room closed, as in permanently. A sofa now sits in front of the doors to keep them blocked off. At first, Tom wasn't happy when I shut the doors on him but he understands how I feel. I like to think that maybe the closed doors help Tom stay focused on work. 
Central air fantasies
Keeping cool in this house is another challenge. Ten years ago, we gave the kitchen a makeover that included a new air conditioner that lives in the wall. The through-the-wall unit does a fine job cooling off the kitchen but the racket bugs me and I hate to use it. Sometimes it's a tough choice, like when it's 88 degrees outside. I weigh trading the sounds of birds, neighbors and sirens for the industrial droning of a machine that cuts me off from the outside world. I choose to sweat, even with a table fan and ceiling fan running. 
I know New Yorkers who would give their eyeteeth to live in my house. I know single-family homes are rare. I know I'm fortunate to own one in a great neighborhood to boot.  
I feel conflicted about my good fortune. Sometimes I go online, check out detached homes with central air and imagine what it might be like to live somewhere else. But's that's as far as my real estate fantasizing goes. For now, I'm staying put and trying to make peace with my house.  
Brick Underground articles occasionally include the expertise of, or information about, advertising partners when relevant to the story. We will never promote an advertiser's product without making the relationship clear to our readers.